Discover more from Bernard Goldberg's Commentary
Media and political analysis
Over 8,000 subscribers
Bernie and Donald – Not As Different As You May Think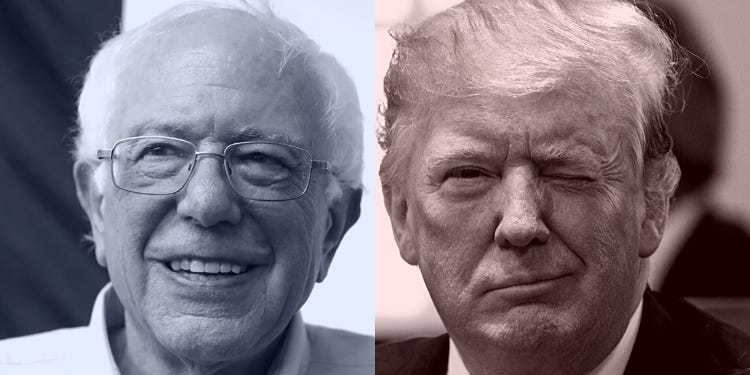 If you think Bernie Sanders can't win – not only his party's nomination but the general election too – I have just two words for you:  Donald Trump.
First, let's get the obvious out of the way:  A reasonable person might say Bernie and Donald have absolutely nothing in common.  One's a socialist, the other a capitalist. One has a dark view of America, the other thinks  country is doing great.  And that's just for openers.  But there are more similarities than you might think.
Bernie isn't your traditional Democrat.  And Donald wasn't your typical Republican.  Bernie thinks America is fundamentally broken and wants a political revolution to fix it.  Donald wanted a revolution, too; draining the swamp is what he called it. Donald said the system was rigged against him.  Bernie knows the system was rigged against him last time around – and probably still is. Donald said his opponent in 2016 was corrupt.  Bernie is saying the same thing about the president in 2020.
When I write that Bernie has a shot at actually beating the president (mainly because Mr. Trump has alienated so many voters that anything is possible), I often hear from readers.
And what I hear from those readers is that I'm nuts.  "Bernie can't possibly win" they tell me, because Americans won't vote for a socialist who thinks more government is the answer to almost everything; they won't vote for somebody who decided to honeymoon, of all places, in the Soviet Union; they couldn't support someone, as Rich Lowry puts it, who "won't call Venezuelan strongman Nicolas Maduro a dictator but slams Benjamin Netanyahu as a 'racist';" they won't vote for someone who thinks he's Santa Claus handing out "free" stuff.
It all makes sense, except …
Americans love free stuff – as long as someone else is paying for it.  And calling him the second coming of Fidel Castro won't cut it. No matter how many times progressives said Donald Trump was Hitler, that didn't stick either.  After a while it just gets tiresome.
So here's a theory:  A lot of you don't think Bernie can win because you don't want Bernie to win.  Our brains work in funny ways.  We fool ourselves because we don't want to contemplate what might actually happen.
For the record, I'm not predicting a victory for Bernie Sanders.  All I'm saying is that I didn't think Donald Trump could win, but he did.  And just to make sure no one misinterprets what I'm saying, a Bernie Sanders victory would be a disaster for America.
He would do everything in his power to fundamentally change the country.  He would raise taxes on just about everybody and bring the economy to its knees.  And that still wouldn't produce enough cash to pay for all the goodies he thinks the American people deserve.
But don't forget that a lot of people also thought Donald Trump would be a disaster for America. (And many still do.)
Bernie is old. Doesn't that work against him? Donald Trump was the oldest person ever elected President of the United States and it didn't work against him.  To his fans, Bernie comes off as the fresh-faced, brash renegade in the pack compared to the stodgy pols they're running against.  Seventy-three year old Donald comes off as the energizer bunny, always on the go.
Bernie is a leading candidate in Iowa and New Hampshire and he's closing in on Joe Biden in Nevada.  Momentum is a powerful force in politics.
Donald Trump won the last time around at least in part because, despite his chronic dishonesty, he was perceived as genuine, not your typical political phony.  Whatever you think of Bernie, he really is genuine.  What you see is what you get.
Donald Trump had passionate supporters who wanted radical change; same with Bernie.
Donald Trump won in 2016 because people were fed up with the status quo.
Bernie is hoping they still are.