Discover more from Bernard Goldberg's Commentary
Media and political analysis
Over 8,000 subscribers
Bernie's Q&A: Trump/Soleimani, Megyn Kelly, Royal Family Drama, and more! (1/10) — Premium Interactive ($4 members)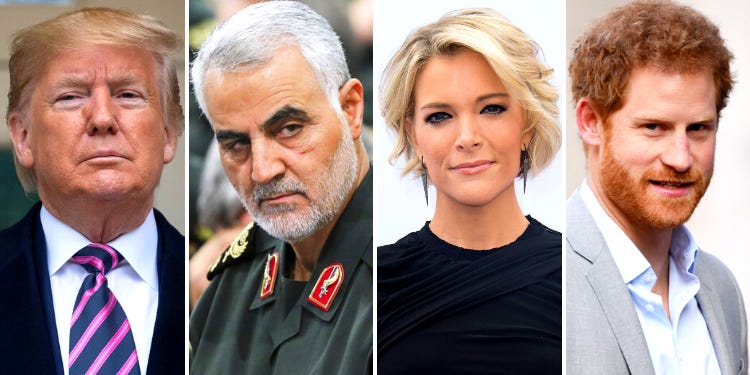 Welcome to this week's Premium Q&A session for Premium Interactive members. I appreciate you all signing up and joining me. Thank you.
Editor's Note: If you enjoy these sessions (along with the weekly columns and audio commentaries), please use the Facebook and Twitter buttons to share this page with your friends and family. Thank you! 
Now, let's get to your questions (and my answers):
---
Once upon a time whether you were Liberal or Conservative, one thing we could all agree on is that the national security of the United States and its citizens abroad was paramount. No longer. The hate for Trump knows no bounds and taking out a terrorist leader like Suleimani is being decried by Democrats. You even have some liberal media types calling Suleimani an iconic leader. I guess if Trump had taken out Osama Bin Laden the left would have canonized him. It's really pathetic how this man can do nothing right in their eyes. You wanna dislike the man, have at it, but give him his due when it's deserved. The left even does it's best to downplay the vibrant and thriving economy.....when they even find time to discuss it between working on impeachment. -- John M
You're absolutely right, John ... and Donald Trump, as you know, is not my cup of tea.  I just wrote a column on this very subject.  I plan to post it next week.  Donald Trump, despite what Democrats running for president say, isn't the one responsible for heightened tensions in the region.  The Iranians are -- something Biden, Sanders and the rest might want to consider.
A few months ago the Dems were in full meltdown mode over Trump withdrawing troops from Syria because they thought that would destabilize the region. Now they are in full meltdown mode because he is sending troops back to that area (Iraq mainly) to deal with the unrest being caused by Iran. It sounds like the Dems only strategy is to oppose Trump even when he does something they support, am I wrong? It seems so bad now that I am willing to bet that the Dems would become pro-life advocates if Trump came out in support of abortion... -- Joe M.
You are NOT wrong, Joe.  If Donald Trump says its daytime, they'll make a case for it being midnight.  The question is will the swing voters see through their presidential year politics.
By the time this question is answered almost an entire week will have passed, so please bear with me. First, when I think of "assassins," I think of Sirhan Sirhan, Lee Harvey Oswald, and Gavrilo Princip, among others...so why did the mainstream media call the death of General Soleimani an "assassination" as I don't believe that's exactly what it was. For that matter, Bin Laden's death was more like an assassination, but I would not label THAT incident an assassination either. As to whether the decision to take out this Iranian general was a good or bad idea, history and the near future will have to answer that question, but that has not stopped right winger Tucker Carlson and other pundits from giving their own opinion. And some left wingers are condemning this action because the general was an enemy of ISIS (although that doesn't make him an ally of the U.S.), so I would like to hear your own personal opinion on Trump's decision as well. -- Instability In The Middle East Regards From The Emperor
As I've said before in this week's Q & A, as far as Democrats are concerned, Donald Trump can't do anything right.  It's presidential year partisan politics -- at its worst.  And it's a very safe bet that if President Obama had taken out the Iranian general, the reaction from his fellow Democrats would be quite different from what we're hearing now.
As for use of the word "assassination" to describe Soleimani's death:  My dictionary says assassination refers to a deadly attack on "a prominent political leader."  So, I think using that word is OK. But I understand your concern -- labelling the U.S. as an "assassin" is jarring.  But not everything is a big deal. Let it go Your Highness.  You're too big to fret about how some media type used the word.
Hi Bernie - I always enjoy your perspective on things and especially agree with your assessment on the lack of professionalism with today's so-called 'Journalists'. Generally, I find the Wall Street Journal to be the only news outlet that maintains traditional standards of journalistic professionalism. But occasionally even they surprise me.
Recently two articles appeared side by side in the online edition, both written by the same journalist (Michael Derby). The first headline read "Big Banks Seek Less Liquidity From Fed Amid Stable Money-Market Rates". The second headline read "Demand For Fed Liquidity Rises, New York Fed Injects Nearly $100 Billion". I thought the articles seemed at odds with each other, so I emailed the author. His response was "What's your question? They're from two different days". The journalist apparently doesn't see anything odd or contradictory with the two articles. Maybe I'm just too old to get it. True, one was dated January 7th, 2020 and the other January 8th, 2020. Am I missing something or is this just more anecdotal evidence of the lack of journalist professionalism? -- David B.
I don't think it's lack of journalistic professionalism, David, but I do think the journalist could have been a tad more friendly.  Why not respond to you by saying ... "Yes, it does look contradictory but things changed in 24 hours ... but I can see how you might wonder what's going on."  I don't know Mr. Derby but in general I think journalists often have a certain contempt for the general public.  How dare you question us, type of thing.  Make sense?
Bernie, how hard are you taking the decision of Prince Harry and Meghan Markle to step back as senior members of the Royal Family? I know you follow British royal news rather closely, so I'm sure you have an emotional investment in this developing story. -- John D.
Actually, I was thrilled to hear the news, John.  I got a call from Harry and Meghan just the other day and they wanted to know if they can stay at my house while in the States.  Sadly, I had to say no.  The Rolling Stones will be there when the royals wanted to visit and the Stones -- hard as it is to believe -- can get crazy.  I mean what if Keith or Mick hit on Meghan?  I don't need that in my house.  But I did tell Harry and M (I call her M; she loves it) to try again some other time.
Can you compare today's political environment to any other period even close in your days as a journalist? Are you concerned much that Trump's unorthodox presidential approach is getting the US into any irreversible predicaments that would be overly painful to recover from? -- Scotty G.
I don't think we've been this polarized in a very long time.  1968 was not a good year but it was mainly about one issue, Vietnam.  Today, the divide is about everything.  Democrats are not the loyal opposition. They're the resistance.  That's worse than ever too.  As for "irreversible predicaments" ... No, I don't think we're in that kind of trouble.  Time takes care of things that seem irreversible.
Hi Bernie. Why do you think the current crop of lefties/progressives think that they get to be the moral arbitrators of all of history and its important historical figures and they get to judge their worthiness? We shouldn't be renaming college buildings, tearing down works of art and statues because of some perceived racism. Where did this arrogance come from? Thanks and go Vikings! -- Garbralter
It is arrogance. I'm with you on that.  Liberals seem to think that not just smarter than everybody else, but better -- which (they figure) gives them license to be the moral arbitrators you correctly describe.  And if you don't believe me, just ask them.  They'll tell you how wonderful they are.  Conservatives can be crazy too, but in a different way.
I spent part of my day Wednesday reading Wikipedia for information on what caused the Iraq-Iran War in the 80s because my brother challenged me on our dealings with Iran. I gathered that in the 80s, the US supported Iraq in their pursuit of power and territory and the reason was because Iran at that time was a ideological threat growing in capacity. Over two decades later, we dealt with Iraq because of Sadaam Hussein. Now we're handling Iran. Help facilitate my thinking here. How, exactly, did the US support Iraq in the 80s? Did we make a mistake doing so? And do you have a book recommendation on the subject of the United States and its involvement beyond our borders? Thanks -- D-Rock
Forgive me D-Rock but since I'm not a historian, I'll keep it short.  Based on what I know Wikipedia got it right.  We supported Iraq because we didn't want Iran to get even more powerful.  Then we invaded Iraq.  And you wonder why people don't trust the government?  My favorite line about the Iran-Iraq War came from Henry Kissinger, who said, It's a pity they both can't lose.
Megyn Kelly has taken to filming independent interview videos for her website and social media, where she's focusing on issues related to sexual misconduct. A few months ago she interviewed the CBS staffer who was fired for allegedly leaking the Amy Robach video about Jeffrey Epstein. This week she's talking to other former Fox News women who've gone public about past sexual harassment at the network. She's probably doing this indie stuff while she waits for a no-compete clause with NBC to expire (I'm just guessing), and I doubt she's making any money from it, but I'm curious what your thoughts are about how she's using her brand these days. Smart move to keep herself in the public-eye while also exploring a legit topic? -- Jen R.
Once again, Jen, you nailed it.  Or at least I'm on the same wavelength as you.  I also think she's keeping herself in the public eye ... hoping for some buzz ... money not the issue at the moment ... and waiting for an opportunity to get back in the game.  If I'm wrong, I never agreed with you.  And never wrote this response.
---
Thanks, everyone! You can send me questions for next week using the form below! You can also read previous Q&A sessions by clicking here.