Discover more from Bernard Goldberg's Commentary
Media and political analysis
Over 8,000 subscribers
Bernie's Q&A: Jeff Zucker, Warren vs. Sanders, NFL Concussions, and more! (1/24) — Premium Interactive ($4 members)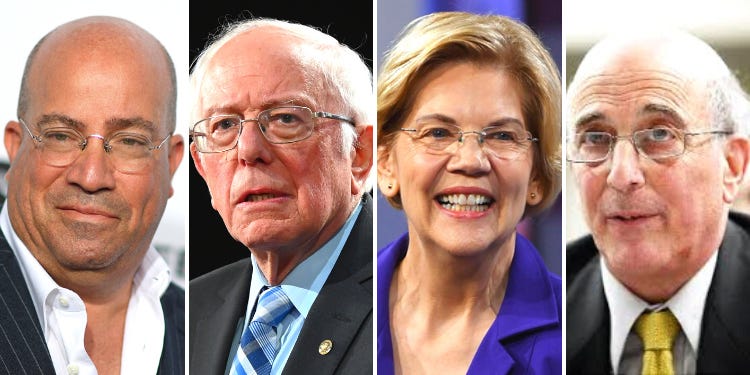 Welcome to this week's Premium Q&A session for Premium Interactive members. I appreciate you all signing up and joining me. Thank you.
Editor's Note: If you enjoy these sessions (along with the weekly columns and audio commentaries), please use the Facebook and Twitter buttons to share this page with your friends and family. Thank you! 
Now, let's get to your questions (and my answers):
---
Are we supposed to believe that the Democrats took no pleasure in this sham of an impeachment process, yet Pelosi goes and orders souvenir monogrammed pens for her Democratic colleagues. Could that be why the delay in delivering the articles of impeachment, the pens were on backorder? Maxine Waters held her pen up like it was a Championship Trophy. I'd like to point out that when Clinton was impeached, the Republicans delivered the articles to the Senate on a Saturday. There was no made for TV procession and no souvenir pens were handed out. Circus, Circus -- John M.
They've wanted this from the day he was elected president.  They may try to hide their joy, but it comes out, as you rightly say, John.
Bernie, I was watching the movie Concussion this week and clips of your 2007 Real Sports concussion story were shown. Looking back at that story now, do you believe Dr. Casson (one of the doctors for the NFL at the time) honestly did not think there were any links between concussions and long term brain damage or CTE, and at the time you did that story did you have any idea that we were on the verge of a major shift in how concussions are handled in sports? -- Joe M.
I'll take Dr Casson at his word that he really believed there was no provable link between repeated hits to the head and various brain disorders.  Is it possible that he was covering for the NFL?  I guess so.  But I'm not making any accusations.  As for whether I had any idea that "we were on the verge of a major shift in how concussions are handled in sports" ... no.  That's because I don't think that way when covering a story.  I just report what I know and whatever happens after that happens.
In the PBS Frontline specials on the political divide in America, the first 2 hours identified FNC (shows like Beck and Hannity) and conservative talk radio as the reason the country was pushed into the divide (as they strongly opposed healthcare reform, gun law changes, etc.). They used clips and sound bites from FNC and Limbaugh, and made a very compelling case. But so much of what 'bias' is about is what is left 'out' of a story. For example, MSNBC opted long ago to learn further left (with people like Rachel Maddow, Ed Shultz, and Phil Griffin). While I have no issues w/ Frontline using FNC and talk radio as examples, it feels like bias for them to leave out MSNBC who was doing very similar things to their base. It makes it hard for a moderate like me to take other Frontline programs seriously which ironically is hurting their cause. -- Chuck S.
I didn't see the Frontline report so I'm going only on what you're telling me, Chuck.  Bias indeed involves not only what you put in to the story, but also what you leave out.  One could make a case that conservative talk radio and TV contributes to the polarization of America.  But so does the other side.  If they had no clips from MSNBC and CNN then I'd conclude that the journalists went in with an agenda; they highlighted whatever supported their bias and downplayed or left out entirely anything that would challenge their premise.  But again, I'm only going on what you're telling me, Chuck.
Bernie, not sure if you are a golfer but was curious if you had an opinion in contrasting golf (where players must call penalties on themselves or suffer humiliation , e.g. Patrick Reed) and the major sports where players seek a call that they know is incorrect (stealing signs in baseball , a non-catch in baseball or football or a basketball player who was not touched but gets the foul call, among others). Most avid golfers will tell you that one of the great things about golf are the life lessons it teaches (and reinforces): humility, honesty, true respect for the game, and many others. Not sure those character traits come to mind very often in our major sports these days. Do you have any favorite interviews of golfers and if so why? -- Michael F.
Even if golf is theoretically different from other sports in that humility, honesty etc are supposedly ingrained in the game in ways that they're not in other sports ... there is cheating in golf.  A friend of mine played with Donald Trump before he became president and told me a great story about how The Donald cheated in a crazy, blatant way.  Too intricate to re-tell here.  But ...
Here's a favorite golf story:  A wife says to her husband, "If I die will you let your new wife drive my car?  The husband is stunned  "Are you sick? Why would you ask me that?" The wife says, "I'm fine, just curious."  Husband says, "Yeah, I'd let her drive your car.  It's just a car."  So she says, "Would you let her sleep in our bed?" He says, "It's a bed.  A mattress.  What's the big deal?  Yeah, I'd let her sleep in our bed." So the wife then asks, "Would you let her use my golf clubs?" To which the husband replies: "No, she's a lefty."
I believe Elizabeth Warren's "sexist" accusations against Bernie Sanders are unwarranted, but it's hard for me to sympathize with Sanders. This is a tactic from the leftist playbook, and has been used to dehumanize conservatives FOR DECADES. Sanders has never seemed to have a problem with it when conservatives are the target. Also, Sanders regularly refers to Trump (and his supporters) as "racist, sexist, homophobic, islamophobic." I'd like to ask him how it feels now that the shoe is on the other foot? And do you think this will lead to some self-reflection from him?
Also, in regard to how that CNN debate moderator doubled-down on Sanders allegedly saying a woman couldn't win the presidency, despite his denials, do you think that there is even the slightest chance that the liberals who deny MSM bias might see this incident and actually think to themselves, "HEY, Wait A MINUTE! This is what our side has been doing to unfairly smear conservatives for years! THAT'S NOT RIGHT!"? -- Feuding Leftist Regards from the Emperor.
Here's your problem, Emperor:  You're thinking logically.  Bernie isn't thinking that the left has smeared conservatives and now the shoe is on the other foot.  He's not thinking that for even one second.  Besides, my guess is he really did tell Senator Warren that a woman couldn't win.
As for introspection by liberals who deny MSM bias:   NO, they're not saying Wait a Minute or anything like that.  They have very little introspection.
But keep hoping and wishing and dreaming, Emperor.  It won't change anything but if it makes you feel better in some way, fine with me.
My son starts classes at Columbia University today, and last week I moved him into an apartment in West Harlem. When not sleeping on his IKEA couch, I stayed across the Harlem River in the Bronx. I know you grew up in the South Bronx some years ago and was wondering if you ever get back there. I grew up in Dallas and now live in the 'burbs, and many parts of my city have changed twice over. Just curious, how has the Bronx of your childhood changed or stayed the same? Also, any advice for my college kid in NYC? He's 21 years old and a Marine, so not exactly innocent, wild-eyed and naive. By the way for Christmas I gave him a framed picture of Lou Gehrig in his Columbia baseball uniform. I knew you would appreciate. -- Steve R.
Hey Steve.  I haven't been back in a very long time.  When I grew up there it was a lower middle class neighborhood with, by and large, stable families.  Things got worse in the 60s and 70s -- a lot worse -- but then neighborhoods came back to life.  The elementary school I went to was on Charlotte Street, which later became the symbol of urban decay.  I watched Ronald Reagan campaign on Charlotte Street and saw my school over his shoulder.  Charlotte Street came back to life too.  Do I miss the old neighborhood?  Honest?  No.  I've moved on.  As for advice to your son:  Be careful on the streets around Columbia.  And at the university itself, be careful not to live inside the bubble that surrounds many elite schools.  But I'm sure he's a smart kid and knows what he's getting into.  Finally, sounds like a great Christmas gift!
I don't view it as my job to waste my time confirming just how bad CNN is by tuning into it every now and then. Isn't that why I pay you the astronomical sum of $4 a month, Bernie? Ha. You can keep me posted on when they start to try to at least act like a responsible news organization. My question is, unless they are a not-for-profit organization owned by George Soros, why do the shareholders sit still for this? CNN's ratings have nosedived in recent years. Does this somehow translate into $ for the bottom line? Or is the corporation that owns it as ideologically bent as the the network and doesn't care if they make a profit? Inquiring minds want to know. -- John F.
Maybe Jeff Zucker is one of those guys that can sell ice cubes to Eskimos. He's run the place into the ground and somehow gets away with it.  Go figure.  But you're absolutely right:  It's not your job to waste time watching CNN.  That's what I'm here for.  I promise that the next time I alert you on a CNN matter, it will be when they, as you put it, "try to at least act like a responsible news organization."  I figure that'll be never.
Joe Buck had a good (all) sport interview show called Undeniable. It disappeared. Do you know why? Also, what's your opinion on the Astro's debacle and who should get the pennant? -- Beverly
Not sure why Undeniable isn't on anymore.  I liked it too.  Re the Astros: Everyone associated with that scandal needs to pay a price -- a hefty one.  The managers and GM have already been hit ... so that leaves ... THE PLAYERS who knew what they were doing was wrong and did it anyway.  If it turns out they really did wear electric devices that delivered a minor shock indicating what kind of pitch was coming, kicking them out of baseball for an entire season  would be fine with me.  As for who will win the AL pennant this year:  The Bronx Bombers, I hope.  I also hope it's not the Astros.  That would be ... awkward.  As for the NL:  Let's go with the Dodgers.
Or the Nationals.
I'm unclear what protections the whistleblower is afforded under the whistleblower protection policy, therefore I don't understand why it is unfair to disclose his/her identity. I've always been under the impression that the whistleblower protections were designed to prevent retribution, such as being terminated from one's job. Equally, I've understood that in law the accused has the right to confront his/her accuser. Both of these seem like fair principles to me.
Here's my confusion: While the name of the whistleblower has not been officially disclosed (as far as I'm aware), there seems to be a broad understanding, at least among the TV talking heads, as to who the whistleblower is. If, in the unlikely event, the Republicans agree with the Democrats to call witnesses, why wouldn't they compel, by subpoena, the testimony of the whistleblower and then of Adam Schiff to determine if the two versions of what happened during and following the famous call to the Ukraine president marry up? Many thanks. -- OverTheTop
Your understanding of the protections afforded whistleblowers is correct.  Here's why his or her name isn't being disseminated widely.  If something were to happen to the whistleblower -- something very bad -- the news outlet that released his name would then be in the crosshairs.  That said, if the whistleblower were a conservative Republican who unleashed the dogs on a liberal Democrat president, his or her name would be out in a nanosecond.
I hear from a lot of people who think the whistleblower's testimony is important.  I don't.  But I do think the identify of that person would be very interesting.  What if he's Joe Biden's cousin?  Or an executive at the DNC?  Or someone who thinks Trump is Hitler. But we know pretty much what the president said in the call.  The whistleblower can't shed light on the content of the call -- except maybe to say there was more said than what's in the summary.  And it is a summary, not a verbatim transcript.  So I don't care if the whistleblower testifies. The summary speaks for itself. But as I say, I do think his or her identity would be mighty interesting.  It certainly would shed light on motives for blowing the whistle.  Thanks for the question, OverTheTop.  Is that your real name?
---
Thanks, everyone! You can send me questions for next week using the form below! You can also read previous Q&A sessions by clicking here.