Discover more from Bernard Goldberg's Commentary
Media and political analysis
Over 9,000 subscribers
Bernie's Q&A: Christianity Today, Chuck Todd, Evangelicals, the Monsey Attack, and more! (1/3) — Premium Interactive ($4 members)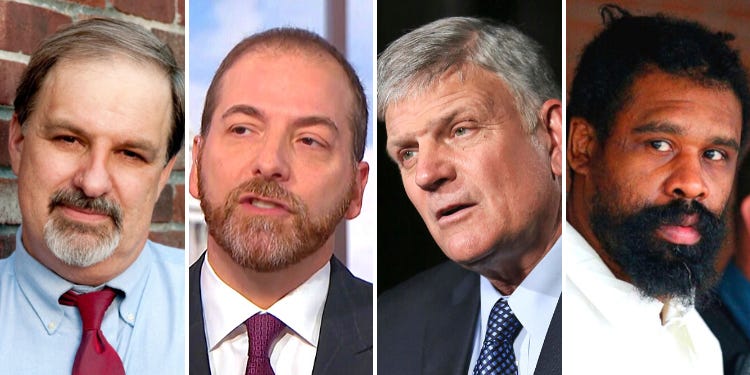 Welcome to this week's Premium Q&A session for Premium Interactive members. I appreciate you all signing up and joining me. Thank you.
Editor's Note: If you enjoy these sessions (along with the weekly columns and audio commentaries), please use the Facebook and Twitter buttons to share this page with your friends and family. Thank you! 
Now, let's get to your questions (and my answers):
---
Hi Bernie - I've enjoyed your books and TV commentary for years. I'm probably asking a question that I should know the answer to, but are you planning another book? If so, can you give us a hint as to what it will be about? -- Pete
I have a deal with several friends, Pete. If I do another book they have my permission to shoot me.  So I guess the answer to your question is no.  Doing radio interviews (over the phone) day and night is torture.  Doing cable TV isn't much better.  I've been approached to do another book and turned down the offer.  But, I'll cover myself and say ...  never say never.
So I see the "progressives" in Cali have decided to pass a law which will take place in 2020 that says public schools cannot suspend students for disobeying teachers! SMH This doesn't surprise me which is scary in and of itself, I mean ,I believe Comrade DeBlasio and NYC already has such a law, but geez, who in their right mind would continue teaching in a public school under these circumstances? What is it with these progressives that they are against law&order at any level? Times like this I'm glad I'm in the 4th quarter of life because this country is going to hell in a handbasket at a fast pace. Wishing you a Happy New Year, Bernie & Friends -- John M.
If you want to see what America would look like if progressives ever took over, just go to California and you'll find out.  Suspend kids for disobeying teachers.  That's like torture, right?  But you're wrong when you suggest that progressives might be against law & order.  They'd gladly put Donald Trump in prison -- and would if they could.
The anti-semitic machete attack in Monsey was perpetrated by a "man of color." This incident likely will NOT get the same amount of coverage or outrage because the attacker was not a white supremacist scum bag or Trump voter in a MAGA hat. As for the West Freeway Church of Christ in Texas, where a congregant with a weapon took out the shooter, I don't know (as of this writing) anything about the shooter's ethnic background or religion.
Why do left wingers go out of their way to downplay it when criminals "of color" are the ones committing violent acts and hate crimes? Even the most strident leftists have to realize that this nonsense only benefits criminals "of color," NOT the victims OR the law-abiding good citizens "of color." 
Downplaying the role of conceal/carry during incidents, like in Texas church, ALSO don't benefit anybody except potential shooters. So again, why does the left do this? -- Best New Year's Regards of 2020 to you, From The Emperor
In the case of most crimes, the race of the person is not relevant.  The reporter doesn't need to convey whether the guy who held up the bank was white, black, brown or purple.  But in hate crimes, race often does matter.  And on this, Emperor, you're right.  If a bunch of MAGA hat people were attacking Jewish people the liberal media would be all over the story.  I've written a piece on this that will go out early in 2020.  For now, I'll share this much:  white liberals don't like talking about dysfunction among minorities because the white liberal is showing his good racial manners, to use a term coined by Shelby Steele.  They're telling the world, I'm a good white person -- not like all the others.  It's a form of racism.  A softer kind, but a kind nonetheless.  Stay tuned for more.
I've been in the high-tech industry a long time. In a recent poll of a few major high-tech firms the political donations are overwhelmingly to the Democrats. But these companies overwhelmingly operate as zealous capitalists. I find it completely ironic that industries built upon free enterprise from employees to the founders support a Democrat party hell bent on destroying the very principles to which they benefited. I believe that with the right message and if the Republicans could get back to a conservative message, they could have a major win next November. Your thoughts on this matter. -- Tim H.
I'm with you on the first part about how Silicon Valley capitalists support quasi socialist Democrats -- but don't think any message from conservatives will change liberal minds.  The minds on both sides are pretty much closed at this point.
Hi Bernie. Monday you wrote that you'd like to see some courage from Evangelical leaders by telling Trump he needs to have better character. I have a feeling many others have tried without success. We know by now what we are getting and while often disturbing, the results are good. For some reason the pressure on Israel to commit suicide to prove their morality, comes to mind. Additionally, with all the verifiable examples available, I was surprised you included the one of Trump supposedly mocking a reporter. I had researched that and found it inconclusive. Do you know something I don't? An article in investors.com and a video from foxnews which shows Trump often using that mannerism to make a point or depict people who are avoiding an issue suggests he was not directing anything at the NYT reporter -- who incidentally may not even shake and wave his arms. Last, I can certainly relate to the Evangelicals. As a secular-humanistic Jew I obviously have little philosophically in common with them. But given the choice of living in a country run by the totalitarians on the left or the Evangelicals - I would choose the Evangelicals. You? -- Michael E.
Let's start with Trump making fun of the disabled reporter.  Believe what you want but consider this, Michael: When Trump mocked the reporter he said, "you gotta see this guy" then started shaking ... and shaking more so than the few times he did something like that against other perceived enemies.  But Trump also claimed, after he got hammered for what he did, that he'd never seen the reporter.  A lie.  The reporter had spoken with Trump, in person, many times over the years.  My take?  Trump was lying as he usually does when it hits the fan because of something stupid that he did.
As for the white evangelical support of Trump.  I very clearly said that I understand why they do it.  Read the piece again.  But then I went on to ask, why can't a leader like Franklin Graham gently push the president to act better than he does.  You say you have a feeling that some ministers have tried.  I have a feeling that you're being hopeful.
The Bee Gees once sang that "words are all (we) have." As a professional wordsmith and first tier journalist, please share your thoughts regarding how PC culture and the MSM have made certain words verboten and invented new words and phrases for the purpose of manipulating the masses to garner power and squelch dissent. Newspeak anyone? -- Michael F.
I find PC culture at times scary, and at times, ridiculous.  They can screw around all they want with words but euphemisms can't hide reality.  Orwell showed us that. Here's a modern day example of PC culture making a reasonable person scratch his head.  If you refer to an African American as a "colored person," you'll be called a racist.  But if you refer to that same African American as a "person of color" you're progressive.  You can't make this stuff up.
Your column and French's editorial contain points Christians need to reflect upon. As a Christian who voted for Trump and will vote for Trump, I have and I will. I do not hold him up as an ethical/moral role model. As far as publicly criticizing his character, I don't feel that I need Franklin Graham to do that. What do I know about what Mr. Graham has told President Trump, gently or otherwise in private counsel? What do you? Because it has not been said publicly, does that mean it hasn't been said? As a Christian, Donald Trump is not my spiritual advisor. He is the political leader of this country and his political enemies will stoop to literally nothing to undermine his election and his governance. Most of his policies he's implemented have been good for America. Most of the policies espoused by his political opponents would do the opposite, in my view. My conscience is clear as regards voting for him or supporting his administration. I don't doubt the sincerity of French's comments. However, I view the rush to now label evangelical Christians as hypocrites for voting for him and/or not publicly condemning him as just another tool in the toolbox of those who are grasping to destroy him for ANY reason. Call me less than convinced when other politicians who support the killing of unborn babies at any time and for any reason start playing the Christian virtue card and start talking about prayer. -- John F.
John, for the ten millionth time, I understand why white evangelical Christians chose Trump over Hillary ... and will choose him again over any of the Democrats.  It's an realpolitik position.  But for ministers to publicly criticize those who take issue with the president's vulgarity and nastiness, yes, I find that hypocritical.  Donald Trump has lived a life that demeans everything good Christians believe.  Vote for him anyway if you want; again, I understand.  But if you're a leader, stand up publicly and say, "While we support you we wish you'd behave differently."  If they've said it privately -- which sounds like wishful thinking --  then what did their private pleas get them?  More talk about kissing ass and bullshit?
Believe whatever you want -- and I'll do the same.  And if those ministers want to support the president because of his policies ... it's a free country.  Again, I get it.  And again, I'm not arguing about their political judgement.  I'm commenting on what I see as the ease with which they go along with such a man as Donald Trump ... while attacking the president's critics.
Regarding your column Monday, Christians see the trap. Reject Trump for his personal flaws and we have to reject every American leader and especially the founding fathers. Reject Trump for his personal flaws and we need to reject Christianity and all organized religion. Just look at the old testament. David was raised by God to become a great King but with huge personal flaws including infidelity and murder. God raises champions. Just look at George Patton. And how about Ted Kennedy and Chappaquiddick? So God works thru scoundrels ... men and women with deep personal flaws. Trump moved the USA embassy to Jerusalem. Seems biblical. So not ready to reject Trump because he insults other politician. -- Charles K.
When did I ask you "to reject Trump because he insults other politicians"?  For that matter, when did I ask you to reject him for picking fights with Gold Star families?  For suggesting that John Dingell is in hell? For hinting that Carly Fiona is too ugly to be president? For saying he likes heroes who aren't shot down?  And for a lot of other nasty comments he's made.
Let me be blunt because I'm growing very tired of this:  Vote for whomever you want to vote for.  But let's not pretend that you'd treat Barack Obama or Hillary Clinton the same way if they did what Donald Trump has done.
Let's keep it positive to start off the new year; What is the proudest and or most rewarding experience in your career so far? -- Scotty G.
Speaking truth to power ... at CBS calling the mainstream media out for liberal bias ... and at Fox ... not being afraid to offend the audience or Fox management by calling out President Trump's behavior.
Chuck Todd recently took heat over referencing a year-old "letter the editor" from someone who explained that Trump supporters "want to be lied to" because they believe in "fairy tales" like Noah's Ark. What a lot of pro-Trumpers latched onto was the framing of a Bible story as a "fairy tale," which came across as elitist and dismissive of the Christian faith. Their response was understandable, I think, and I felt the same way when Trump mocked Ben Carson's story about how Carson became a Christian. But removing the religious connotations altogether, is it safe to say that a lot (not all) of Trump supporters are not only fine with being regularly lied to by Trump, but also appreciate Trump's (and the conservative media's) "folklore" presentation of his presidency, in which the bluster and animated storytelling are greeted with far more significance than the facts? -- Alan D.
I could not have said it better, Alan.  Bravo!  You got it right.
---
Thanks, everyone! You can send me questions for next week using the form below! You can also read previous Q&A sessions by clicking here.