Discover more from Bernard Goldberg's Commentary
Media and political analysis
Over 9,000 subscribers
Bernie's Q&A: Biden, Bobulinski, Taylor, the Girl Scouts, and more! (10/30) — Premium Interactive ($4 members)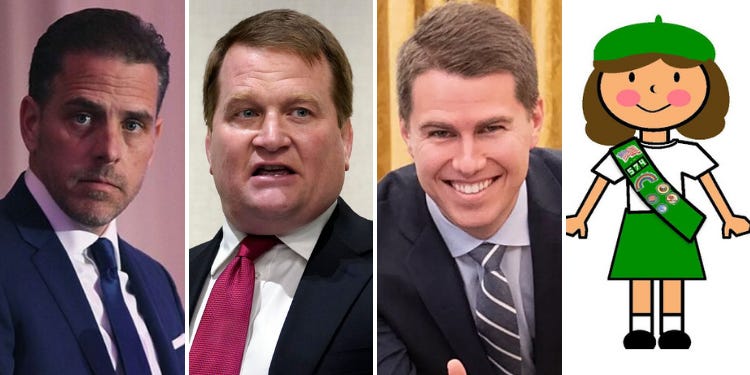 Welcome to this week's Premium Q&A session for Premium Interactive members. I appreciate you all signing up and joining me. Thank you.
Editor's note: If you enjoy these sessions (along with the weekly columns and audio commentaries), please use the Facebook and Twitter buttons to share this page with your friends and family. Thank you! 
Now, let's get to your questions (and my answers):
---
As election day nears, I'm asked by those who know I'm a Trump guy, "What will you do when Biden wins?"
Pretty cocky bunch aren't they? We'll see if it's well founded. Before I share what I'll do, I share what I won't be doing: I won't record a video and distribute it on social media of me crying and screaming like a child, "He's not my President!!!!!," or worse, I won't go out and smash the car of a Biden voter with a baseball bat. I won't throw a brick through the window of a home owned by a Biden voter. I won't spit on, or punch anyone wearing Biden gear. I won't grab a bunch of friends and go lay down in some intersection to call attention to our disapproval. I WILL be extremely disappointed, but will get on with my life. The sun will come up the next day. I will hope that Biden is able to complete his full term because the thought of having the most far left, liberal Senator in Congress, back-dooring into the Oval Office is deeply concerning. -- John M.
I like you, John. And I wish there were more out there like you.
I keep hearing about how divisive President Trump is. Many on the left claim to miss the dignity that was brought to the White House by past Republicans like Ronald Reagan (whom the left labeled a congenial idiot and a war mongering cowboy who was ready to start World War III with the Soviet Union), Bush 41 (whom the left gave the slogan "Bush & Noriega: A Crack Team!") and George W. Bush (whom they often said was "the real butcher of Baghdad" "the world's number 1 terrorist" and the ever popular "Bush is Hitler." ).
So I ask, what if Trump were not the president, and instead we had Romney (who Biden warned us about saying that he wanted to bring back Jim Crow and "put y'all back in chains" and never paid his taxes and was a cruel homophobe). Or Sarah Palin (whom the left claimed was so stupid that she said that she could see Russia from her back yard), or Chris Christie (who extorted his political enemies by shutting down a bridge). Yes, the left seems to now love Reagan & Bush 41 & 43 because they tell us how awful & divisive Trump is. Do you think the left would be any kinder to the people I mentioned above than they are to Trump since they say he is so divisive?
Frankly I think that left wing divisiveness is what got us Trump! Do you think if there's a Republican President in 2032 that the left will claim is so horrible that they will claim that "Remember when Republicans used to at least be decent and dignified like Donald Trump was" by that time? Your thoughts please. -- "Bizarro World" Regards From The Emperor
Very solid analysis, Emperor. Really good. Liberals love conservatives -- like Reagan and even Goldwater -- only when they're dead or can be compared to whoever the current GOP president is in the White House. BUT ... they will not look back on Trump the way they looked back on the others. No way, Jose.
[Regarding your Monday column], the Hunter Biden deal was a rookie mistake by Joe Biden. Never should have happened. Never. It does, however, pale in comparison to the scores of illegal manipulations and crimes Trump has committed. How many times has Trump lied, Bernie? How many times? Me thinks you are now bending over backward to be viewed as objective. You should level with the folks ... -- Mike S.
Rookie mistake by Joe Biden?  First time I ever heard someone who's been in the league for 47 years called a rookie.
Yes, Trump is a chronic liar, Mike, and I've said as much countless times. Does that mean I can't also criticize the media for ignoring a legitimate news story? Life is complex. One can despise Trump and still hope he wins -- as I do. And one can call out Trump and also call out his critics when they're unfair. That is leveling with the folks, Mike.
[Regarding your Monday column], don't you think this should at least be a verified story, and about JOE Biden? Not Hunter? -- Daniel M.
No. I think we have an obligation to point out that there's no evidence that Joe got any money to peddle influence -- or got any money at all. But we need to report that there seems to be evidence that Hunter was using the family name to get rich ... and that his father either knew it and did nothing ... or knew about it and cashed in, directly or indirectly through his son's business. Listen to this week's Off the Cuff about the disgraceful reasoning by NPR for not covering the story.
It's been almost 20 years since Bias was published. What's hitting me most obviously now is that young people, say 30 and under, have all grown up with never knowing a truly fair press and their lives dominated by information via cell phone and very liberal swaying educators. Another generation of this and we will not have the parenting offset to provide kids with a balanced compass. So then will the Grand-Parents have any shot at all at trying to turn this lopsided ship around? Or should all us elders just run and hide to the beaches & mountains and let these crazy kids just worry about it? Oh and..., You wanna go fishin' next Wednesday? -- ScottyG
You raise a very important point. Just in the world of journalism, the barely post-teenage gang in the newsroom is often calling the shots. They did at the NY Times and got the opinion page editor fired for daring to run an op-ed by a U.S. senator -- whose opinion they didn't like. As for the world outside journalism ... good luck if anyone thinks grandparents are going to sway bratty liberal kids who think they know more than the grownups. Dropping out ain't a bad idea. I'll let you know about going fishing'.
Do you think the primary reason for ESPN's decline is because it is too liberal or do you think it has more to do with the increase in competitors? Do you agree with Bill O'Reilly's claim that ESPN is on the brink of total collapse? Here is a link to Bill's take on this issue. -- Joe M.
There are a lot of reasons that ratings drop. And you've named two of them. I do think that ESPN's liberal take on racial matters has been a factor in its decline. People go to sports to escape the daily barrage of partisan politics -- not to get more of it. As for Bill's belief that the mainstream media will crash and burn after the election. I told Bill on his podcast last week that I don't buy it. There will still be plenty of people watching CNN and MSNBC and hearing about how great Joe Biden is compared to the hated Donald Trump. And there will be plenty of people still watching Fox opinion shows where they'll hear about what a loser Joe Biden is. Cable news has figured out how to get people to come back for more. The NY Times isn't going to suffer either. There are still plenty of lefties out there who will read their unhinged columns about how racist America is. To think the media will be in downfall after the election, I believe, is more wishful thinking than anything else.
Let's say that the outcome of the 2016 presidential election was reversed. Hillary wins the electoral and Trump the popular. Would liberals still be making a big stink about eliminating the electoral college? -- Gerald
Not likely!
Bernie: It seems like we have gone from a biased press (most of the 20th century) to a slobbering, advocacy press (Obama), to a censoring press (anything negative on Biden). Isn't this a greater threat to democracy than anything Trump can and has done? -- Steve R.
Yes it is. And I recently wrote a column the headline of which said:  "Journalism Has Become a Threat to Democracy." Your succinct analysis, Steve, is right on the money! A democracy must have a fair press that we can depend on for accurate and non partisan information. We don't have it at the moment. And that's why your conclusion -- that the press is a bigger threat to democracy than anything Trump has done -- is absolutely correct. I concluded this week's Off the Cuff with this: "Donald Trump may rightly be accused of many things, but he's not the one who's killing journalism. Journalists are doing that all by themselves."
Bernie, a two-fer for you:
If Trump wins, and the polling turns out to be way off, what are the odds that we might (thankfully) see the polling businesses go the way of hats and horse drawn buggies?

Would love to hear your thoughts on how the elite left has embraced big conglomerates in contrast to how they used to fight tooth and nail against the Wal-mart expansion (on the grounds that mom and pop businesses were being destroyed) and large manufacturers (on anti-trust grounds)? Might these two areas of interest find an intersection point in terms of the use of technology (with major assists from MSM) to help gain and keep political power?
-- Michael F.
 That's what Frank Luntz thinks. Even though the 2016 national polls weren't very far off, people think they were because they had been saying Hillary would win. But the polls tightened at the end and she did win the popular vote.  But polling will take a big hit if they get this one wrong.

I don't understand your second question. Sorry.
My concern is, given the obvious biases that are present in most of today's reporting, will we ever get back to pure journalism ... the presenting of raw facts and unbiased analysis to the public without inserting the journalist's own message of preference? Thanks for you views, Bernie. I always find your comments refreshingly honest and unbiased, even if I don't fully agree on occasion. -- Jim S.
Anything is possible, Jim, but it's tough to put the toothpaste back in the tube. Journalism has strayed so far from what it's supposed to be that I'm not confident that it will shed its biases and return to reporting the news without injecting opinion. Thanks for the kind words, Jim. Much appreciated.
Bernie, did you see the interview of Bobulinski on Fox? -- JM
Didn't everybody? And he came off as credible.
If Trump loses next week, and the Trump era comes to an end in January, who do you envision becoming major players in the party for a potential presidential run in 2024? Also, do you think the Republican base will gradually go back to being receptive of principled, intellectual conservatism? Or do you think we'll be stuck in this populist, grievance-driven, rightwing media mentality, where culture battles are vastly more important than things like limited government and personal responsibility, for the foreseeable future? -- Ben G.
Regarding your first question: Mike Pence, for sure ... Nikki Haley, almost for sure ... Sen. Tom Cotton of Arkansas, likely ... and many others.
Your second question goes to an important point: The Republican base is broader than Donald Trump's most passionate supporters. The larger base, I believe, will support candidates who are more traditional (and normal) than Mr. Trump. His most passionate supporters? They may not support anyone who isn't like their savior, the current president. If that turns out to be the case, Republicans would be in trouble.
What are your thoughts on Miles Taylor still having a job with CNN after the revelation that he was the Trump administration official known as "Anonymous," who actually lied to CNN's Anderson Cooper (and CNN viewers) about NOT being "Anonymous" a while back? Should the network let Taylor go, or do you think it's not that big of a deal, from a news media company perspective? -- Jack S.
As long as Taylor thinks Donald Trump is deplorable, his job is probably secure at CNN. That he lied to Anderson Cooper might offend Cooper but I don't think it would be enough to let him go ... as I say, as long as he continues to bash Mr. Trump. But who knows, CNN for a change might decide it has principles and won't tolerate someone who lied to one of its anchors.
The Girl Scouts corporate office recently caved to pressure from the progressive left to remove a tweet honoring the SCOTUS confirmation of Amy Coney Barrett (an important female historical figure). Isn't it time for conservatives to finally stand up to Big Cookie, by boycotting Thin Mints®, Tagalongs®, Samoas®, Do-si-dos®, and Trefoils®? Or... should we simply follow your longtime, personal practice of saying "Outta my way, kid," whenever a girl scout tries to sell you cookies in front of your local grocery store? -- John D.
The Girls Scouts, like much of corporate America, has caved to the woke authoritarians. And so, the answer to your question is yes ... it is time to boycott all of their cookies. You probably didn't know this, John D (or whatever your real name is), but those cookies are part of a massive Russian disinformation campaign.
How does that work, you ask? I'm not allowed to say. And besides, it's probably too complicated for you to grasp. As for telling Girl Scouts to get lost when they get too close to my grocery store ... I'm an American patriot and those girls are part of the Russian disinformation campaign. Why wouldn't I tell them to get "Outta my way, kid."
I hope you don't mind that I mention this, John D (or whatever your real name is) but I have proof -- a dossier -- that has definitive, confirmable data indicating that YOU, John D (or whatever your real name is) was briefly a Girl Scout yourself -- in the mid 1990s. Back then, your name was Joan D. They called you Joannie. Deny it if you want to, but as I say, my information is in that dossier ... and it comes straight from a very reliable source -- a guy named Steele. So it must be true.
---
Thanks, everyone! You can send me questions for next week using the form below! You can also read previous Q&A sessions by clicking here.