Bernie's Q&A: Catherine Herridge, Lou Dobbs, Katie Hill, Baseball Greats, and more! (11/1) — Premium Interactive ($4 members)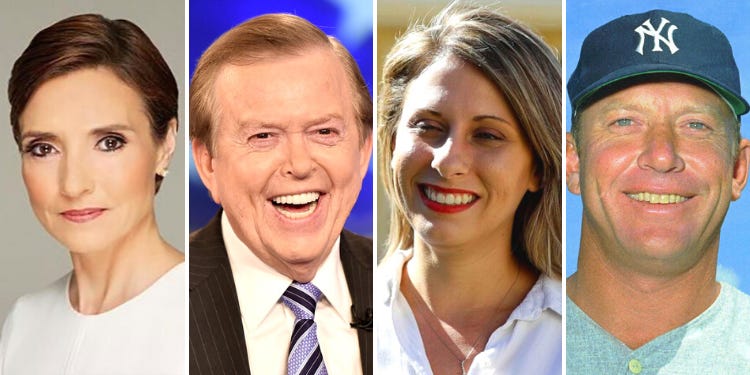 Welcome to this week's Premium Q&A session for Premium Interactive members. I appreciate you all signing up and joining me. Thank you.
Quick note: A couple of questions came in after this week's deadline, so they will be added to next week's Q&A. Thanks.
Let's get to your questions (and my answers):
---
Which Democrat with a plausible chance to win the nomination has the best shot at beating Trump? Will Hillary or Bloomberg enter the race? -- Rod P.
A few months ago I would have said Joe Biden.  Now, I'm not so sure.  And I don't believe either Hillary or Bloomberg will enter the race.  Though, Hillary would love to be drafted.
Bernie, During the Democratic debates, a few of them made an issue of being raised by a single parent as though that somehow made them hard knock kids. My father was a single parent of four kids and struggled a great deal to keep a roof over our heads and food on the table. So, I have no sympathy for those that think growing up with a single parent was some sort of hardship. What are your thoughts if any? -- Terry J.
Here are a few thoughts on single parents, broadly speaking.  If they became single parents through some kind of hardship like death, divorce, or something like that, that's one thing.  If they had a baby when they were 15 and became a single mom, that's another.  I sympathize with the former and think the latter is an example of reckless behavior.  But Terry, for some kids growing up with one parent does indeed make them hard knock kids -- some kids find themselves behind the 8 ball.  You didn't.  And that's good.  Who knows how tough it was for the pols who grew up with just one parent in the house.  Might they be trying to gain the sympathy vote?  Good chance.
Hi, Bernie, Trump-the-destroyer has, for better or worse, remade our political and journalistic norms. Whether we see the last of him in January 2021 or January 2025, who do you see as inheritors of the Republican party? Do you see it as a more populist, blue collar party, or a return to days of old? -- The Fantom
I think Trump's most loyal supporters are the kind of people who didn't vote for McCain or Romney, who sat home on principle, and helped elect a liberal Democrat twice.  I think they'll want another candidate like Trump when he's back in New York.  And I fear a Republican seeking the nomination post-Trump, will pander to Trump's supporters instead of trying to bring them over to GOP sanity.  Not sure I answered your question but I've wanted to get that out for a while now.
Going back to sports; if you could interview the following ball players, what would you ask them? One question only to each:
Mickey Mantel

Roger Maris

Yogi Bara

Jose Canseco
-- Tim H.
Mickey:  Do you have any regrets about the kind of (alcohol driven) life you've lived.
Roger:  How tough was it for you chasing Babe Ruth's single season home run record in New York, a place where fan can be brutal and often were to you?
Yogi:  When you got to the fork in the road, did you take it?
Jose:  (Pass)
It was just announced that Catherine Herridge is leaving Fox News for CBS News (after being at Fox for over 20 years). She's been a very strong and credible reporter, so this seems like a big loss for Fox. Do you know Catherine, and what are your thoughts? -- John D.
I do not know Catherine but am surprised by the news.  Cable gives reporters a lot of air time, which for some people is like real air, oxygen.  She'll be seen a lot less often at CBS because the news is not on all day long -- except online. That may be the future and Catherine may be OK with that.  I wish her the best.  She's very good.
Bernie, I think we're close to the same age, I can't recall a time when the print and visual media were so anti, full of hate for any President as they have been for Trump, from day one. Even Nixon did not receive this kind of constant negativity. Trump is who he is, I get that, but it's not like the man hasn't had some successes. Today [10/25] he was honored at an all-black college for having pushed the Criminal Reform Act across the finish line. Obviously this has had a positive affect on many in the African American community. You'd never know it happened [receiving the honor] because other than Fox, no other media outlet [that I saw] made mention of it. Even Nixon received some "atta boys". There are a lot of things to dislike about Trump, but one has to admire his "stick to it ness" I wonder how many, if any, of his predecessors could withstand the constant barrage of negativity that he has. BTW, also agree with the comment made last week about appreciating this discourse here and your unbiased comments and responses.  -- JM
There's no question that the supposedly objective news media hate this president -- and don't hesitate to show it every chance they get.  But there's also no question that this president bring much of it on himself.  I root for neither of them.
The Washington Post took a lot of criticism after headlining ISIS leader Abu Bakr al-Baghdadi's obituary with "Austere religious scholar at helm of Islamic State dies at 48." This is a ridiculous way for a Western obituary writer to categorize a top-level Islamic terrorist, of course, but I'm more fascinated that this perspective made it through multiple levels of oversight (I would assume anyway) before being published in one of America's biggest newspapers. I get that a win for Trump is an annoyance to the liberal media (maybe that's the explanation for what happened here), but the idea that NO ONE at the WP was self-aware enough to foresee the ridicule they'd get for this boggles the mind. Or did they foresee it, and just not care? -- Greg S.
When you live in a bubble, there's no one there to stop you from making stupid mistakes.  Liberal journalists live in a comfy liberal elite media bubble -- and in that bubble, the incredibly ridiculous headline didn't raise any eyebrows. When those living outside the bubble noticed, only then did the Post change the headline.  That's how bias -- liberal or conservative -- comes about. Life inside the bubble feels safe, but it can be a dangerous place, especially for journalists.
Bernie: I may be wrong (and if so, I apologize), but I detect a note of glee in your column [about Trump's impeachment poll numbers going up]. Let's be adults. This impeachment nonsense is NOT good for the country. Do we really want to have an election and the other side immediately start an impeachment crusade? How is this a good thing? By the standard the Dems are setting, no POTUS could pass the test. High crimes and misdemeanors has become irrelevant. We don't like him (her) so we have to overturn an election we could not win by the rules. Do we really want this to turn into an endless cycle so the Dems can try to turn this into a one party country or ruled only by the Washington political establishment?  -- Dennis C.
Dennis, my friend, you are wrong. As I wrote earlier this month, I think impeachment would only divide this country more than it is already divided.  The election is only a year off.  What's the rush?  If Donald Trump is as bad as his many critics say he is, the American people can "impeach" him at the polls.  Less trauma that way.  As for me, no glee regarding impeachment.
Back when Lou Dobbs would come on O'Reilly's show, I disagreed with him a lot, but he never struck me as demented or sycophantic. These days his bizarre Trump sermons on Fox Business, where he re-writes history, demands absolute loyalty to the president (comparing dissenters & critics to traitors), and spreads conspiracy theories all over the place, are as deranged as anything I've seen on cable news. The other day, he even claimed that Trump seldom talks about himself. What??? Does Dobbs really buy what comes out of his own mouth (which would make me think he's mentally unwell), or do you think he knows exactly what he's doing, and that he's doing it 100% for ratings? -- William H.
I wouldn't discount the ratings part of your question.  There are media whores who will do just about anything for ratings.  But in Dobbs' case, I think he just may be a true believer, a Harvard educated version of the folks who attend Trump rallies.  But I'm not discounting how ratings play into his act.
Bernie, what about Trump spokespeople (and Trump himself) saying that people who are against Trump are "human scum?" The new deplorable. Where's the outrage? -- Casey
You won't get outrage from the people who worship at the altar of Donald Trump.  They see him as a kind of savior who can do no wrong.  But there was plenty of outrage on the left.
Bernie, do you think it is too soon for Trump to panic over his polling numbers? He is still a candidate running against an unknown opponent. Would you agree that Trump won a decent number of independent votes in 2016 simply because he was not Hillary Clinton and that those same independent voters might vote for him again simply because he is not Bernie, Elizabeth, or Joe? Would the independent voters in the poll you cite want Trump impeached and removed from office if they knew a liberal socialist would take his place? -- Joe M.
All good questions, Joe.  First, yes, a decent number of independent voters in 2016 voted for Trump because he wasn't Hillary.  Second, those same voters might indeed vote for him again because he's not one of the 2 Dem frontrunners.  Third, would the independent voters in the Gallup poll want Trump impeached and removed from office if they knew a liberal socialist would take his place?  That, my friend, is the BIG question.  And the answer may very well decide Donald Trump's fate.
Bernie, have you been following the NYT's 1619 project and can you please comment on whether this (and similar projects) are more or less likely to foster unity in the U.S.? I am starting to question whether the "Amercian experiment" will continue to be successful ( no doubt the NYT would question my premise) in a world of identity politics and increasing tribalism? -- Michael F.
I have not followed the 1619 project because I don't like being depressed.
Bernie, you have been around politics a long time. It is my belief that, except for a brief congratulatory call on an election result, almost every call a US president makes to a country receiving, or desiring, US aid has strings attached--the dreaded quid pro quo. Trump, as always, blurred things by mentioning Biden as an afterthought (and if you read the transcript you can read that he mentions Biden only towards the end of the call), but do you believe his tying aid to investigating 2016 election corruption was a crime? I do not. -- The Fantom
I don't know if what the president said on that phone call constitutes an impeachable offense.  But what he did was stupid -- because there's a clear implication that Ukraine would not get the U.S. aid if the Ukrainian president didn't "co-operate" with Mr. Trump.  That's the quid pro quo even if it wasn't blatant and even if the Ukrainian president claims he wasn't pressured.
Biden's role in getting the Ukrainian prosecutor fired and whether he did that to help his son would be better dealt with during the campaign, should Biden get the nomination.
[Regarding your Donny Deutsch "Off the Cuff" audio], I honestly don't know what they are teaching in these colleges. If Donny had had any kind of education at all, he should have known the same things that you set forth. What happened to European History? Did all of these guys major in Ethnic Studies or Basket Weaving? It seems like much of what is going on in the commentary sphere is proof of Alexander Pope's dictum that a little learning is a dangerous thing. -- Oliver H.
I think it's as simple as Trump Derangement Syndrome.  It makes people crazy.
Bernie, It seems to me that Trump has not been given the space and trusted staff to function as POTUS. Prior even to day one of the presidency there have been leaks, administrators who refuse to do their job, and constant internal spying that does not serve forward movement of his agenda. Can you think of a POTUS that has had to deal with anything like this? Not to mention about 98% negative coverage in the MSM. Trump causes himself plenty of trouble no doubt but these challenges do not allow him to run the Executive Branch. -- Dave E.
A friend of mine sent me a note on this very subject.  Some people think Donald Trump is a victim -- in the crosshairs of his own people.  Others think his people are trying to save him from himself. As for the MSM:  Yes, journalists can be and often are  brutal;  some wake up each morning trying to figure out how to bring him down.  But as you say, Trump brings a lot of it on himself.  Both sides have a lot to account for.
The left is getting gutsier these days, enough that I fear that if they get into power, our government could pass laws that actually limit free speech by making so-called "hate speech" a crime. I don't support racists, but they DO have the same rights as the rest of us. And of course, there's always that danger that it will be the LEFTISTS deciding what types of "hate speech" should be outlawed and what is legal. I can't help feeling that if anyone criticizes Islam, the left will come down and pounce, whereas if the same person criticizes Catholics, Evangelical Christians, or the Orthodox Jews, THAT would be overlooked. What are they going to do if a gay black Catholic criticizes Islam? Your thoughts are always appreciated. -- First Amendment Regards, From The Emperor
There was a time when I thought the idea that liberals of all people would try to shut down free speech was just plain crazy.  Those times have passed.  I'm not saying they'd succeed -- there are too many conservatives and some honest liberals who would fight any attempt to limit speech -- but would they try?  Good chance, Emperor.  Good chance!
What are your thoughts on the Rep. Katie Hill story? She just resigned following nude photos of her published on a conservative website (apparently sent to that site by her husband), and allegations of an affair with a staff member (which is against House rules). Some are saying she was pressured out by "prudes," and that a man wouldn't have faced as much criticism in the same situation, but I have A LOT of trouble believing that. -- Ben G.
So do I.
---
Thanks, everyone! You can send me questions for next week using the form below! You can also read previous Q&A sessions by clicking here.