Discover more from Bernard Goldberg's Commentary
Media and political analysis
Over 8,000 subscribers
Bernie's Q&A: Tom Brokaw on Richard Jewell, Tom Synder, Football Concussions, and more! (12/27) — Premium Interactive ($4 members)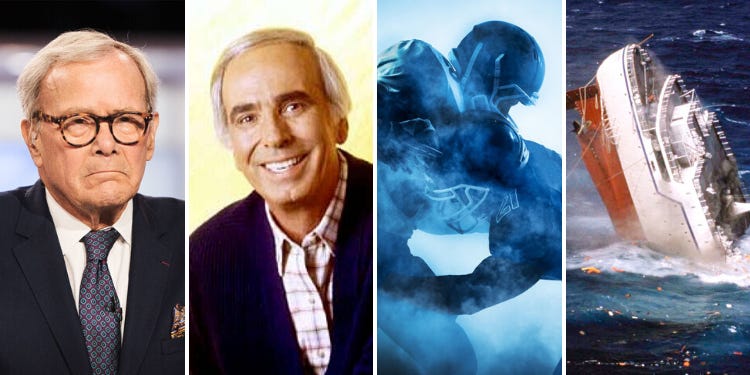 Welcome to this week's Premium Q&A session for Premium Interactive members. I appreciate you all signing up and joining me. Thank you.
Editor's Note: If you enjoy these sessions (along with the weekly columns and audio commentaries), please use the Facebook and Twitter buttons to share this page with your friends and family. Thank you! 
Now, let's get to your questions (and my answers):
---
Trump is the chief enforcement officer of the country. His request of the Ukrainian president could be interpreted in at least two ways:
to enhance his chances of re-election

to investigate Biden's inappropriate behavior with regards to Hunter's oil company job.
Asking the guy at the top is the most likely way to get something done. A thorough investigation that cleared Joe of any inappropriate behavior could only enhance his chances of beating Trump in 2020. Isn't it then a tacit admission by the Democrats that Joe and Hunter are guilty as charged? Perhaps they don't want to look into the ways that many members of Congress become multimillionaires on congressional salaries; Maxine Waters and Bernie Sanders being outstanding examples. -- Tom W.
We all know that Hunter got a job for which he had no known qualifications because his father was the vice president of the United States.  But what crime do you think he committed?  Guilty as charged -- of what?  Just curious, Tom, but would you want an investigation to see if any of the Trump kids got breaks because of their last name?  All that said, Joe Biden should have told his son that the mere appearance of a conflict of interest would do neither of them any good.  It's a political issue for sure.  If it's also a legal issue I'll need more information.
First, wishing you a Happy Chanukah and all my fellow readers Merry Christmas, Happy Chanukah and a Happy and Healthy 2020. What are your top two or three New Year's resolutions? Here is one of mine that I wish all Americans would adopt: no more stereotyping. If we all were to evaluate others as individuals and not as members of this group or that group we could start to eliminate the divisiveness that plagues our wonderful country. God bless and see you next year. -- Michael F.
I've never been big on New Year's resolutions, Michael.  And the few I've made, went nowhere.  But I like yours.  We sure need to do something to stop the divisiveness, which I have said is the biggest single problem facing our country right now.  Yes, bigger than climate change.  Way bigger.
How do I ask this with sensitivity... What socio or economic groups are most hurting our country by not speaking out & stepping up to curb (or even stop) recent trends that we baby boomers can't stomach? I'm talking about such things as PC, shunning of accountability, a country where the smallest of minorities has such power to make change, softening attitudes towards socialism, and a corrupt media? Who's really letting us down here? Is the Silent Majority way too quiet? -- Scotty G
People are afraid to speak up against PC nonsense, and the rest, because the PC culture is a powerful one -- and anyone who takes it on runs a risk of getting beaten down.  Saying people need to be held accountable for their actions, can get you in trouble with progressives, who see oppressors and their victims.  Who wants to be called insensitive -- or a lot worse?  There's no shortage, however, of critics (from the right, mainly) calling out the media for their biases.  When the Silent Majority has had enough, then things may change.
For what it's worth, I wrote a book called 100 People Who Are Screwing Up America ... which went after the people who were doing damage to our culture.
You were very early on with the concussion aspect of football. Do you believe that the situation has changed in college football and the NFL or is it business as usual? -- Tim H.
Yes, Tim, very early on.  I was the reporter on the Real Sports team that broke the story (at the same time as the New York Times).  The NFL instituted a lot of rules to at least try to make the game safer.  But football -- college or the NFL -- is an inherently violent sport -- and so player will continue to take hits to the head with the long term consequences that go with those hits.  Let's hope it's fewer going forward.
Bernie, the homeless situation in California, and other West Coast States, is getting pretty awful, and the recent US Supreme Court decision not to hear the 9th Circuit ruling related to the homeless problem won't make things better any time soon. Do you think the die hard blue voters out there will finally have enough of this nonsense and start voting red? I cannot imagine the shanty towns, rampant drug abuse, disease, and feces piling up on the streets is the dream of every Democratic voter but maybe I'm wrong. -- Joe M.
Los Angeles? San Francisco?  Seattle?  There's a better chance that voters in those cities will blame Donald Trump for homelessness than decide to abandon the liberal Democrats under whose stewardship this mess has grown.  Is that rational?  Of course not.  But they're under the spell of progressivism in those places and they're not about to vote red, as you put it.
Despite all its shortcomings, YouTube can be fun. Specifically great video clips of the past. In that regard came across some old interviews conducted by Tom Snyder. I was always a fan. To me he was a man born to be on TV. Charismatic, high likability factor, never felt burdened by his politics, whatever they might have been, and an engaging fun interviewer. You ever cross paths with him in the CBS days? Was just wondering what your impression of him was on his various incarnations on late 'night' tv? -- Ronald M.
His show was more interesting than most of what was (and still is) on TV,  And I'm not saying that because he interviewed me once.  I have no idea what the topic was.  But a big reason Tom became so popular was because of Tom.  He had a TV personality.  Big.  Bold. Brash.  And not much of a filter between Tom and the viewer.  Compare him to the chuckleheads on cable TV in prime time who also do interviews and give opinions.  Tom wins.  Not even close.
Bernie, Let's say that you are on a cruise ship filled with political commentators. It strikes an iceberg and is sinking fast. People are jumping into the ocean, including you. You manage to pull yourself onto a small rowboat that dropped from the ship's deck among the chaos. You are now safe, but there's only room on the boat for one other person, and there are three fellow commentators flailing in the water around you: Bill O'Reilly, Joe Concha, and Cooper Lawrence.
Cooper Lawrence.  It's a no brainer.
I often see left wingers showing videos of people successfully scaling walls to show how ridiculous they think Trump's border wall is. Yet these same people look at evidence showing that cities with strict gun control laws and areas with signs reading "Gun Free Zones" don't stop gun violence and crimes, and of course then they never comment on it. What are your thoughts on this paradox? -- Yuletide Regards From The Emperor
Let me make sure I understand this, Your Highness:  You expect these folks to have principles?  To be consistent? You're funny.
Bernie. Your profession has taken you all over the world. Which country (not including the United States) do you think you'd most like to live in? -- Ben J.
Australia
On Twitter this week, Tom Brokaw responded to a scene in the movie Richard Jewell that shows an actual news clip of him (from back then) seemingly convicting Jewell (as the Olympic bomber) in the court of public opinion.
Here's Brokaw's tweet: "24 hours after the bombing i talked at length with a sr fbi official - who did not wave me off jewel as a suspect. i reported that and speculated why. but my last line was for now he's just a person of interest. when the truth emerged i apologized."
But Brokaw seems to be downplaying the meat of what he actually said at the time, which was, "The speculation is that the FBI is close to 'making the case', in their language. They probably have enough to arrest him right now, probably enough to prosecute him, but you always want to have enough to convict him as well. There are still some holes in this case."
In fact, NBC News eventually paid Jewell $500,000 over Brokaw's remarks.
What are your thoughts? Brokaw's explanation seems weasily, but maybe I'm being too harsh. -- Alan H.
First, good reporting Alan.  And assuming your quotes of Brokaw are correct, I don't think you're being too harsh.  As I've written before, journalists are not especially good at introspection.
---
Thanks, everyone! You can send me questions for next week using the form below! You can also read previous Q&A sessions by clicking here.