Discover more from Bernard Goldberg's Commentary
Media and political analysis
Over 8,000 subscribers
Bernie's Q&A: Donaldson, Bozell, Barr, Jeter, and more! (2/21) — Premium Interactive ($4 members)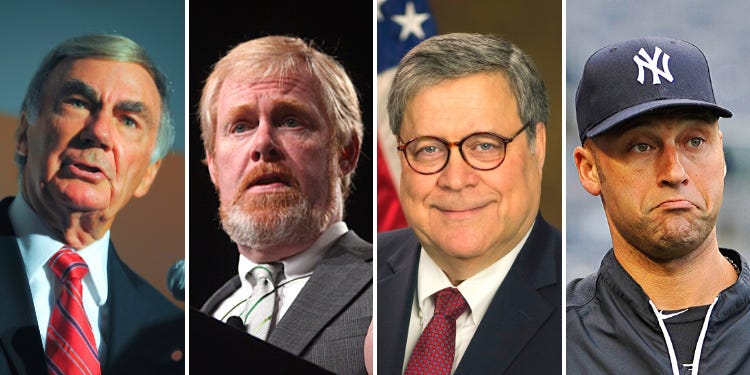 Welcome to this week's Premium Q&A session for Premium Interactive members. I appreciate you all signing up and joining me. Thank you.
Editor's Note: If you enjoy these sessions (along with the weekly columns and audio commentaries), please use the Facebook and Twitter buttons to share this page with your friends and family. Thank you! 
Now, let's get to your questions (and my answers):
---
What are your thoughts on Sam Donaldson publicly endorsing Mike Bloomberg for president, and even appearing in a campaign video for him? Some people are saying it's evidence of media bias, and that it hurts the credibility of journalists. But isn't Sam long retired? Is there anything ethically wrong with a retired journalist endorsing a politician? Seems to me that his political leanings would only be a potential issue if he was an active journalist. -- Adam G.
I'm with you, Adam.  Sam retired a long time ago so there's nothing unethical about his endorsement.  The downside of such an endorsement is that it makes you wonder if his liberal worldview affected his reporting.  But who am I to speak:  I was notoriously even-handed as a hard news journalist ... but now that I'm a commentator, I'm giving opinions all the time.  I know I could be fair back then and be opinionated now.  So I'll give Sam the same benefit of any doubt about his leanings as a reporter.
I think most people consider you the leading authority when it comes to exposing liberal bias (20+ years and running), but Brent Bozell has put a lot of time and effort into the same thing (though he's a partisan and never really calls out bias from Republicans). I'm curious what your thoughts are on Bozell and his "Media Research Center" operation. Thanks. -- Jerry
I like Brent and I think the MRC does fine work.  But, and you alluded to this, their concern is only with liberal bias in the news.  I have made it clear to Brent that I think MRC would be a powerful media force if it took on all bias, not just one kind.  But that's not what they're in business to do.  If they were equal opportunity watchdogs their funding would dry up.  Besides, Brent has no interest in going after conservative bias, given his politics. Again, I like Brent and I like the people at MRC, but they're partisans -- not impartial critics of the news media.  Too bad.  But it's never going to change.
Bernie, did you watch [Wednesday] night's Democratic debate? Were you surprised Bloomberg was a bigger target (and boy did he get hammered by the others!) than the frontrunner, Sanders? Plus Mayor Pete and Klobuchar were more vicious with each other than with Sanders. Do you get the impression that the other candidates think Sanders will ultimately be rejected by primary voters, and that's why they aren't all teaming up on him? Have they learned nothing from the 2016 Republican primary? -- John S.
I did watch, John, and I wasn't all that surprised by the fact that Bloomberg was the night's biggest target. The others see him -- or saw him may be more accurate given his dreadful performance -- as a serious threat.  They felt they had to diminish him early, lest he and his money take off and cause them big problems.  I don't get the impression that the candidates think Sanders can't win the primary and that's why they didn't take aim at him on Wednesday night.  If he remains the frontrunner, he will be in their crosshairs.  We'll know more after Nevada, South Carolina and Super Tuesday.
My father used to say, "The only thing worse than a sore loser is a sore winner." I think we saw that twice in the last couple of weeks with people getting upset that they didn't run the table, and then lashed out at the lack of purity in a particular vote:
Trump won his impeachment acquittal and had every House and Senate Republican except Mitt Romney voting in his favor. The reaction of Trump and his supporters? Not pleasure in victory, but vitriol directed at Romney.

Derek Jeter was elected to the Baseball Hall of Fame but lacked one vote from a perfect ballot (this has occurred with every other baseball player in history not named Mariano Rivera). Still the Yankees fans came out of the woodwork with their righteous indignation. I heard one guy on sports talk radio advocate for finding and removing that one dissenting voter, calling his "no" vote a "dereliction of duty".
Can we not enjoy our victories anymore, or are we too busy finding things to bitch about? -- Steve R.
First, the specifics you bring up:  You're absolutely right about the vitriol aimed at Romney.  It was unnecessary.  Why do it.  You won.  Be gracious.  But that's seen as weakness by too many Americans.
Regarding Derek Jeter:  I'm with you again.  Babe Ruth, Lou Gehrig, Willie Mays, Mickey Mantle ... none of them were unanimous choices.  They all may have been bad decisions by sports writers, but with the advent of sports talk radio, a simple statement isn't enough.  There has to be righteous outrage.  It's good for business because that's what more and more people seem to want -- outrage.
And that's the bigger point you raise, Steve:  That we're so angry ... about politics, sports, just about everything.  The polarization, the anger, keep getting more entrenched.  This is not good for the country or the American people.
AG Barr must have been going nuts and cursing Trump privately as the president tweeted about the Stone case and sentence. Barr was diplomatic in describing his frustration, but damn, Trump just doesn't know when to stop.
That being said, I think Stone got screwed. Is there a Democrat involved in any of the crap of the last 3 years who's doing any time? Clinton was winked through by Obama's DOJ, Comey lies through his teeth, Brennan and Clapper perjured themselves, etc. Stone lied to Congress and he should do 7-9 years in prison?
How about the jury foreperson being a Trump & Stone hater? How did someone with her obvious bias get on the jury, much less be named foreperson? And it was an Obama-appointed judge who appointed her. Can the deck be any more stacked against Republicans and Trump? And yes, I admit he brings a lot on himself. -- Thanks for listening JM
I'm pretty much with you JM.  Barr must have been really teed off with Trump's comments.  But as you say, the president just doesn't know when to stop.  And if he does know, he's incapable of stopping.
You're also right about the imbalance.  But remember, it wasn't the judge who picked the juror ... it was Stone's attorney.  And it was the other jurors, again not the judge, who made her the foreperson.
But, for the record, Roger Stone did more than lie to Congress. He was convicted of 7 felonies, including tampering with witnesses in order to impede a federal investigation.
That said, 7 to 9 years strikes me, as it does you JM, as extreme.
I get the Liberal media pundits went all in on Avenatti because they so wanted his nonsense to hurt Trump, but why were they risking so much credibility (and now have major egg on their faces) over this guy? I'm more a middle ground guy, just an interested observer who thinks both fringes are nuts and the media is certainly "Biased" and I could easily tell this guy was a snake oil salesmen salesman. Who would be central in a similar case in your past experience where the media got so snowed like this? -- ScottyG
First, you're right:  The media went all in on Avenatti for just one reason:  He was bad mouthing a president the media, by and large, detest.  As for their credibility, they lost none with their fan base.  Fox viewers think they look stupid ... not CNN and MSNBC viewers; they don't care.
Can't think of another situation where the media fell madly in love as they did with Avenatti.  But whenever they swoon, it's usually over someone on the left who is bad mouthing someone on the right.
Bernie, As I follow the Democratic Party nomination process I notice that no matter the outlet the term "moderate" is misapplied. Mayor Pete, Amy, Biden, and Bloomberg are considered moderates. The policies they advocate are right of Sanders and Warren but hardly moderate. Do you think the reporting on these candidates is misguided, purposely biased, or just lazy reporting? Perhaps you have another explanation aside from my options. -- David E.
I agree with your premise:  Even the moderates are left wingers. To put the best light on it, all the reporters are doing is saying Mayor Pete and Biden and the rest are "moderates" compared to the hard left candidates, Sanders and Warren.  It would be the same to describe GOP candidates as "moderates" compared to hard right candidates.  It's shorthand.  But I -- and I think you -- would feel better if every now and then journalists would point out that "moderate" is a relative term ... and that the positions of Democratic moderates are not middle of the road; they're liberal positions.
Rush Limbaugh recently described Pete Buttigieg as  "a gay guy, 37-years-old, loves kissing his husband on debate stages." And then he added, "Can you see Trump have fun with that?"
But of the sometimes bigoted comments Trump has made in recent years, I can't recall him ever saying anything remotely homophobic. In fact, he's made a number of supportive comments in regard to the gay community. Do you see this as a positive development within the GOP -- a party whose members and leaders have sometimes given people reason to view it as homophobic? -- Pete J.
I think Rush is the one who's not comfortable around gays.  I don't think Donald Trump would make fun of the mayor's sexual orientation ... if for no other reason than if he did he'd lose college educated suburban swing voters that he needs to win re-election.  Beyond that, I think you're right, Pete:  I can't recall Donald Trump saying anything negative about gays, either.
There's often some virtue signaling from wealthy left wing elites—they will go to an expensive vacation spot or a fancy restaurant or venue, and say that they enjoyed it, but then complain that there were "too many white people" there and "not enough people of color."
If so many white liberals want to experience diversity as much as they claim, since they often say that "diversity is our strength," why don't they attend some gangsta' rap concerts or move to the proverbial "hood" or black neighborhoods to cultivate friendships with the residents? Why don't they send their children to schools in poorer neighborhoods? Maybe their children could get part-time jobs there, or date from the more diverse crowd. I'm sure you sense the facetiousness of my query, but my sentiments are sincere. Your thoughts -- Diverse Regards from The Emperor
Let's stick with just one of your examples:  what schools liberals send their kids to.  I know liberals who talk a good game about mixing with all races and economic classes ... while sending their kids to private schools.  Why?  Too many minority kids in public schools.  Hypocritical?  Sure.  But when your own kids are involved, sometimes you toss your cherished liberal principles over the side.  For the record, I've never heard anybody -- liberal or conservative -- say there are "too many white people" at the fancy restaurant they went to.  But I get your bigger point.
---
Thanks, everyone! You can send me questions for next week using the form below! You can also read previous Q&A sessions by clicking here.