Discover more from Bernard Goldberg's Commentary
Media and political analysis
Over 9,000 subscribers
Bernie's Q&A: Cooper, Matthews, and Another Trump as President? More! (2/28) — Premium Interactive ($4 members)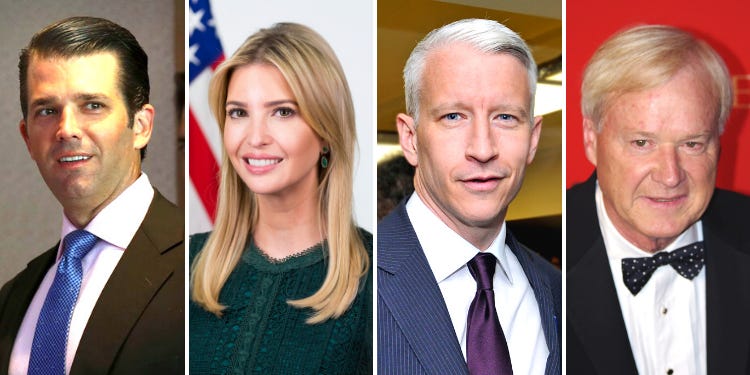 Welcome to this week's Premium Q&A session for Premium Interactive members. I appreciate you all signing up and joining me. Thank you.
Editor's Note: If you enjoy these sessions (along with the weekly columns and audio commentaries), please use the Facebook and Twitter buttons to share this page with your friends and family. Thank you! 
Now, let's get to your questions (and my answers):
---
What are your thoughts on Anderson Cooper as a journalist? -- Ben G.
I don't watch him on CNN very much, but I know his politics from the little I do watch.  Journalists shouldn't let the audience know anything about their politics.  But at CNN, the line between hard news and opinion is often blurred -- and sometimes obliterated (see Jim Acosta at the White House).  But Anderson is a bright guy and does a good job on 60 Minutes, the few times I've seen him there.
If I look back at my life and the news (events) that probably had the biggest impact on me would be the JFK assignation; 1980 US hockey team, and 9/11. Outside of personal events, what's your three? -- Tim H.
Those are good ones time.  The JFK assassination makes my list too ... as does 9/11.  The 1980 US hockey team is the biggest event in U.S. sports -- maybe ever -- but I only came to appreciate it years after the fact.  My third event then would be the assassination of Martin Luther King, Jr.
Care to opine on Samantha Bee and her tirade against Dennis Prager and Prager U? Also curious if you watch any of the Prager U clips (many of which have nothing to do with politics and are quite informative)? Also, in response to your mention in [last week's] Q &A about "moderate" Democratic candidates, let us not forget that many folks view the NYT as middle of the road . -- Michael F.
I know Samantha Bee only from the occasional promo I accidentally tune into.  I find her nasty.  So no, I have no comment about her run-in with Dennis Prager.  As a rule, I try not to comment on unimportant people -- like Ms. Bee.  I don't watch Prager's YouTube clips, either.  If you're interested, Michael, I think Dennis is very bright, but in my humble opinion, he's become less of an intellectual force given his unvarnished support for our president.  As for the Times, once upon a time it was middle of the road.  Not recently.
On Friday, MSNBC and CNN were back at it again, reporting that Russia is looking to influence the 2020 election. Same ole, "Trump is a Russian asset" BS. This time, the plan is to have Sanders win the Democratic nomination assuring Trump of victory in November. It's obvious these clowns don't believe Sanders can beat Trump; many have said as much over the last few days. They're scared to death that he could win the nomination. But really, they're going to start this BS again? Brian Williams actually chastised the public for not immediately jumping on board with their warning, "it's Russia again". Yo Brian, you ever hear the story of the boy who cried wolf? Just stop already. -- JM
For the record, JM, Russia did indeed interfere in our 2016 election, and according to intelligence sources are doing it again this time.  Collusion with Trump was the point of contention...not whether or not Russia interfered. They did.
I'd also like to take issue with your use of the word "clowns" to describe certain left wing journalists.  That's unfair. To the clowns.
Bernie, Since this weekend is the 40th anniversary of the Miracle on Ice, I was wondering if you thought any sporting event since that day has come close to it in terms magnitude and significance? Also, in my opinion your HBO documentary about the 1980 US Olympic Hockey Team is one of the best sports documentaries of all time, thank you for putting it together! -- Joe M.
Thank you Joe.  It's interesting that even though people knew how the game ended by the time they watched that HBO documentary, they still had tears in their eyes.  It was a good one.  Now to your question:  That game at Lake Placid in update New York had significance which went way beyond sports.  So, no ... no other sporting event since has matched that game in terms of magnitude and significance. But as I mentioned in an earlier question this week:  I only came to appreciate how big that game was as time went by.  The game itself, you may recall, wasn't even broadcast live.  So it took a while for it all to sink in.  By the way, my favorite line in that documentary was "The only thing placid that day ... was the lake."  Live Schreiber brought the line to life in his narration.
If Trump supporters expressed half as much frustration with Trump (for alienating persuadable voters), as they express with persuadable voters (who've been alienated by Trump), do you think Trump would have stopped alienating persuadable voters by now? -- Bill W.
Let me get back to you Bill when my head clears.  I need the Rosetta Stone to figure out what you're saying.  Ok, I"ll give it a try:  I don't think Trump would have stopped alienating persuadable voters by now because you can't persuade him to do anything.  He's unpersuadable.  Even though persuading persuadable voters would be in his interest.  Comprende?
Mr. G, I respect and also very much appreciate your decision not to vote in the 2020 General; but what do you say to those who say "If you don't vote, don't complain"? Either way there will be so much to criticize for the next four plus years and we don't want you to miss out. If the "other" Bernie gets the nomination one might argue that a vote for Trump is more so a vote against Socialism, and hows that not a good thing? -- ScottyG
I've heard the criticism -- if I don't vote I can't complain.  I get it but I don't buy it.  I'm making a statement by not voting.  I won't vote for any of the progressives or so-called moderates, who are really left-wing lite ... nor will I vote for a man of such bad character as Donald Trump.  But I can, and will, still comment on the news of the day no matter who wins or who loses.  Why do I give up my right to comment because I didn't vote?  Does a 17-year old give up his or her right to comment on a war they may have to fight in, just because they didn't vote?  If I didn't listen to what the powers in this country are saying and doing; if I didn't care; then one could make a case that I shouldn't comment.  But only then.
On an amusing note, a friend of mine found this old George Carlin clip, and felt it pertained to this very topic (warning: graphic language):
Bernie, you've written that you won't be voting for Trump and you won't be voting for the Democratic presidential nominee. Some have taken that to mean that you won't vote for anyone for president. This would seem like an odd decision being that you will still have the option of writing in Jesse Watters' name on your ballot. -- John D.
You have a good point, John D ... and if you wear a hat nobody will notice it.
I remember reading somewhere that Trump's ultimate dream was to witness Ivanka becoming President of the United States. Do you think she has any shot at elected office, or is the Trump name without Donald's alpha-male charisma just too toxic? Also, if Trump is re-elected, could we see Arizonans Doug Ducey and Kyrsten Sinema duking it out for POTUS in 2024? -- Joel E.
I met Ivanka once ... we just exchanged hellos and a few words in Trump Tower.  I thought she was very nice.  But I also think her father had made the name, to use your word, toxic.  I don't think it would help her; the opposite it more likely.
As for 2024:  I think the two who will duke it out will be Mike Pence and Nikki Haley.  Stay tuned.
Regardless if Trump wins or loses in November, how much do you want to bet that Donald Trump Jr. runs for the nomination in 2024? -- Jen R.
I don't think he will.  2024 is too soon.  If his father wins, Jr -- I think -- will realize that voters are not in the mood for a dynasty -- certainly not 3 consecutive terms of anyone named Trump.  If Donald loses, that wouldn't bode well for junior.  So I'd bet a lot that he won't run in 2024.
You've written that young people are embracing socialism because they like free stuff, but I think it goes beyond that. Any time something catastrophic occurs or is at least on the horizon, those affected do well to perform some introspection and see what they did to create the problem. As capitalists, I think we need to do that with the rise of Bernie Sanders and "democratic socialism". It appears 2008 was a real tipping point. Unlike Enron and the S&L scandal, where rich, powerful people actually went to jail in large numbers and for many years, the scions of Wall Street skated through scotch-free. These powerful men were not held accountable for their actions that almost killed the world economy, and no moral hazard occurred. NONE of those guys served a day of jail time, fines or meaningful punishment. Many were awarded their usual bonuses, because the markets needed to be stabilized (supposedly). Hindsight is 20/20, but where were the patriots in business and government to defend our unique and wonderful system of free markets? Young people saw this and so branded this behavior as "capitalism", and we're seeing the backlash against it. This is now its own kind of social justice. In other words, we capitalists did our part to create this mess. Your thoughts? -- Steve R.
You make a smart, interesting argument Steve but I still think the major driving force is "free" stuff.  Everybody likes stuff that someone else is paying for.  It's probably imbedded in our DNA.  I'm not minimizing your thoughtful argument, just saying I think free stuff trumps all.
To be clear, I DO NOT want Bernie Sanders nor his ilk to win the White House and run this country.
That said, Chris Matthews comparing the rise of Sanders to Hitler is despicable, vile, and shameful. However, I'm feeling some Schadenfreude about this for several reasons. Considering that Sanders always refers to Trump & his supporters as "racist, sexist, homophobic, islamophobic, white supremacists," I'm highly pleased that he is on the receiving end of such unjustified accusations (seeing as how he has no problem doing that himself). 
I'm also highly pleased that Matthews (along with some other traditional virtue signaling liberals) finds himself on the receiving end of the vitriolic bile from the left (his people), seeing as how had no problem tossing such accusations and vitriol toward conservatives!
Here's what I can't figure out: shouldn't it have been obvious to Matthews that such a ridiculously obvious partisan hit job would backfire on him? Did he honestly think that he would get away with that? And do you think this incident might actually get Bernie Sanders to realize that he too is a hypocrite? -- "What Goes Around Comes Around" Regards From The Emperor
You make an assumption that Matthews thinks before he talks.  Did he think before he said Obama sent a thrill up his leg?  Do I think the incident might get Bernie to realize that he too is a hypocrite?  Tell me when to stop laughing.
---
Thanks, everyone! You can send me questions for next week using the form below! You can also read previous Q&A sessions by clicking here.