Discover more from Bernard Goldberg's Commentary
Media and political analysis
Over 9,000 subscribers
Bernie's Q&A: Trump, Maher, the Coronavirus Crisis, Rooney, and more! (3/27) — Premium Interactive ($4 members)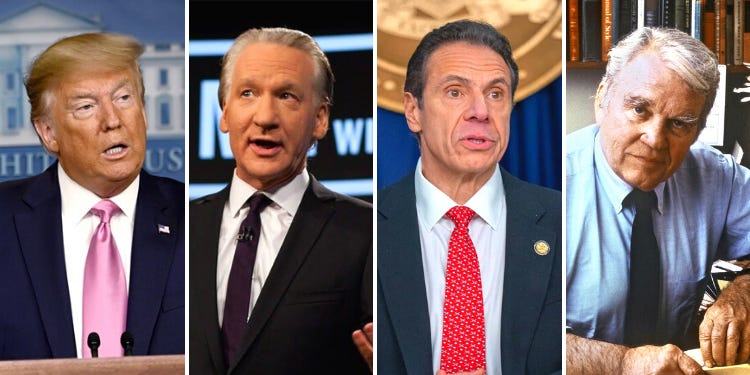 Welcome to this week's Premium Q&A session for Premium Interactive members. I appreciate you all signing up and joining me. Thank you.
Editor's Note: If you enjoy these sessions (along with the weekly columns and audio commentaries), please use the Facebook and Twitter buttons to share this page with your friends and family. Thank you! 
Now, let's get to your questions (and my answers):
---
I have watched the WH press conferences each day. Certainly the most important of this century so far. A couple noticeable observations. First, many questions are getting dumber by the day. Second, John Roberts of Fox seems to be asking the technical and specific questions that I want asked. Am I alone on this opinion? -- Tim H.
You are not alone, Tim. Some of the questions, thankfully, are good ones. Some are politically motivated. That said, the president should not dismiss legitimate questions because the answer might make him look bad. As for John Roberts, I'm with you.  He does a good job.
I notice a lot of liberals on social media commenting about racist physical attacks against Asian people because of the coronavirus. I think most people of any political persuasion would condemn these racist attacks, though I see that the virtue signaling liberals are immediately blaming Trump and his racism for causing these attacks. What I'm NOT seeing are white people in MAGA hats committing these awful acts of racist violence. In fact, the one video I did see shows a black guy attacking an Asian woman. I could try to point this out, but I don't because I get the impression that I might as well be howling at the moon since I don't think even a video or other proven facts would change any minds. In all likelihood I suspect that the liberals would attack me with accusations of racism simply because I pointed out sone discomforting facts to them. Why do you think that is? Your thoughts are always welcome. -- Virtue Signaling Regards From The Emperor
You are right on the money, Emperor. As you say, racist attacks are not defensible -- under any circumstances. But to blame the president, because he calls it the "China virus" is both despicable and predictable. The left will blame him for a snowstorm in the Arctic Circle if they think they can get away with it. And you're also right, Your Highness, that there's a good chance YOU'D be called a bigot if you point out some "discomforting facts." The left doesn't have a monopoly on CRAZY, but at times it sure looks like they're trying to corner the market.
Bernie, my liberal friends are the same way [as you described in Monday's column]. There is no debating the cost to the economy with these folks or the severity of the illness. It is either you believe this will kill millions and be Trumps fault, or you are just as bad as Trump. One of my liberal friends is no longer speaking to me since I questioned his comments about the pandemic. Which leads to my question, how can this be worth it if all you get at the end of the day is a totally destroyed and ripped apart country? What is the point of being President if you have no nation to lead? -- Joe M.
The battle to prevent a medical and health catastrophe may lead to an economic catastrophe. That's the very difficult situation we find ourselves in.  But let's defer to the experts: If we send people back to work too soon, hoping to get the economy back on its feet, we'll wind up with an economic disaster anyway; it'll just come a little later -- and cause more health misery in the process. It's a tough one, Joe. Let's hope we come up with a solution that saves human lives and the economy too.
Here's something I found on National Review Online by Kevin Williamson ... which, I think, bolsters my point:
'We do not know what the economic consequences of a worsening epidemic would be. The measures we are taking right now impose terrible economic costs, but a catastrophic epidemic — one that is orders of magnitude worse than what we are experiencing right now — would impose terrible economic costs, too, on top of an unthinkable amount of death and suffering."
I don't quite get it when people like Bill Maher, etal say "we can't survive another Trump term" Ok so he and many like him hate his guts, fine, but the man has come through on many things, bet Maher was loving what the economy was doing for his savings accounts, did he not agree with the Civil Rights Reform act? Didn't care for the record unemployment numbers for Blacks and Hispanics, not to mention historic lows overall? Trashing NAFTA and reconstructing it was not to their liking? So what won't they be able to survive if he should somehow be re elected? -- John M.
You're making one mistake John. Just one. You're being rational. Bill Maher isn't. And to try to be rational with an irrational person is a waste of time. Let's leave it at this: We're right, they're wrong.
Bernie do you see the hypocrisy of the right? For eight years everything Obama did would ruin the country. If you asked Fox News, birthers, or any of his haters. But I don't remember you putting those people in check. I know you don't like things about Trump. But you still seem to go out of your way to give his followers a pass. Trust me the level of love, and accept everything Trump does by his base is epic. And the amount of hate and ill will they spew on social media is just as bad as the Trump haters. My question to you is. Do you really believe you are equally critical of Trump's base as you are on his haters? -- Douglas S.
A couple of things, Douglas.  I have written REPEATEDLY about Trump loyalists -- and not in a good way. I can only assume you haven't read my MANY columns where I put them in the crosshairs.
Beyond that, a commentator has to be fair, but does not have to be down the middle. Some things bother me more than others. Some things bother liberal commentators more than others.  Right-wing stupidity annoys the hell out of me. But liberals are the ones constantly telling us how caring and good and decent and smart they are. So when they drop the ball, it interests me probably a little more than if Sean Hannity did something stupid. You see, Douglas, I expect nothing from goofballs on the right. The left, on the other hand, tells me to expect more from them, so I do -- and point out their hypocrisy when they're guilty of hypocrisy.
Finally, please re-read my first answer to your question. It's important that you understand how often I've taken Trump loyalists to task. Every time I do, I hear from them. So I plead NOT GUILTY to the charge. But thanks Douglas, for asking.
What, if any, bias in did you notice in John Roberts' interview with Michigan's Democratic Gov. on Fox News Sunday? -- Bob H.
I watched.  Didn't register to be honest.  Didn't notice anything especially interesting one way or the other. Please get back to me and let me know what you're suggesting.  Thanks, Bob.
Bernard, [regarding your column from Monday] please see this link. This is a Democrat who escaped it, by a happenstance sort of way. She held nothing back. It opened my eyes to the same issue. I think your readers would appreciate this. The title of the piece is "After Attending a Trump Rally, I Realized Democrats Are Not Ready For 2020." -- Bill N.
I read the column, Bill, and it backs up the idea that some on the left think that all Trump supporters are hateful, deplorable human beings. Some are. You can't argue with that -- even though the column you linked to is by a Democrat who went to a Trump rally and found lots of really nice people. Most are, I suspect. That said, there are plenty of supposedly intelligent, open-minded progressives who are horrible human beings; who say if "lots" of their fellow Americans die because of the coronavirus, it's "worth it" if it means getting Trump out of office. What makes them so deplorable is that they see themselves as the good ones, the enlightened ones, the decent ones. Donald Trump has made them crazy.  Trump Derangement Syndrome is real.
I was watching an old interview of Andy Rooney last night where he talked about his time covering the 8th Air Force in WWII. It was a fascinating interview. Did you spend time working with him when you are at 60 Minutes, and if so, what were your thoughts on the work he did when you worked together? -- Joe M.
I wasn't on 60 Minutes -- but a lot of people think I was. I did appear on other prime time CBS News magazine programs. I knew Andy. He wrote me a very nice note in 1996 after my op-ed about liberal bias appeared in the Wall Street Journal. But he wasn't happy when I put the letter in my book Bias. He didn't want his colleagues to know that he agreed with me. I thought less of him after that.  Andy was a well-known curmudgeon. Let's just say it was a well-deserved description and leave it at that.
Bernie: In these times of pandemic, things are certainly political but shouldn't be partisan. To that end, I'm interested to get your objective opinion on how some of our politicians are handling their crisis leadership roles. I give kudos to Trump, Pence, Gov. Cuomo (D-NY), Gov. Newsom (D-CA) and Gov. Abbott (R-TX). Demerits to Mayor De Blasio of NYC, Pelosi and Biden. The latter three are still reading from their "Blame Trump" playbook. -- Steve R.
I'm with you, Steve -- in times of crisis we can do without partisan politics. I applaud your bi-partisan list who deserve kudos ... and I agree with demerits go to more than a few Democrats, especially Nancy Pelosi and Chuck Schumer.  As I write this the relief bill includes $25 billion for the Kennedy Center (which President Trump gleefully applauded in his daily TV briefing) and rules regarding airline emission standards. Really!!! And Joe Biden issues cliches about "slush funds" from his house in Delaware.  Let's see what the voters have to say later this year.
Mr. G, What's your best case scenario for our country by June 1st? Looking for some logical inspiration. -- ScottyG
The honest answer, Scotty, is nobody knows. But I hope and suspect things will be better than they are now. If that's the case, it'll give us time to come up with treatments and at some point a vaccine. But statistically speaking, there's a good chance that the situation will at least appear to be worse before it gets better. Cross your fingers regarding June 1.
[In your Off the Cuff this week], why did you have to inject your prejudice with "...if [Trump] continues to get things wrong and if he continues to mislead the American people...". It would be more honest if you prefaced with "In my opinion he gets things wrong and misleads the American people". Distasteful and unnecessary. -- David O.
Sorry, David, but it's not my opinion that the president gets things wrong and misleads the American people ... it's a fact.  And when I state a fact, I'm not injecting prejudice. My job isn't to cheerlead for this or any other president. If that's what you want to do, fine with me. My job, as a journalist and commentator, is to analyze the facts and then tell you what I think about them.
Haven't you noticed that he'll say something during his daily briefings and then one of the experts goes to the podium and delicately sets the record straight. I'm adding a link to my answer that will take you to a piece by a lifelong Republican ... a conservative who served in the last 3 GOP administrations.  He's no fan of the president but his outlines specific examples how the president gets things wrong and misleads. That's not his opinion either. They're facts.
Try not to let your admiration for the president -- which you're certainly entitled to -- adversely affect your ability to analyze what's right there before your eyes on TV almost every day. After you read the article, feel free to let me know what you think of the specific misstatements outlined in the article.  Thanks.
President Trump tweeted this on Wednesday: "The LameStream Media is the dominant force in trying to get me to keep our Country closed as long as possible in the hope that it will be detrimental to my election success. The real people want to get back to work ASAP. We will be stronger than ever before!"
The media isn't the dominant force in keeping the country "closed." It's the scientific data and top health/medical professionals (including people associated with the Trump administration) that are driving this case. Governors aren't issuing stay-at-home orders because of the media. How can anyone reject the criticism that Trump isn't taking this pandemic as seriously as he should when he suggests that the precautions our country is taking are just a political hit-job on him? -- Ben G.
I totally agree with you Ben. Donald Trump has adversaries and even enemies in the media. And more than a few journalists don't want him to be reelected. But the media, as you rightly say, is not the dominant force; reporters aren't calling the shots. The experts are -- or at least should be. Donald Trump suffers from Media Derangement Syndrome. He needs to point out their mistakes and move on. A wartime president doesn't get into petty fights with journalists.
---
Thanks, everyone! You can send me questions for next week using the form below! You can also read previous Q&A sessions by clicking here.