Discover more from Bernard Goldberg's Commentary
Media and political analysis
Over 8,000 subscribers
Bernie's Q&A: Dem Division, Identity Politics, Election 2024, & more! (3/6) — Premium Interactive ($4 members)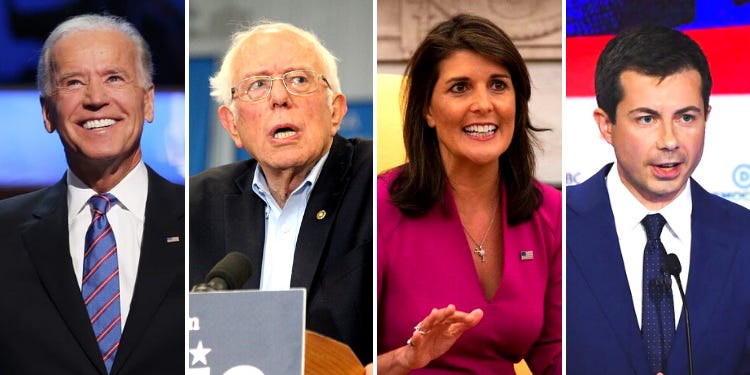 Welcome to this week's Premium Q&A session for Premium Interactive members. I appreciate you all signing up and joining me. Thank you.
Editor's Note: If you enjoy these sessions (along with the weekly columns and audio commentaries), please use the Facebook and Twitter buttons to share this page with your friends and family. Thank you! 
One more thing: I've been getting some very long questions lately. If you could perhaps trim them down a bit, going forward, I'd appreciate it. Thanks!
Now, let's get to your questions (and my answers):
---
I agree that Nikki Haley will run for president in 2024. I also believe that another prominent SC Republican has positioned himself well for a national ballot, Senator Tim Scott. What Haley & Scott have in common is not just their status as minorities, but also the fact that although they have overtly supported Mr. Trump's policies (and been supported by Mr. Trump in return) they have each carefully refrained from supporting his style & manner, at times almost distancing themselves from his behavior. I think a Haley/Scott ticket would be very strong, as not only do they each have strong conservative credentials, but they are both personally appealing and would attract voters in just about every demographic. I know some people might object to their "same-state" status, but I think that would be a minor issue. Your thoughts? -- Joseph R.
I like your analysis, Joseph, but there's a potential -- repeat, potential -- problem with both the presidential candidate and the VP coming from the same state.  Despite what some think and have said, it is legal. But read this for the potential problem, which would only apply in a close election.
That said, I like both Haley and Scott ... and it's a more ethnically and racially diverse ticket than even the progressive Dems could come up with.
It's a long-held political belief that Americans don't vote their interests, but rather their identity. So I found it interesting that black Democrat voters didn't get behind the candidacies of Corey Booker or Kamala Harris, people who shared their identity. Instead they've remained steadfast behind Joe Biden, someone whom they perceive protects their interests. Similarly, it appears black voters in South Carolina single-handedly revived Biden's campaign and provided a firewall to a Sanders nomination. It appears that African-American voters are the most sophisticated, strategic and influential among the electorate. I also applaud Trump's attempts at reaching out and asking for African-American support (like during the SOTU). I have long said we as Republicans do not do ourselves well by being a one-race party, and African-Americans do not benefit by being a one-party race. Your thoughts? -- Steve R.
Two points, Steve.  First, black voters in South Carolina voted for the candidate who was most closely tied to Barack Obama. So, in a sense, they did vote their identity, once removed.  Regarding your second point: I agree ... African Americans might be better off if they weren't so reliably Democratic.  If their loyalties were up for grabs they'd have more clout, more leverage in the political sphere.  And it doesn't serve the GOP  as well as it might when they are largely a one-race party.  I'm curious as to what percentage of the black vote goes to Donald Trump this time around.  It was about 8 percent last time.  Some think it'll be much higher in November.  I'm not at all sure of that.
Who do you think Bernie or Biden would pick as their running mates? I'm thinking Buttigieg or Klobuchar for Biden (as he would have to skew significantly younger for his veep). If Bernie is the nominee, his ideal choice IMHO would be Alexandria Ocasio-Cortez, but she's not constitutionally eligible for another few years. Maybe Warren or Sherrod Brown? Finally, if nobody reaches Milwaukee with a majority, is this when Hillary organizes (behind the scenes) a "spontaneous" stampede to herself as the compromise candidate? -- Joel E.
I don't think the Democratic ticket will involve two men ... and probably not two white men.  Even though Biden seems to have the black vote locked up, he may go for Stacey Abrams of Georgia, a black woman.  Bernie -- if he survives -- might do the same.  I don't see either candidate picking Elizabeth Warren; she couldn't even carry her own state on Super Tuesday. As for Hillary:  Will not happen!
[Regarding your column on Mayor Pete]:
I'm opposed to gay marriage on moral grounds. People can do what they want, but to me it's a moral issue. I have no issues with working with people of any type, and buying and selling and sharing times, as long as I don't have to promote or condone homosexuality. But when voting for a president, if he or she doesn't represent my moral views, it's a check mark against them. I wonder why the word "bigotry" was even mentioned. If you follow the Bible, that's not being a bigot, it's honoring the Lord. No one's perfect. We're not talking about being holier than thou. God destroyed Sodom and Gomorrah due to rampant homosexuality. Can I elect a gay president? Only if the other choice is worse. It's not a good role model, and not healthy long term in God's eyes if we want our nation to remain. I will still treat people as objects of God's love. We don't go around condemning, but we also don't go around condoning. Does that make sense? -- Bill N.
You're certainly entitled to your opinions, Bill.  And you're certainly entitled to believe what you want regarding the Bible.  You ask if your opinions make sense to me.  No, they don't.  You think homosexuality is a choice.  You're wrong.  Totally and completely wrong.  Did you wake up one day and decide to be a heterosexual?  Was it a conscience decision? Or did your choice just come naturally? Those are serious questions.  Please Bill, think about them.  A final thought: The same God that created you, created Pete Buttigieg.  Or do you actually think Buttigieg was born heterosexual and decided he likes guys better than gals?
[Regarding your column on Mayor Pete]:
Even though many blacks may be unable to succinctly articulate their disdain for homosexuality, this black man can. The reason why we are callous to homosexuals is because their battle is not our war. Our battle stems from our identity, our race, which cannot change. Their fight stems from their behavior, which they portray as unchangeable. We know that's nonsense. Identity versus behavior. It's a mistake to conflate the two, especially when it's a disgusting behavior. -- D-Rock
Nothing I say, D, will change your mind.  I understand that.  But homosexuality (as I said in the answer above) is not a choice.  It's how people are born. (See complete answer above.)  That's a scientific fact -- a fact that some people just won't accept.  And I'm not going to lecture you regarding science. It would be a waste of your time and mine.  Believe what you want.  Just treat people with decency no matter the color of their skin or the orientation of their sexuality.
Now that Biden is looking like the Democratic front-runner again, I'm reminded of a question I meant to ask you during the Trump impeachment hearings. Most of my conservative friends think Trump would have an easier time running against Sanders than Biden simply because this country isn't ready for (and hopefully never will be) a socialist leader.
With that in mind, it's easy to understand why the Republicans were opposed to having more impeachment witnesses - they had the votes for acquittal, and the Democrats questioning John Bolton was a wild card.
But since it was clear that the Republicans would have acquitted regardless to what Bolton said, why didn't the Republicans call the Democrats' bluff regarding witnesses, but with the understanding that Joe Biden, Hunter Biden (among others) would be called by the Republicans?It would seem to me that dragging out the Ukrainian mess in front of the public for weeks or even months on end leading up to the November elections would have possibly impaired Biden to the extent that he would be considered damaged goods and no longer a viable candidate - leaving only Bernie to fight the fight. I wonder if this was ever considered, or if so, was considered to high a risk. -- OverTheTop -- Mike S.
I think the reason Republicans wanted to end the trial as quickly as possible is because Bolton and others would have hurt the president a lot more than they would have helped him.  And calling the Bidens to testify might have hurt the president too.  Here's why:  Hunter obviously got the high-paying job for which he had absolutely no qualifications because of his last name.  As unseemly as that is, it's not a crime.  He might have testified and nothing illegal would have come out. Embarrassing?  Sure.  But the longer the trial went on, the more Donald Trump would look like he was strong arming the president of Ukraine -- because that's exactly what he was doing.  Whether that was an impeachable offense is another matter.  And Joe Biden, instead of being hurt, might have come out looking like a victim. But here's the rest of the answer:  You may be right.  But we'll never know since the GOP didn't take your advice, Mike.
It sounds like you may not vote for a president in this coming election. You and I grew up in a similar age and culture. My dad entered the workforce after the 6th grade as he had to bring in money for the family due to the depression. As an Army Sargent in the Red Bull, He chased the Nazi's out of Africa, Sicily, and Italy where his third wound took him out of the war. While he was in the hospital, he learned his 18-year-old youngest brother was KIA on Guam. Another brother liberated Buchenwald. And another was also wounded. He found a way to become a manager at a major corporation and put his spoiled kids through college. And when my time came to vote I told him I didn't like neither (Nixon/McGovern) and I would not adhere to the political establishment of the time. This of course was my liberal period in life. His prodding forced me to the polls to which I voted McGovern. My dad never asked me once how I voted ever. He was a devoted Republican. But his prodding forced me to pick a single issue that was important to me which at the time was the Vietnam war, so I voted simply on that issue. So, I guess I can put this in a question to you; is there a single issue important to you that would force you to vote? -- Tim H.
You should be very proud of your family, Tim.  Thanks for sharing your story and theirs with me and our readers.
I understand your thinking regarding the Nixon-McGovern race.  But to answer your question, no there is not a single issue that would get me to vote for Donald Trump, even though I support the Republican Party.  Yes, I like some of his policies but I just can't bring myself to support a man of such feeble character.  And I can no longer support any Democrat -- even the ones who display better character traits than our president -- because I don't adhere to their liberal, progressive, agenda any more.
Do you think the left wing progressives will riot if Biden gets nominated ? Do you see an official split of the Democrats from the Pelosi/Feinstein/Biden types from the Sanders/Squad Types if things don't go the way of the left wing radicals of the Democratic Party desire? -- Fractional Regards From The Emperor
That is the big question, Your Emperor-ness.  Will Bernie's Army sit home on Election Day if he doesn't get the nomination?  Or will they hop on the Biden bandwagon?  The answer will have major consequences regarding the election outcome. As for your bigger question, about a split in the Democratic Party:  The Pelosi wing will try to convince the AOC wing that voters are in no mood for radical change.  Pelosi can point to the winners in 2018 and the party's nominee, if it's Biden.  But what will the AOC wing do?  Slink away and join the "moderates" -- or revolt?  You ask an important question, Emperor.  No one, today, has the answer.
---
Thanks, everyone! You can send me questions for next week using the form below! You can also read previous Q&A sessions by clicking here.