Discover more from Bernard Goldberg's Commentary
Media and political analysis
Over 8,000 subscribers
Bernie's Q&A: Todd, Fauci, Kelly, Scarborough, and more! (5/15) — Premium Interactive ($4 members)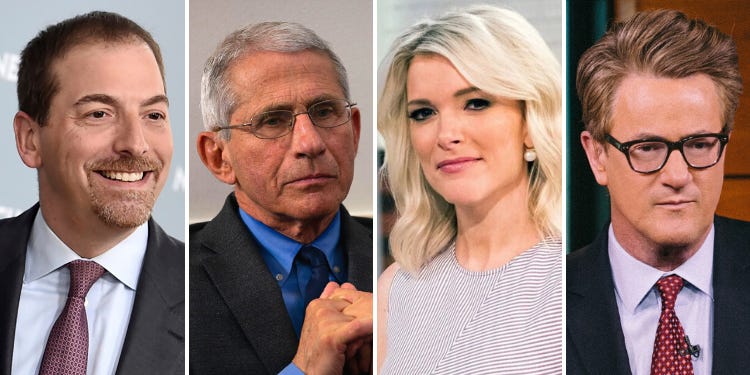 Welcome to this week's Premium Q&A session for Premium Interactive members. I appreciate you all signing up and joining me. Thank you.
Editor's Note: If you enjoy these sessions (along with the weekly columns and audio commentaries), please use the Facebook and Twitter buttons to share this page with your friends and family. Thank you! 
Now, let's get to your questions (and my answers):
---
One of the explanations for bias in the media is that almost all reporters now come from upper middle class, Ivy League educated backgrounds. Their writing reflects this elite perspective, and lack of newsroom diversity creates groupthink. I recall famous columnists and reporters of the past who came from working class backgrounds and were not degreed. Jimmy Breslin (New York) and Mike Royko (Chicago) come to mind. These guys certainly weren't conservative, but they had an independent streak that is sorely lacking in today's media. Are you aware of any Breslins or Roykos of today? Charlie LeDuff in Detroit may be one. Do you agree that the country misses this brand of reporter and commentator? -- Steve R.
I do agree that a smart blue-collar man or woman would be a welcome addition to the diversity of the newsroom. That said, it's an exaggeration that journalists come from upper middle class Ivy League backgrounds. As a general rule, that's not the case. But they do, again as a general rule, come from a liberal background. As I've said before, we might need an affirmative action program for the smallest minority in American newsrooms -- conservative journalists.
Are you troubled by the termination of whistle blowers? Are you concerned about the message this may give this President that he's had so little pushback, and for future presidents? -- Joe B.
Whistle blowers are essential. They keep things from getting out of hand. I was a whistle blower of sorts at CBS when, after years of getting nowhere with my concerns about liberal bias, I wrote an op-ed for the Wall Street Journal.  The problem of course is that the powers that be don't like whistle blowers, for obvious reasons. But they are needed -- if they're sincere and not using whistle blower protection merely to hide a political agenda.
Chuck Todd is the latest to be caught editing the tape of an interview, and passing it off as "do you believe what was said?" NBC came out a while later with "we made an inadvertent mistake." Yeah, sure. The tape was two days old, they knew exactly what they were doing. I'm referring to the interview Barr gave CBS two days earlier. Todd has yet to do a mea culpa. Maybe he's saving it for next Sunday's show. Couple years back, Katy Couric of all people did the same thing when she edited a focus group session involving Conservatives to make them look like they were clueless. My question, do these people not care about how doing things like this totally undermine their credibility? Or does credibility no longer matter, to them anyway? Meet the Press at one time was the gold standard when the late Tim Russert was hosting it. I can't see him pulling a stunt like that. Your thoughts please Bernie -- John M.
Editor's Note: Premium Member, "Mozik," asked a very similar question.
Let me take you behind the scenes, John. A producer made that edit. A producer who's name we don't know and whose face we don't see. The producer may have been incompetent or may have been young and inexperienced or -- had an agenda. And I too am waiting to see if Chuck Todd admits the "mistake" on Meet the Press this Sunday. He did issue an on air apology onMSNBC this week. Let's see what, if anything, happens on Sunday.
Bernie, did you happen to see Megyn Kelly's interview with Tara Reade? I'm curious what you thought about it. Did Kelly do a good job? Did Reade strike you as convincing? And it seems rather amazing that Kelly was able to secure that interview when major news outlets were not. Do you think she just tried harder, or do you suspect Reade trusted her more than the news networks and major news papers? Thanks. -- Ben G.
I only saw clips, Ben. Tara Reade did strike me as convincing -- but who knows?  She could be a good liar ... or be a little nuts and not know what really happened. I'm not demeaning her just saying I have no idea who's telling the truth. And yes, I assume Megyn made the stronger pitch, and Tara Reade thought she could trust her.
On Tuesday, Trump strongly suggested that Joe Scarborough is a murderer -- a literal murderer! This is what the president tweeted: "When will they open a Cold Case on the Psycho Joe Scarborough matter in Florida. Did he get away with murder? Some people think so. Why did he leave Congress so quietly and quickly? Isn't it obvious? What's happening now? A total nut job!"
Trump was referring to Lori Klausutis who died in 2001. She was a staffer for Scarborough (who was a congressman at the time). The coroner ruled that she had a heart condition, and died after passing out and hitting her head on the way down.
Oddly, Trump's tweet didn't get a whole lot of attention, prompting, National Review's Jay Nordlinger to ask this question on Twitter: "When the president basically accuses a prominent morning-show host of murder, the nation yawns. Is this a good thing? A sign of maturity? Or is it a bad thing, a sign that we are simply numb?"
What would be your answer to that question, or do you think there's a third possible explanation? -- Jen R.
Hey Jen. First I find it "rich" that Donald Trump is calling Joe Scarborough a psycho. It takes one to know one, as we used to say in the schoolyard. Personally, I think they're both psychos.
Maybe Trump's tweet didn't get attention because most normal people didn't want to dignify it by repeating what he said. Let's face it: Donald Trump has serious character problems -- and this is just one more example. As for why the nation yawns: We've become used to the president's carnival of crap. If we didn't look the other way, we'd be in a constant state of mental chaos -- thanks to our president. If he knows something about what happened in Florida ... something that hasn't come out publicly ... turn the information over to the authorities -- or shut the hell up! That's the best I've got, Jen.
Great "Off the Cuff" as always, Bernie! I was wondering if you think the Democrats and their media allies worry about becoming the party in favor of an endless lockdown (or at least a lockdown until after the November election)? They use terms like, "the new normal" to describe our current environment which in reality is anything but normal, and is certainly not acceptable for the 20 million Americans left unemployed by the lockdown. Even Italy is starting to open back up and allow sports again, but the American left, particularly in California, wants the lockdown to continue for at least another three months. I am sure they are relying on all of those extremely accurate models put forth by Imperial College and IHME, which I know are based on "settled science" that we mere mortals are never allowed to question. It seems like all of these models, "settled science", and endless lockdowns are now political footballs and both parties are going to use them to play their games until November. -- Joe M.
Everything in the Divided States of America is political -- even this virus. If you want to open up the economy, good chance you're a conservative. If you want the lockdown to continue (who knows for how long) you're probably a liberal. If we open up the economy "too soon", more people will get sick and some will die. If we keep the economy locked down, that will cause another kind of misery. I don't know which is the right course but I'm for a middle ground: Open up businesses -- with safeguards like social distancing -- and let people voluntarily decide if they want to leave their home and frequent that business. It's not perfect, I realize, but nothing is. You might find this piece interesting.  It's by a doctor at Johns Hopkins.
Bernie, What are your thoughts on some right-leaning people (including some on Fox) demonizing Dr. Fauci for making health-based recommendations that don't take into consideration the economy, back-to-school dates, etc. Do these critics not understand that a president surrounds himself with various advisors with different areas of expertise (health, economic, education, military, etc.), and that each of those advisors provides recommendations based on their area? Do they not get that it's the job of elected leaders (like Trump and governors) to listen to each of those advisors, and then make the governing decisions? Also, do you think that because the Fauci bashers are mostly Trump fans, they're taking aim at Fauci to avoid criticizing Trump (who has enacted many of Fauci's ideas)? -- Philip S.
I think the particular "right-leaning people" you're talking about are slugs. They'll bash Fauci ONLY because he differs with their messiah, the president. Dr. Fauci isn't always right, but if it comes down to trusting him or Mr. Trump, take a guess where I'm landing. As for the Hannity's of the media world, I ignore them. They're bootlickers and have no credibility.
Dear Bernie: I have practiced law, including criminal law, for almost 30 years. In all of that time, I have never seen any judge attempt to do what Judge Sullivan is doing with the General Flynn case. Namely, to retain outside counsel (a retired judge no less) to argue an active criminal case in his Court. The case is supposed to be the USA v. Flynn. If the USA wants to drop the case, then the case is over. The judge is supposed to be an impartial referee not an advocate for one side. It seems that Judge Sullivan wants to force President Trump to pardon General Flynn for political reasons. What are your thoughts on all of this? My thoughts are that Judge Sullivan should be (at the very least) sanctioned for this improper conduct and the case removed from his consideration. -- Thanks, Frank T.
I am not nor have I ever practiced law. So let's get that out of the way. Still, it seems to be that a judge is supposed to rule between two competing claims. One side says X the other side says Y ... and the judge (or jury) picks one. But when the defense (Flynn) and the prosecution (DOJ) agree, I would think that's the end of the road. I have read that there is some case law to support Judge Sullivan's decision -- but that doesn't mean it's constitutional. And for what it's worth, Alan Dershowitz says it ain't!  This, at the very least, is strange. I don't think he'll be sanctioned, though. Instead he'll be lauded in op-eds. Nor do I think he'll be removed. If this case is appealed, the judge will find out just how much authority he actually has.
Bernie, can you share your thoughts as to when , if at all, you think our political acrimony will subside to any meaningful extent and how it might occur? Ultimately I think this is a question of optimism v pessimism. I am most interested in the "how" question because I fear we have passed the point of no return given the absence of leadership in the country and the hatred and malice that permeates everything these days. -- Mike F.
I believe that this polarization that you describe is a bigger threat to our nation than climate change. I used to think we'd put an end to this nonsense if, say, we were attacked. And we did just that after 9/11. But it lasted 10 minutes. I too fear we have passed the point of no return. It keeps getting worse. And whether Mr. Trump wins in November or not, the political acrimony will continue. Someday, we may look back, and see how serious this problem was. And the villains are the pols who think their reason for being is to condemn the other side no matter what ... and the idiots on TV who perpetuate the malice.
Okay Bernie, let's say I agree with everything you just wrote [in Monday's column about journalists conspiring against Trump]. And lets say I am a conservative — a conservative that does not like Trump. Because I honestly don't think he is good for the country. How do I, or a reporter like me, debate Trump's base — his base that takes everything he says as fact, and believes that anything other than praise for Trump is fake news. I get it that trump and his base distrust the mainstream media. But they also don't allow anything in the middle. I have Trump supporting friends that still believe Mexico is paying for the wall. Friends that believe that China (the government) paid the tariffs. It is really frustrating. There should be a way to be critical of this president, and at least have it considered on the strength of its facts. I think a book about "Truth in the Age of trump" would be interesting. -- Douglas S.
Very interesting observation on your part, Douglas. And you're 100% correct. There's no getting through to his most loyal supporters. It's a waste of time to even try. All you get in return is their scorn. You can't be rational with irrational people. Let that one sink in.
I'm almost 60, I grew up in NYC & have lived in five other states. I or nobody I've ever known to my knowledge has ever been "polled" for a political election poll. Who are these special 1005 people who tell us Biden is winning to date? With the so called polls accurate to within a +/- 3% margin that had HRC winning in a landslide even up to 3pm on Election Day 2016, how is anyone supposed to believe these things? Why haven't they been largely discredited by now? -- ScottyG
Scotty, my friend, you may not know anyone who's been polled, but they're not fake. Gallup and the others really do question people. I'm guessing you're suspicious because you don't like what the people are telling the pollsters? If the polls showed Trump beating Biden, for instance, some might not be so skeptical. I get a lot of blowback when I write about polls that show Trump -- at a particular moment -- trailing Biden in key battleground states. People tell me I shouldn't trust the polls. But if the polls showed Trump kicking Biden's ass, a lot of those same people would have no trouble believing them.
As for the second part of your question, you asked me something similar last year. John Daly's written a lot about this topic, so here's what he had to say about it when you asked before:
"Actually, the polls in 2016 did not predict a landslide. That's a myth. It was a number of analysts who predicted a landslide, based on data that included what was being gathered from the polls. In reality, the national polls in 2016 were incredibly accurate (even more so than in 2012).
As I've written before on Bernie's website, these polls measure national public sentiment, which in the context of a national election represents the popular vote. The average of national polls taken just prior to the election showed Hillary Clinton with a 3.1 point lead over Donald Trump. Once all the votes were tallied, we learned that she won the popular vote by 2.1 points (a mere 1-point difference, which falls well within any margin of error). In other words, the national polls collectively nailed it.
Some state polls (including in some important swing-states), however, were a different story. Local polling in Wisconsin, for example, had Clinton with a 6.5 lead right before the election. But on election night, Trump ended up winning Wisconsin. Unfortunately, local polls have long been less reliable than the national polls (which someone probably should have told Hillary Clinton before her infamous decision not to campaign in Wisconsin).
The takeaway from all of this is that the national polls (which also measure the president's job approval) have proven to be generally trustworthy. So dismissing them by saying "they were wrong in 2016" isn't a solid argument; again, they were right in 2016. However, because they don't take into account the complexities of the Electoral College, they're not necessarily reliable predictors of who is going to win a presidential election."
After watching the Michael Flynn saga unfold the past few days and comparing the differences between statements made under oath with those on CNN/MSNBC, may I suggest that Messrs. Goldberg and Daly use their wonderful writing skills and media contacts to write and produce an updated version of "All the President's Men (and women)." The question is can you find enough conservative and libertarian actors to play the many juicy character roles . I suggest Vince Vaughn play James Comey since Mr. Vaughn is a very tall man and Jon Voight might play Joe Biden. -- Michael F.
Great idea. Tell John because I'm busy answering all these questions and have little time left over to write screenplays. (joke) I like Vince Vaughn as James Comey.  But I have another leading man in mind for the role of Joe Biden: Pee Wee Herman. And that's only because double-talking artist Professor Irwin Corey is dead.
So I'm hearing that some rogue mercenaries decided to stage a coup against Maduro in Venezuela, but for some reason I'm not seeing much about it. Trump of course denies any knowledge about it. So I'm curious, why do ya think the mainstream media isn't all over this and using it as one more reason to bash Trump? And do you believe that some high ranking officials within the Trump administration were aware of the plans ahead of time (as apparently Venezuela was)? Your thoughts on this story are appreciated. -- Failed Coup Attempt Regards From The Emperor
First, Your Emperorness, there's another story out there that sucking up all the airtime. You may not have noticed it. It's the coronavirus story. Google it. And second, it looks like this really was a rogue operation. So even journalists who hate the president couldn't get very far trying to blame him. Make sense?
---
Thanks, everyone! You can send me questions for next week using the form below! You can also read previous Q&A sessions by clicking here.