Discover more from Bernard Goldberg's Commentary
Media and political analysis
Over 9,000 subscribers
Bernie's Q&A: Bolton, Durkin, My Favorite Interviews, and more! (6/19) — Premium Interactive ($4 members)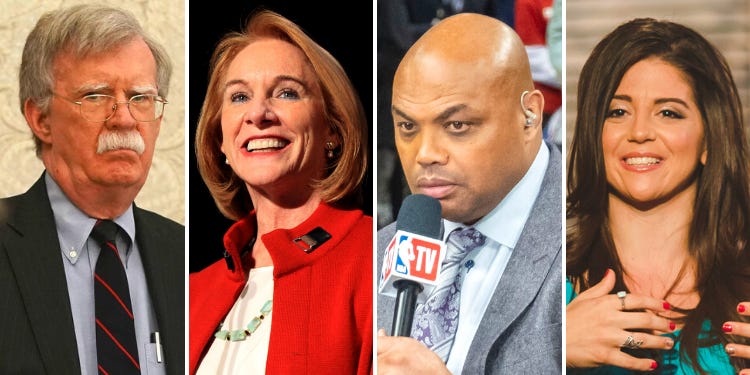 Welcome to this week's Premium Q&A session for Premium Interactive members. I appreciate you all signing up and joining me. Thank you.
Editor's Note: If you enjoy these sessions (along with the weekly columns and audio commentaries), please use the Facebook and Twitter buttons to share this page with your friends and family. Thank you! 
Now, let's get to your questions (and my answers):
---
As a Trump supporter I am concerned about some of his tweets. I hope he stays out of the Seattle protests. I think he should let Governor Inslee and Mayor Durkin stew in their own leftist juices. What I fear is that if he sends in the military, the protesters will provoke a shooting and we could have another Kent State situation. What do you think? -- Vic P.
I don't believe he'll send in the military. He talks about it ... he'd like to do it ... but he won't. As much as sensible Americans hate what they're seeing in Seattle, it would be a bad political move for the president.
CNN held a "Town Hall" Sunday evening with the four black female mayors of Atlanta, San Francisco, Chicago & D.C.. conducted by a black female moderator. I tuned in to try and gain some better understanding of the issues and their responses to current events. Honestly, it turned into a one-hour pat-each-other-on-the back session, void of tough questions on why these mayors have made the decisions they have. No question on why they initially allowed violent protesting and looting. No questions on what they are doing about true black male crime statistics especially to the Chicago Mayor... No hard questions on the hypocrisy of allowing mass gatherings during their own Covid restrictions. I tried, but I was let down again trying to get a fair perspective. So what's a caring citizen to do, and where do they go to maintain a balanced perspective? -- ScottyG
It was on CNN, right? And you're surprised that it was a love fest? CNN lost its way a long time ago. As to where to go to maintain a balanced perspective: Not cable TV in prime time. I'm anxiously waiting to see if Fox let's John Bolton on to talk about his book. I bring that up because CNN doesn't have a monopoly on agenda driven news coverage. I used to write about media bias. It's gone way beyond that. To not ask the questions of those mayors that you posed, Scotty, is an absolute disgrace, which has become par for the course at CNN.
I've been reading up on "White Privilege", which I guess has been preached as dogma on college campuses for quite awhile. "Critical race theory" has me pegged as racist because of my original sin of being born with my dermatologic affliction of skin color consistent with my Caucasian ethnicity. It doesn't matter, it seems, what I've done or said or thought about anybody in my life. And if I should protest that I have never uttered the N word my entire life, loath those that do, do not socialize with or work with those that do, have worked and socialized with black americans my entire life, and am NOT a racist, that apparently just proves that I'm a racist.
It reminds me of the old test for being a witch......recant being a witch and confess or we will dunk you until you drown, in which case that proves you were a witch. BRAVE NEW WORLD, indeed, where the woke masters have no tolerance for counter-revolutionaries or those who aren't sufficiently educated as to their abject immorality and depravity of thought; they must shut up or recast their thought patterns in the new language of truth. I am angry and sick at heart for what I fear my grandson, who is 3, faces when he enters the education propaganda mill in another few years. Does he come home and tell me that he feels sad because his skin is white and he was born a racist? Not to mention all the other thought-crimes that he can be guilty of?  -- John F.
George Orwell wrote about this kind of double-speak nonsense. We're living it. I've often wondered how the son or daughter of a white anglo-saxon coal miner in West Virginia has white privilege. The progressives are taking over the culture. And name-calling is just the beginning.
Bernie, I am assuming (perhaps incorrectly) that in various parts of America people on the street are being approached and asked/told that they need to take a knee to show/prove that they are on board with Black Lives Matter. Do you have any advice as to how someone who does not support the defunding of police or does not view America as systemically racist should respond? On a related note, can you imagine NYC ever getting back to "normal" in terms of one's ability to walk in Times Square or elsewhere without the risk of being "confronted?" Obviously the point re NYC can be equally applied to many other large cities across the country begging the question how all of this will impact tourism by those who do not support some or all of the leftist platform? -- Michael F.
How to respond? Don't get into a discussion with the mob because it's a losing proposition. But even more important, don't give in to the mob. Don't say things you don't believe just to make some kind of peace. As for New York: Things can change if New Yorkers elect someone like the city's former mayor Rudy Giuliani. He cleaned things up -- and it can happen again. But not with a progressive mayor. New Yorkers elected Bill de Blasio. Let them figure out their next move.
I'm fearful of losing my country to the violent anarchists, not because they are brilliant, but because those in corporate America, academia, and politics are actually caving in to the demands of the woke cry bullies! Since they're tearing down statues and demanding buildings be renamed, I suggest that the Dems dismantle anything connected to FDR since he forced Japanese Americans into internment camps. Next let's tear down statues of MLK Jr. and Malcolm X since both of them belonged to religions that condemned homosexuality as sinful and immoral. While we're at it, let's condemn Barack Obama because his wife Michelle is friends with that war criminal George W. Bush. What do you think would happen if someone echoed my suggestions to the anarchists? I'm being snarky, but I'm sure you get my point.
One more question: if someone as simple as me can easily see what submission to the anarchists will lead to, then why can't the enablers like the liberal Democrats & professors & corporate heads see that their own heads are on the chopping block? -- "Tear down the Sacco & Vanzetti Statue!" Regards, from the Emperor
Actually, Emp, your suggestion to tear down statues that honor liberals and progressives, may be snarky but it's really a good one. To be clear, I don't want to see those statues torn down but I do want to see someone make the case that you just made. If I'm the one who does that you'll know where I got the idea. Good writers borrow. Great writers steal.
The liberals enablers of the authoritarian left go along with the anti free speech movement because they don't believe that submission to the mob will ever affect them. More proof that they may have high IQs but are both pathetically delusional and at times, not too smart.
Dear Bernie, Recently many workplaces have had moments of silence, interfaith services and kneel-ins to recognize the murder of George Floyd and others by police. Is this appropriate for the workplace or is this something that is best left to off-work hours? -- Peter
If management at a private company wants to give employees the opportunity to take part in the kind of demonstrations you outline they have the right to do it. As for your question about its appropriateness: I'm okay with it Peter as long as attendance is not mandatory. Reasonable people may disagree on whether such demonstrations are best left to off-hours work. But my concern is that those who don't want to take part may incur some form of punishment -- even if it's not immediately obvious. They may also be ostracized by fellow employees. As long as there are no repercussions meted out to those who refrain from kneeling, etc ... it's something I could put up with, even if I'm not wholeheartedly for it.
If someone believes that America was conceived in sin, has been rotten to the core from its inception, is unwilling to support free speech for those who civilly and honestly disagree with their viewpoints, and is willing to excuse or justify rioting and violence, can they simultaneously claim to be a proud American who loves their country? I believes this goes to the core of the issue for those who beat the "systemic" racism drum. -- Michael
I don't think they'd say they love this country. They might love an America where there is absolutely no racism, no pollution, to poverty, no income inequality, etc ... but they don't love the America we live in today. And as I say, Michael, I don't think they'd be ashamed to admit that.
There's lots of irony/hypocrisy in watching liberals swoon over John Bolton, after vilifying him for years, because he's now dishing on Trump. At the same time, Politico's Tim Alberta (who's no liberal) made this valid point on Twitter: "[Bolton] headlined every right-wing gathering; appeared on every Fox News show; wrote op-eds in conservative publications; raised millions for GOP candidates; was exalted as a voice of integrity, authority, honesty. And now he is the enemy—because he spoke ill of the dear leader."
Regarding what Bolton wrote: while his accounts of Trump are damning, they're unfortunately not surprising nor uncharacteristic of what know of Trump, or what we've heard him say with our own ears. Even giving Xi Jinping a verbal blessing to build concentration camps (which is truly sick) is consistent with other instances of him condoning the horrific behavior of authoritarian regimes.
Some on the left are criticizing Bolton for not speaking up during Trump's impeachment, but do you think Bolton's testimony would have compelled even one other GOP Senator to vote to convict? I don't. I'm not sure anything would have. -- Jen R.
I'm with you, Jen, 100 percent. Expect no consistency on political matters from either side. They throw their so-called values over the side to either excuse anything and everything Donald Trump does -- or to condemn him no matter what. I find both sides lacking in anything resembling integrity. In the case of Bolton on Trump: You're right. Nothing that's come out so far is surprising. If he had written that Donald Trump offered to pay some dictator to endorse him, I wouldn't be surprised. And if Bolton had spoken up earlier, nothing would have changed. Nothing. We're on the same wave length Jen.
Which person was your most favorite interview (I know that's probably a tough question)? -- Ben G.
I know you asked for one favorite, but like potato chips, I can't have just one. So here it goes, Ben:
I like Charles Barkley and Shaquille O'Neal a lot. Both are honest and don't beat around the bush. You ask them a question, you get a straight answer. That's not always the case.
I liked my college classmate Jim Valvano, who I interviewed when he was coaching basketball at North Carolina State. Off camera I told him about the time I hit the rim with my knuckle while grabbing a rebound during a pickup basketball game at Rutgers -- a game he was watching from a few feet away. Let's just say his recollection was different from mine. More precisely, he had absolutely no recollection of my jumping ability. And after I finished telling him the story, he told me I was full of you know what.
I also interviewed several people with serious physical disabilities. They didn't see themselves as victims.  Both went on to achieve great things. They were Kyle Maynard and Jen Brinker. You can look them up.
And one more: Ansar Burney, a human rights activist who helped free thousands of young boys from slavery in the United Arab Emirates. They had been brought in from very poor countries and forced to become camel jockeys, a very dangerous business. If a boy died because he fell off the camel and was crushed under its hooves, he was shipped home in a box. If you have HBO, you might want to go to On Demand and find the story.
I'm sure I'm leaving a few more out. Apologies.
So, an ANTIFA like group [maybe all ANTIFA] has taken over six city block's in downtown Seattle, and roused the cops out of the precinct that was situated within that six block area. What I find really ironic is that they have set up borders and have armed guards patrolling them. Anyone wanting to enter must be approved before they are allowed to do so. Gee, where have I heard that before? Oh yeah, at our southern border which the Left has been fighting against for years. They have a large list of demands too numerous to list here, one involves abolishing the police department. Continuing, the Governor was asked what he thought of a group taking control of part of the city and he acted like he had never heard about it. The Mayor on the other hand, when asked by Chris Cuomo at CNN what she thought about it and how long she thought it might last, replied "Maybe it will be a summer of love." Even Cuomo had to look at her like "Have you got all your marbles, lady?" Initially, I was feeling badly for the citizens of Seattle but hey, you do reap what you sow. They put these uber liberal clowns in place. BTW, this stopped being about George Floyd a week ago, this is the anarchy many have predicted would come sooner or later from the uber radicals in this country that do want to make it over in their likeness. So how do we fight it when the local leaders are OK with it? -- John M.
First, John, your analysis is spot on. If the mayor won't fight it and the governor won't fight it ... let's see how far the anarchists go before the liberals who pay taxes in that liberal city and state demand an end to it. What if six blocks is just the beginning? At some point, the political cowards will either show backbone and send in the cops, or the anarchists will be in charge. It can go either way, John. Really!  Check out my Off the Cuff this week on this subject.
---
Thanks, everyone! You can send me questions for next week using the form below! You can also read previous Q&A sessions by clicking here.