Discover more from Bernard Goldberg's Commentary
Media and political analysis
Over 9,000 subscribers
Bernie's Q&A: Megyn Kelly, Sharyl Attkisson, Alan Dershowitz, Jussie Smollett, and more (6/28) — Premium Interactive ($4 members)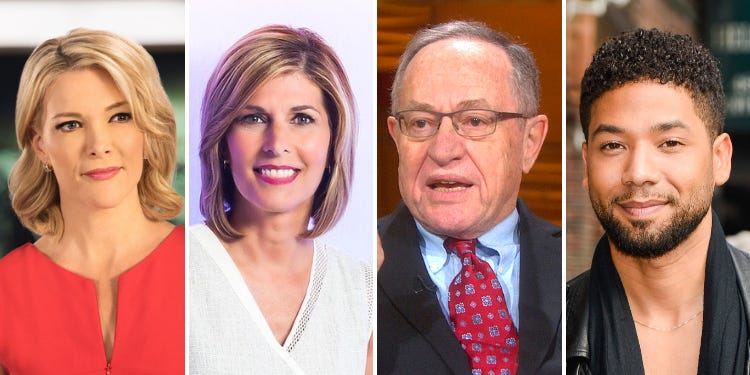 Welcome to this week's Premium Q&A session for Premium Interactive members. I appreciate you all signing up and joining me. Thank you.
Let's get to your questions (and my answers):
---
Good evening Bernie, What do you make of the recent "Pro-Fox" contributions by Alan Dershowitz seeming to be the voice of reason for Liberals and pointing out their continuous slide to the whacky Left fringes? Is this him getting back at being shunned by left leaning mainstream media? I find it refreshing actually because he's so sound in his logic. -- Scotty G.
I am a HUGE fan of Alan Dershowitz.  He has what many on both the left and right have lost:  principles!  I don't think he's getting even for being shunned.  I think he wound up on Fox because the others don't want him.  He's a very smart guy and I'm sure he knows that Fox likes him because he's a liberal who finds (legitimate) fault with liberals.  I've interviewed him several times.  In addition to being smart, he's a very nice guy.
Mr. Goldberg, In recent years, a couple of books have come out, Bias in the Booth by Dylan Gwinn and Republicans Buy Sneakers Too by Clay Travis, that discuss the liberal bias of the sports media and how outlets such as ESPN have infected sports coverage with left-wing politics. I was seeing if you have read either book and if so what are your thoughts? As someone who covers sports on HBO and has also talked at great length about media bias in the news media, why do think there is such a leftward slant in the sports media as well? It would seem to be a bad business model for the likes of ESPN to be so political because (unlike MSNBC and Fox News that cater to partisan political audiences), they are giving its sports viewers exactly what they don't want, politics instead of sports. -- Brian
I have not read either of the books, Brian.  As to why I think sports coverage leans left  -- beyond the scores and who's a best shortstop in the league kind of news -- is that liberals tend to go into journalism -- any kind of journalism.  So if the sports story has a social issue angle -- if the story involves race or gender, for example -- and if there's a bias, it's likely to be a liberal bias.  Finally, some viewers will change the channel if a sports show gets too political.  But some won't.  When an ESPN anchor last year was overtly political, more than once, I did change the channel. But I know of no studies on whether politics affects viewership of sports programs.
Simple question: Who was the biggest jerk you ever interviewed? -- Jen R.
Not so simple, Jen.  I've been thinking very hard about your question and can't think of anybody who would qualify. No one acted like a jerk during the interview.  And I've been doing this for a long time.
But let me offer up this for your consideration: I interviewed a comedian who was very funny and friendly ... but when I years later wrote about liberal bias in the media he became a vocal critic of my work  -- and in the process he became a kind of jerk.  Perhaps you know the name.  Al Franken?
Then there was the time I interviewed Jerry Lee Lewis who showed up for the interview several hours late -- AND THE INTERVIEW WAS IN HIS HOUSE.  Where was Jerry Lee?  Also IN HIS HOUSE. He was in some other room and finally made an entrance 2 or 3 hours late.  Then the interview went nowhere and I got up and left.
Finally, I interviewed a certain businessman who was friendly, even charming and answered all my questions without hesitation.  He  later achieved a very important job in politics.  (Insert smiley face here.)
In your recent Q&A, you mentioned offhandedly about Ms. Hayley, possibly running for President. I'm also an admirer of Ms. Hayley. Do you think it's an outside chance that Mr. Trump would "allow" Mr. Pence to step aside and have Ms. Hayley run alongside him as V.P.? -- Fred V.
I don't know if there's an outside chance that the president would pick Nikki Haley as his VP -- but I think it's a great idea.  And I'm not alone.  Andrew Stein, who in 2016 founded the Democrats for Trump movement, had a guest column in the Wall Street Journal on this very subject.  Here's part of what he wrote about how Haley would help the president with the women's vote:
"It's too late for Mr. Trump to revamp his political personality.  But with the 2016 election in the past, Nikki Haley on the ticket could tamp down antipathy for Mr. Trump that seems to afflict so many moderate and Republican-leaning women.  President Trump needs the prospect of a Vice President Haley to help recapture the White House."
Sir Bernard - Please kindly express your knowledge and views as to the following:
Was there ever a possibility that Real Sports would have an opportunity to interview the defrocked Lance Armstrong? If assigned such a task, how would you have prepared for such an interview and what provocative questions would you have been sure to ask. Based on what the public has learned from the Oprah interview and the documentary, it amazes me, how such an undeserving person could maintain this evil persona.

Regarding Ms. Sharyl Attkisson...Did you have a professional association with her, while at CBS? Please share your knowledge and/or views of her allegations, that the U.S. gov't hacked her computer and that her CBS managers did nothing to disclose nor prevent such inappropriate actions.
Thank you for another fine Friday of reading your thought provoking responses. -- Matthew Q.
Welcome back Matthew.  I have to admit that I'm not a fan of bicycle racing.  It bores me. -- unless the wheels of two bikes get tangled and before it's over 32 bikes are in a pile in the French Alps.  So all I know about Armstrong is what everyone else knows. But if presented with an opportunity to interview him I would have tried to decipher what made him cheat -- beyond his defense that "everybody else was doing it."  I'd want to know about his childhood because there are often clues hidden away back there.  I'd want to know how he dealt with his guilt.  Stuff like that.
Sharyl and I were colleagues though we never met. I was leaving pretty much when she was coming in.  I'm a fan of hers and I've heard from people who know her that the feelings are mutual. I have no idea what was going on with her computer.  Sounds crazy to think that the federal government would actually hack it, but rogue operatives are capable of doing all sorts of things -- off the books, of course.
Dear Bernie. What is your opinion of Megyn Kelly as a journalist and commentator? Do you think she'll be back on television anytime soon? -- A.J.
I think she was more honest than others who were or are on prime time cable.  She knew what her audience wanted yet asked candidate Trump that question at the first GOP presidential debate about the way he talks about women.  I liked that.  But I'd prefer that we call her a commentator and not a journalist (though I'm mincing words here, because arguably she was an opinion journalist; I prefer that word be used on people who try to be objective all the time.) Will she be back on TV anytime soon?  There are a lot of places she could go.  My guess is that we haven't seen the last of her.  But soon?  Not so sure how long she has to stay off TV if her buyout had provisions about this.
Greetings Sir Bernie—-I hear from left wing sources that the Southern strategy was used by Nixon and the Republicans to bring racist Southerners over to the Republican side. Nonsense! Say the right wingers, who point out that with a few notable exceptions, racist white southern voters continued to vote Democrat, since it was Republicans who voted for civil rights legislation and treated black Americans better but leftist reporters have been engaging in revisionist history to gain black voters and make Republicans look bad. So in your opinion, what is the truth about the Southern Strategy? Is one side being truthful and the other side lying, or is the truth hidden somewhere in between? -- The Emperor
I'm not a historian, Emperor.  That said, the South was once solidly Democratic now it's Republican.  That didn't happen by accident.  There was a strategy.  Southerners may have voted for Democrats -- but not liberal Democrats.  Even most southern doves on Vietnam weren't automatically liberal on cultural issues -- by northern standards. Southerners by and large were conservative -- and Nixon won those  Democrats over to his side with a conservative cultural message -- tough on law and order, tough on hippies, tough on the war, etc.  Did some bigots come over to the GOP side.  Yes.  But so did others.
I'm with you that Lee Harvey Oswald was the Manchurian Candidate but why does Nikita Kruschev keep creeping int my head? What has happened to the allegations against Lt. Governor of Virginia? If he committed the sexual assaults alleged by these two women don't they deserve justice? Where is the #me too movement? And if the allegations prove to be false, shouldn't these women be prosecuted? Where has the left's virtue gone? Just asking! -- Joseph V.
I predicted the governor would be out by halftime during the Super Bowl.  He's still there. I figured the Lt. Governor would be out.  Wrong again.  Then there's the attorney general, guilty of something or others. Sill there.  If all three got booted, the next in line is a Republican.  So we know why Democrats in general aren't anxious to oust any of them.  As for the Lt. Governor in particular:  the #MeToo movement is AWOL for obvious reasons.  Don't make me say say the primary one out loud.  And yes, if there is a hearing on the matter and the accusations are false, the women should be prosecuted -- that's a general statement about all false allegations of sexual assault.  As for the left's virtue:  You're funny, Joseph.
On the subject of immigration, it appears that finally we may be reaching the point where the real discussion may occur: namely, whether the US should have open borders.
Step 1 of course is for someone to define what open borders means and for those who swear they oppose open borders while also opposing deportation and the imposition of penalties upon those here illegally) to explain the steps they think should be taken when someone makes it across the border illegally. I know this is a complex and multi-faceted issue but like other complex, multi-faceted issues ( such as race: let's define the terms racism and racists and then we can have that honest "dialogue" about race that we constantly hear about), it is first necessary to clearly define the issue and key terms, and then discuss the matter with everyone on the same page. I fault the conservative media and conservative pundits (no disrespect intended) for not better defining the critical issues and terms. Am I off base? -- Michael F
I don't think you're office base at all.  Defining terms is the right place to start.  Neither the right nor the left is especially good at defining terms.  Everyone just assumes we know what racist, for example, means.  But what if you're against affirmative action based on race.  Does that make you a racist?  It's not always clear cut so defining terms is important.
I think many on the left are for "open borders" -- meaning no restrictions on entry into this country from Central America -- but for political reasons won't admit it.  Conservatives, as you suggest, could push the issue and ask what limits liberals would put on immigration.  That might help define the term, open borders.  But I'm with you on your overarching points about defining terms before arguing the pros and cons of the issues.
Bernie, of the 20+ Democrats, which do you think can give POTUS the best run for the money? Which do you think will win the nomination? -- Fred V.
Best run for the money:  Joe Biden.  Progressives may not like him, but most Democrats do.  They believe he will bring "normalcy" back to the White House.  As for actually winning the nomination: with less confidence, I'd say Biden -- but in the next 10 minutes he can open his mouth and some new "gaffe" will come pouring out.  Here's my question, Fred:  If Biden does NOT get the nomination ... who will?
Hi Bernie, You were always one of my favorite guests on O'Reilly's show and your departure was quite a bummer. Why did you decide to return to his show recently? Glad to see you back and hope you are on more going forward. -- Peter
I like Bill.  If he were still with Fox I'd be on the show every week.  But when Bill left, everyone associated with him became, let's call it, a problem.  So a lot of Bill's regulars went bye bye when Bill left the building.  I'll be on his podcast again.  Thanks for the kind words, too, Peter.
After the book and TV movie "Fatal Vision" came out, I read a little bit more about the infamous case of the doctor who was convicted of murdering his wife and children. While the author of the book seems convinced of his guilt, other sources seem to think that Dr. Jeffrey McDonald was wrongfully convicted because people like Helena Stokely supposedly confessed to being complicit in the murders with a couple of drug dealers, and that the military investigators botched it. My questions are as follows: In your opinion, do you recall the case when it happened, and do you think the doctor deserves a new trial? How come several left wing groups that try to advocate for questionable convictions aren't interested in this case? Do you think it's because he's white, a military man, and supposedly was a wealthy doctor? -- The Emperor
Emperor, you give me too much credit. You think I know more than I do.  I know it's hard to believe but ... I'm not a Renaissance Man.  I don't know about everything under the sun.   I know a little about the case you mention but I'm not knowledgeable enough to discuss.  And I know some things about politics, the culture and the media.
Bernie: care to weigh in on the recent controversy regarding our world cup team captain and her position regarding the American Flag ( in the context of representing America). What should we expect during the 2020 Olympics and should we care ( I am not questioning anyone's First Amendment rights which I view as sacrosanct)? -- Michael F.
There was a time when we turned to sports to get away from politics.  It was a refuge from the daily barrage of politics.  Any athlete, as you acknowledge, has the right to kneel during the National Anthem.  I just wish they wouldn't.  I wish they'd find a venue outside the stadium to make their point.  Who knows if we'll see more of the same at the Olympics.  All that said, I actually think the raised fist during the 1968 Mexico City Olympics was a legitimate act of protest by two black athletes.  That came during the civil rights struggles -- and in difficult times, certain actions (to me, anyway) are acceptable.  I'd be against a raised fist in a black glove today, given all the progress we've made since '68.
Hi Bernie: The Jussie Smollett case intrigues me. Here is an actor at the top of his game, starring in a top-rated TV show and making a reported $100,000 per episode. He was accepted and loved for who he is as a black, openly gay man (ask Sidney Poitier and Rock Hudson how that went a couple of generations ago). Yet that wasn't enough for Smollett. He had to manufacture a ridiculous racial hoax in order to gain acceptance and affection among his peers. It seems victimization is the new and true currency of the left, more so than money, fame and talent. You often correctly say that we live in the United States of Entertainment. Don't we also live in the United States of Victimhood? And is the Jussie Smollett case the intersection of the two? -- Steve R.
You nailed it, Steve.  Being a victim these days is a way to achieve power.  And you don't even have to be a real victim.  And if you're on TV AND you're a victim -- you hit the jackpot.  But in Smollett's case, his story was so ridiculous that just about no one was buying it, at least after a day or two.  Even those who are still standing by Smollett, I suspect, don't believe his story.  But to some on the left, if you challenge his victimhood, -- phony as it is -- you're putting real victims at risk.  You're right, Steve, "victimization is the new true currency of the left." Not everybody on the left.  Just too many.
Hey Bernie, the article on the "T" word was interesting, I think, unfortunately, that hyperbole is the order of the day from both sides. However, when any part of the media (print, network, or cable) complain about the President's incendiary rhetoric, I'm compelled to tell all of them: It's you who created this, for people who hate bullies, you have mocked and bullied conservatives and Republicans for DECADES, sooner or later someone is going to punch back and not take it anymore! You reap what you sow. Now some people may not like or appreciate it, but this is where we are at! Here is my prediction (archive this) Trump will win a landslide in 2020. The Democrat candidates are silly little children, they don't stand a chance! What do you think? Do you think Trump did the right thing regarding Iran? I know The Mullah's are out of control, but millions of Iranian's just want to live and be left alone. Why are we even there if we are #1 in oil production? Who's interest are we looking out for? -- Best regards "Right wing Ralphy"
You think Donald Trump will win in a landslide, Ralph?  Archive THIS:  He won't.  I'm not predicting whether he'll win or not, but it won't be in a landslide.  Here's Donald Trump's problem -- a problem his hard right supporters don't get.  His approval ratings should be in the 65 percent range, given the economy.  Instead the number is more than 20 points lower.  What you and other passionate Trump supporters like about him, most Americans don't.  If he loses, it'll be because of his big mouth -- and because folks like you have never called him to account.  Let's see who's right, Ralph.  Re Iran:  I do think he did the right thing. I thought his reasoning for not attacking was presidential.  He needs to act that way more often.
I noticed a while back that some liberal guy had written and published an entire book "responding to" (for lack of a better term) your book, 100 People Who Are Screwing Up America. The author used the same cover design as your book, but basically replaced all of the liberals in it with conservatives, changed the title to who is "Really" Screwing up America, and added the subtitle "(and Bernard Goldberg is #73"). I'm sure his book sold next to no copies, but does it kind of perplex you that someone would 1) take the time and spend the money to put together such a thing, and 2) actually think he was getting in a good dig at you? I mean, it just looks stupid and whiny. -- Bob V.
He was throwing spitballs at a battleship -- the U.S.S. Bernie.
I never read it, was never even slightly perplexed, and could not care less if he was getting a dig in at me or not.  See above reference to spitballs at a battleship.
---
Thanks, everyone! You can send me questions for next week using the form below! You can also read previous Q&A sessions by clicking here.