Discover more from Bernard Goldberg's Commentary
Media and political analysis
Over 8,000 subscribers
Bernie's Q&A: George Floyd, Mattis, Graham, "Systemic Racism" and more! (6/5) — Premium Interactive ($4 members)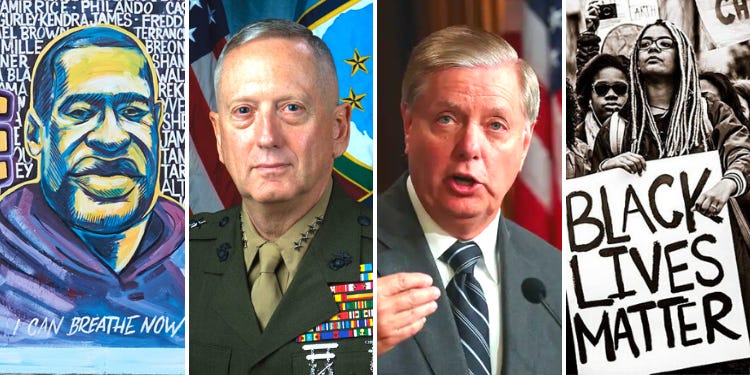 Welcome to this week's Premium Q&A session for Premium Interactive members. I appreciate you all signing up and joining me. Thank you.
Editor's Note: If you enjoy these sessions (along with the weekly columns and audio commentaries), please use the Facebook and Twitter buttons to share this page with your friends and family. Thank you! 
Now, let's get to your questions (and my answers):
---
Bernie, has anyone you've been assigned to interview for Real Sports ever given you a hard time (or even disagreed to talk to you) because of your political views (as expressed on Fox News)? -- Ben G.
No.  But I can think of a few who were familiar with those views and were more inclined to talk to me. Sorry, but I can't name names. Thanks, Ben.
Your response [in last week's Q&A] to Scotty G was: "If we chose better presidents you wouldn't need to ask your question." I concur, yet in the last election the nominees were unpalatable and we are headed to a repeat of that experience, it seems. The system is clearly not giving us choices resembling our best or our brightest! Why would someone qualified run in the current, strident environment? Kavanaugh was crucified; Biden may or may not have done wrong. But the current environment is overwhelmingly toxic. Your thoughts? -- Paul M.
My thoughts, Paul, are exactly the same as yours. If a candidate has ever done anything wrong since kindergarten; if he or she ever told an off-color joke; if he ever said to a female colleague, "You look nice" ... it'll be turned into a crime against humanity. Who needs the hassle!
Bernie, what is systemic racism? If it exists is it mostly prevalent in large cities (ie, those run by progressives) where larger numbers of black Americans live? Is systemic racism different than police racism and abuse? Based upon my limited research the term appears to be focused on economic and similar differences ( which clearly exist and may be attributed to historical racist practices). I think it is important to understand what exactly is being argued to figure out how we move forward and craft solutions. The media and the politicians have provided pretty much no guidance or ideas. -- Michael F.
I'm with you, Michael. Every time I hear "systematic racism" I wonder if it means racism is in our country's DNA. If that's what it means, count me out. I've heard the term a lot recently by CEOs on CNBC. But not one anchor asked the CEO: If racism is systematic, tell us how YOUR company is racist. Much of economic inequality in America isn't based on racism, no matter how many times we hear that it is. It's based on personal behavior. If kids grow up without fathers, they're more likely to be poor and get into trouble. That's well documented. But don't expect to hear that on the news.
Much has been written about Trump's hiding out in a White House bunker a few days ago when some rioters got too close. The left-wing media thinks it was cowardly, while the right-wing media thinks it was no big deal. Can we agree that if Obama had done the same thing, MSNBC and CNN would have downplayed it, whilst Rush and the Fox News crowd would have thought it was the worst thing ever? And can we also agree that this hyper-partisanship is exactly what's wrong with much of the current news establishment? -- Joel E.
Yes, Joel, you and I can agree on that -- completely. And yes, this hyper partisanship is indeed exactly what's wrong with much of the news these days. I've said that over and over and it's why I watch less and less cable news. I'm not even sure if it can ever be fixed; it's so ingrained. I'm with you 100 percent!
We've had season tickets for Vikings and Gopher football for decades. We gave them up a few years ago as we just didn't attend that many games anymore. HD TV, and my age, was a big factor of that decision. I thought ESPN did a great job for National Championship College football game broadcasting on a couple different channels with one providing sideline views and commentary. Just curious after we start to loosen up from the Virus if you see any major changes in how sports are covered in the future? -- Tim H.
Personally, I'll be glad to hit the road and actually talk to people face to face. But in some cases, perhaps to save money, we'll see more interviews done long distance, via Zoom or whatever. Other than that, I don't see any major changes. Play by play announcers will be in the arena or stadium and anchors will have analysts in the studio sitting right next to them. There may be something I'm not thinking of, so we'll all have to wait and see. But, again, I don't see any major changes post-coronavirus.
MANY people in the right-wing media (along with Trump) are slamming the mainstream media for reporting the "fake news" that protesters in front of the White House were pushed back with TEAR GAS prior to Trump and his people walking across the street for his Bible-holding photo-op in front of St. John's church. The Federalist's Mollie Hemingway has led the charge on this supposedly false story, pointing to a statement from the U.S. Park Police that includes this sentence: "No tear gas was used by USPP officers or other assisting law enforcement partners to close the area at Lafayette Park."
Just one problem. All of these "fake news" decriers are refusing to acknowledge the USPP sentence DIRECTLY BEFORE THAT: "...officers then employed the use of smoke canisters and pepper balls."  The phrase "tear gas" is a colloquial term that describes a variety of eye/nose irritating crowd-control agents... including pepper balls.
In other words, the mainstream media had it right, the USPP is drawing a distinction without a difference (probably to save some face), and Trump's media defenders are playing a semantics game to mislead their viewers/listeners. Do you think that's a fair assessment? -- Jen R.
I've wondered about that very point, Jen ... whether they really did use "tear gas" but we're just calling it by some other name. So yes, I think your assessment is fair. And the bad news is that conservative commentators won't make the point that you just made. If the left says it's daytime, the right says no it isn't. And the same nonsense goes in the other direction.  I'm so fed up with this I can't see straight.
A little over a week ago Democrat mayors and governors had their constituents on lockdown. Some had their throats on their necks with their draconian edicts. People were told not to walk on dry sand, some were arrested for playing ball with their kids in a park, for trying to open a salon,etc,etc all in the name of protecting them from the killer COVID-19 virus. So apparently we must assume the virus is no longer a threat because over the last five days these very same mayors and governors have stood by and watched hordes of people walking side by side, no social distancing, many looting stores with little or no impunity [but you better not try and open your business] in one case the man with perhaps the most draconian edicts, LA Mayor Garcetti [don't walk in dry sand, only wet sand, no sunbathing on the beach] today walked among the protestors, knelt with them, and held their hands. Please, don't anyone try and tell me that Politics didn't play a big part in all of this. So if there is a surge of new Corona deaths will Trump be blamed for them as well? -- John M.
I talk about this very thing in this week's Off the Cuff. Check it out. You give enough reasons, John, for the American people one more reason not to trust politicians. They'll arrest you if you open your hair salon too soon. But do nothing when you burn down a police station. How can we take these clowns seriously? Now let's imagine that there is a surge in new virus deaths. What will liberal pundits and pols say about that? They may indeed find a way to blame Donald Trump. But what if there's no surge?  Then did we go through this lockdown for nothing? And how will those same liberals who demanded we all stay home deal with that?
Bernie, did you read Gen. James Mattis's statement condemning Trump as "the first president in my lifetime who does not try to unite the American people—does not even pretend to try. Instead he tries to divide us"?
Lindsey Graham went on Fox & Friends the next morning, saying that Mattis is buying into an unfair "liberal media" narrative. I've noticed this a lot. If someone more identifiable with the right than the left criticizes Trump, the president's defenders accuse that person of just being duped by the liberal media. I've even seen some say that about you, which is insane considering that you've been calling out liberal media bias for decades.
What are your thoughts on the Mattis statement, and also Graham's? Thanks. -- Greg
Hey Greg. I think Gen. Mattis is on to something. Our president is content if his base loves him. He'll soon find out that his base won't be enough to win re-election. Every now and then he says the right thing, so let's give him credit for that. But by and large, I agree with the general.
You're right about how Trump supporters accuse conservatives of being liberal dupes if they criticize the president. Lindsey Graham is up for re-election and despite the fact that South Carolina is a red state, if he doesn't kiss up to President Trump's most loyal supporters, they won't vote for him on election day.
Let's just say there aren't a lot of profiles in courage out there. There never are. But in the age of Trump, there are hardly any on the right. No matter how loyal they've been, if they cross the president even once he'll publicly humiliate them. Such is his nastiness. And so, they're afraid to speak up against even his most outrageous comments and actions. And if he loses, that nastiness will be in the single biggest reason.
Editor's Note: This was a very long question that I trimmed down significantly (though it's still long). A friendly reminder to questioners to try and make your questions relatively brief. Thank you.
First, I'm glad the cops involved in George Floyd's death have been fired and that former Officer Chauvin has been charged.
Second, I read an essay by a black college professor (I don't remember his name, but I know he's been lauded by leftists) who intelligently articulates the various reasons WHY black people (especially young black men) are fearful and hostile towards white police officers. This was inspired by an incident where he was walking to his class to teach, and he was stopped by the cops because he fit the description of a man who burglarized a white woman's home. He was tempted to resist, fearing he'd be mistakenly identified by the white woman, and end up dead. However, the cops did not rough him up or threaten him; they were professional. He believes it might have been because an elderly black lady witnessed the encounter.
I think he makes some valid points in his essay regarding the encounter, but I have a problem with liberals who are gushing over what he wrote. Statistically, I believe black people make up approximately 12% of the U.S. population, but are responsible for [a disproportionate] of violent crimes (leftists will accuse me of racism for pointing this out).
Given the statistics, many white Americans are often cautious (and yes, fearful) when encountering groups of young black men. (And whenever a white person attempts to articulate WHY he/she is often fearful of young black men, they're IMMEDIATELY labeled as racists.)
My question: What makes the professor's fears any more valid than those of the white people I described?
You are a reasonable and intelligent man, Mr. Goldberg---sadly I think your Q&A forum is one of only a handful of places where I can safely bring this up. I would really value your thoughts on this. "Can't we all just get along?" Regards---From The Emperor
There are certain things we're not supposed to say in polite company. And it's something you'll never get from liberals in the media. But you are on to something. The reason a white person might cross the street when 5 black teenagers approach ... but not cross the street if the kids were white ... is because there's a better statistical chance that the black kids will cause trouble. Let's be clear; In any given case, the black kid may be the good guy and the white kid might be the thug. But young black males commit a disproportionate amount of street crime. So just as some black people might fear white cops ... so too do some white people -- and black people! -- fear young black males. I wish it weren't so. But crossing the street doesn't mean you're a bigot.
---
Thanks, everyone! You can send me questions for next week using the form below! You can also read previous Q&A sessions by clicking here.