Discover more from Bernard Goldberg's Commentary
Media and political analysis
Over 8,000 subscribers
Bernie's Q&A: Lemon, Crews, Vindman, Downs, and more! (7/10) — Premium Interactive ($4 members)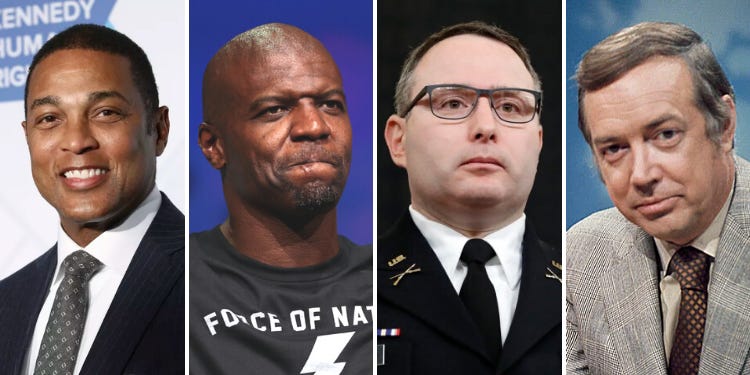 Welcome to this week's Premium Q&A session for Premium Interactive members. I appreciate you all signing up and joining me. Thank you.
Editor's note: If you enjoy these sessions (along with the weekly columns and audio commentaries), please use the Facebook and Twitter buttons to share this page with your friends and family. Thank you! 
Now, let's get to your questions (and my answers):
---
I know you worked at different networks, but I was wondering if you had any thoughts on Hugh Downs, who recently passed away. Did you know him at all? What did you think of his work as a journalist? Thanks. -- Ben G.
I worked only at CBS... later as a contributor at Fox. Did not know Hugh Downs. But he certainly came across as a likable guy. Not sure I'd call him a journalist, not in any old school sense anyway. He was a TV personality who did his job well.
I recently re-watched the Spielberg film, Munich. The themes of the film...the endless revenge cycle, both sides claiming injustices, both sides fighting and killing... I couldn't help but think about how we are today in this moment. With Trump or without him, we would despise one another. Even a worldwide pandemic can't get us to be kind to each other, to listen to one another. I can't think of anything that would bring us together. I believe Trump shouldn't get a second term...but how would a President Biden be able to fix this? Fix a broken Congress? Fix a divided people? Heal all this anger? Care to give me some positive news for our future? Anything? -- Joe B.
I'd love to give you some positive news for our future, Joe, but I can't. I think we're so divided, so broken, that I can't think of what would fix it. I used to think an attack on the United States would bring us together. 9/11 did. For 10 minutes. I've been warning for a while now that the most serious problem facing this country is our polarization. I'm more convinced than ever that I was... and remain... right.
Mr G., Is the pathetically weak response from the GOP House & Senate to the unrest of the past few weeks crushing their chances at keeping the Senate & winning The House back? Or were they DOA before the Floyd murder? -- ScottyG
The president has spoken out against the unrest and it hasn't helped him in the polls. That shows you how far we've gone -- voters hate Trump more than they hate the rioters and looters. Not sure it's the GOP's silence that might bring down their control of the Senate so much as a blue wave of discontent with how things are going generally. Donald Trump is at the helm. It's happening on his watch. He may not be the only one to suffer the consequences.
Bernie......I spoiled my ballot in '16 (voted MAD, for A E Neuman) because of Trump's public --indeed, disgraceful-- disregard for McCain even while being sympathetic to much of the Rep's vision and agenda. Now, even with Covid19, I'm inclined to vote Rep but given Trump's recent rubbishing of Jeff Sessions (a decent man over his head at DOJ who wanted to preside when the job called for an active manager) I may well, again, spoil my ballot at the top of the ticket. What, me worry? -- Best regards, Andy M.
I think your vote for Alfred E Neuman was a good one -- given the alternatives -- Hilary and Donald.
To write about today's street revolutionaries, without looking into the big money behind them that is funding them, what hope do we as average Americans have in stopping them (aka ultimately and successfully prosecuting the violent criminals who have destroyed many minority businesses and killed and assaulted our men in blue)?
Where is the progress in the prosecution of Hunter Biden and his co-conspirator-father Joe Biden? Donations to BLM seem to be routed to the DNC but I don't see the facts about that on the public table! -- Gary H.
Not sure where you get your information, Gary, but if donations to BLM is routed to the DNC that's news to me. Average Americans don't have the authority to go out and arrest the criminals who are tearing down statues. That's up to the authorities -- local or federal, depending on where the statues stand. Democrats haven't spoken out forcefully (if at all) against the chaos. But neither have a lot of Republicans, though as a group they're better than the other side. I'm still wondering if a silent majority exists and will rise up on Election Day. As for Joe and Hunter Biden -- not all sleazy business dealings are crimes. Let's see if anything comes of it.
Bernie, what would it take for Trump to ignore these idiots and be the adult in the room? It appears that he has a terrible habit of wanting to fight everyone and not let controversies die a natural death. For instance today (7/6), he idiotically attacked NASCAR and Bubba Wallace even though the sport, and its fans, have mostly moved on from the incident in Talladega. His focus on Kapernick and those who kneel during the anthem keeps these people in the headlines. Why can Trump not let things go and focus on what unites us? He says he wants a united and patriotic country but why does he think he will achieve this with lowbrow tweets that seem more like school yard taunts and not honest attempts and showing all of the good that this nation has achieved in the past 244 years? I cannot imagine Reagan, Lincoln, Roosevelt, Kennedy, Washington, Grant, or Jefferson ever engaging in such childish antics. He needs to step up or else he will be stepping out. -- Joe M.
Here's your problem, Joe: You're thinking rationally about an irrational man. Don't waste your time. He's incorrigible.
In many ways Trump has been his own worst enemy but I wonder, how would Obama have fared if 95% [or more] of the print and visual media had been on his case from day one? Flat out lied about much it reported about him? Not like he wasn't thin skinned. -- John M.
No question, John, that much of the media is out to get the president. The most recent evidence is how big news outlets covered the president's speech at Mt. Rushmore. But this president is needlessly combative and chronically dishonest -- and that would be true whether the media liked him or not. As for Obama:  He probably would have been a lot more prickly than he was if he had journalists on his rear end from Day One. So given the treatment he gets from the media, to some extent Mr. Trump's behavior is understandable. But only to some extent.
I'm not sure how Trump is supposed to be taken seriously as a warrior against the "cancel culture" when he has called for the firing of a ton of media commentators, athletes, and CEOs (in most cases, just for criticizing him). It seems to me he's contributed more to the cancel culture than most people. -- Jen R.
Once again, Jen, you show us all how perceptive you are. I have nothing to add. You nailed it.
Regarding the coverage of Trump's July 4th speech at Mt Rushmore, have we gone from media bias, to media advocacy ("A Slobbering Love Affair"), to the media telling blatant lies about a speech and a president? If so, has the mainstream media become Pravda, telling lies as a version of truth? -- Steve R.
The coverage of the president's speech at Mt. Rushmore was a new low for journalism. Some journalists did in fact, as you say, tell blatant lies about that speech. Whether it's Pravda or not, I, personally, have not seen it this bad in my long journalistic career.
I saw that "interview" Don Lemon had with Terry Crews. It was stunning that Lemon CONSTANTLY INTERRUPTED Crews. Lemon essentially admitted that BLM really only cares about blacks being murdered when the death is from white cops or white civilians, as opposed to blacks dying at the hands of other black people. He then used the hypothetical argument of a group called "Cancer Matters," and having people complain about that, and asking "what about HIV?"
Then Lemon doesn't really allow Crews to respond by interrupting Crews and refusing to listen to him. I would have pointed out the flaws of Lemon's fatuous point by saying that if HIV were causing a much larger amount of deaths in a certain community (such as black on black crime is) as opposed to cancer causing deaths (such as blacks dying at the hands of white cops), then YES, I think the larger problem should be dealt with as well instead of ignoring it and STILL blaming cancer for the deaths instead of HIV. A better comparison would be if a group that wanted to fight leprosy decided on totally ignoring HIV or cancer.
Why do you think Don Lemon thought he would not look silly and ridiculous to the viewing audience by making an argument and then cutting off any possible response from Terry Crews? Your thoughts and comments are appreciated. -- "Leprosy Matters" Regards From The Emperor
Do you watch Don Lemon to get angry or to have a few chuckles? Just wondering. No anchor thinks he or she will look silly no matter how silly they behave. Don Lemon and many others on both sides of the aisle have very high opinions of themselves. As for Leprosy Matters: I interviewed patients at the last leprosy hospital on the U.S. mainland -- in Carville , Louisiana -- just before they shut the place down. And if you're wondering ... Carville, Louisiana is named after James Carville's family.
Bernie, I'm an Independent - socially liberal, fiscally conservative. Non-violent, constructive, protests - good. Burners and looters - bad. I try to keep political comments to myself. The speech that President Trump gave July 4th, however, in my humble opinion, truly had to be one of the most irresponsible, reckless, and dangerous, speeches of all time, because it contained this quote - "Now we have tested almost 40 million people. By so doing, we show cases - 99% of which are totally harmless ... " --> "Totally harmless." "99%." "Totally." "Harmless." President Trump, millions of folks absolutely believe what you tell them. You speak. They believe. How many people will you, Donald J. Trump, kill by this savage disregard for the truth. Maybe me? My wife? My son? Maybe even you, who is reading this post now ...Truly unbelievable. Bernie, your feelings about this? -- Aloha, Mike
When Donald Trump's lips are moving there's a very good chance he's saying something that isn't true. That's bad enough. But the toadies who cover for him... they are truly pathetic. Yes, I know they're on his team... that they're soldiers... not generals. But it takes a certain kind of person to be on his team -- and it's obvious, Mike that neither your nor I are that kind of person.
Bernie, do you believe that there exists a cabal of elitist oligarchs that are thrilled that the focus of the people of America is centered on both the coronavirus and the supposed pillars of injustice; African Americans, the LBGT community and all other theoretically socially oppressed groups? While most folks are desperately trying to survive the financial implications of the virus and fathom the hysterical protesting (rioting) and looting, this group of self-serving corporate executives and their political lackeys from both the right and the left are systematically expanding their wealth and power, taking advantage of the Federal Reserves accommodating monetary policies and the hastily conceived fiscal policies enacted by Congress. -- Douglas C.
I'm not into conspiracies, Douglas. So, no, I don't believe they're "thrilled" that we're focused on chaos and not on how they're getting even more rich.  I believe they're really with BLM.  I also believe there are no profiles in courage among our corporate executives, because if there were they'd question the group's motives and wouldn't accept as a given that systemic racism exists in America.  I don't think this answers your question the way you intended, but it's the best I've got.  Thanks.
Lt. Col. Alexander Vindman (who testified in Trump's impeachment hearings, and who Trump repeatedly attacked the character of) just retired from the U.S. Army. This came after the White House delayed (multiple times over several weeks) a promotion Vindman was due. The delays included the White House calling for an investigation into Vindman, in which the Pentagon found no suggestion of misconduct on his part.
Vindman's lawyer responded with this statement: "Through a campaign of bullying, intimidation, and retaliation, the President of the United States attempted to force LTC Vindman to choose: Between adhering to the law or pleasing a President. Between honoring his oath or protecting his career. Between protecting his promotion or the promotion of his fellow soldiers."
What are you thoughts on this, and what do you think it means for the future of public servants coming forward when they believe higher-ups have abused their power? Thank you. -- Jeremy T.
Let me refer you, Jeremy, to Jen's observation above. Beyond that, the president had the right to do what he did. But that didn't make it right. Our president is not a gracious man. And that's putting it mildly.
---
Thanks, everyone! You can send me questions for next week using the form below! You can also read previous Q&A sessions by clicking here.