Discover more from Bernard Goldberg's Commentary
Media and political analysis
Over 9,000 subscribers
Bernie's Q&A: Trump, Kaepernick, Bream, Buckley, and more! (7/5) — Premium Interactive ($4 members)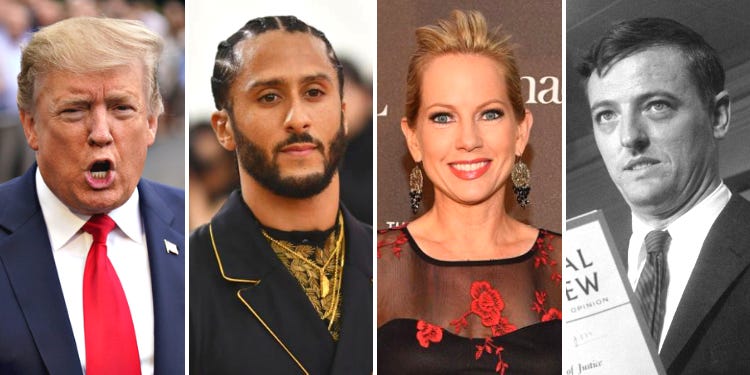 Welcome to this week's Premium Q&A session for Premium Interactive members. I appreciate you all signing up and joining me. Thank you.
Let's get to your questions (and my answers):
---
What do you think of Nike pulling its 4th of July themed shoes (featuring the "Betsy Ross" flag) off the market, because Colin Kaepernick found it offensive? -- William W.
Too complicated for a complete answer in this space.  But I think Nike was wrong.  If the reason for pulling the shoes off the market was that neo-Nazis embrace the "Betsy Ross flag"... that's a mistake.  First, most Americans had no idea those morons used the flag as a rallying cry ... and second, Nike's decision now gives the white supremacist idiots power they don't deserve.  What happens if they embrace the Stars Spangled Banner next? Does that become off limits for decent people to also embrace.  I could go on, but you get the idea.
Hey Bernie, in last weeks Q & A you replied to me that if Trump loses in 2020 it will be "because of his big mouth, and folks like me don't hold him to account." Now I have a serious question. How exactly do "I" hold the POTUS to account? You think too much of me Bernie, I HAVE ZERO POWER IN THIS WORLD! What do you suggest? Vote Democrat? I've been reading your answer over and over again. I've been through a lot, seen things most men will never see, and I know a lot of things, but I seriously cannot, for the life of me figure this one out. You have way more power than I can ever fathom having. I will say this, after watching the Democrat debates, my prediction is looking a hell of lot better. -- Respectfully, Ralph P.
Fair question, my friend.  First, I do NOT mean that you should vote Democrat.  But too many avid Trump supporters defend him to matter what.  If Gallup calls, you can say you do NOT approve of the job he's doing.  That's a big deal.  You can have conversations with friends and say he's behaving like a kid in junior high.  Who knows, Gallup might call your friend.  Word of mouth matters over time.  Social media:  I know next to nothing about it but ideas get picked up and passed around.  But whenever I see a poll, nearly 100 percent of REPUBLICANS approve of the president.  Why should he stop acting the way he does when so many people think he's doing a great job?  That said, I understand your question.  You may not have the power to speak to a Joint Session of Congress, but you can do something, Ralph.
I am a John Kennedy Democrat and I do not recognize my party any more. I wrote a short book on JFK Jul 1956 - Nov 1963 I'd like to send to you. How can the Democrats recover from these debates? Especially this last one. Republicans show quotes of the candidates and say, "This is the Democrat Party." -- Chief Clyde
Read my column about how Moderation May Be Dead in the Democratic Party -- But in America?
Here's the question, Clyde:  Has America moved as far left as the new progressive Democratic Party?  I don't think so, but I'm not betting on it.  People like free stuff.  It's up to the Republicans to make the case that Democrats want to fundamentally change America.
I don't accept books, because sooner or later authors not only want me to read their work, but want to know what I think of the book.  It's a losing situation for me.  But thanks.
Bernie, so the NBA has joined in on the craziness. It has decreed that team owners will no longer be referred to in that manner. Invokes a time when black men were in fact owned by slave owners. Like the mega millionaire narcissists on these teams are "slaves", are treated like slaves? The owners will now be referred to as Governors. And the beat goes on. P.C. craziness? -- John M.
Here's my not so subtle answer:  YES ... Crazy!
Hey Bernie. Its a thrill to be able to write to you personally! Im interested in hearing your thoughts on how we can keep Social Security and Medicare solvent. There have been many good proposals through the years suggesting raising contributions (taxes) slightly, reducing COLA increases, gradually raising retirement ages, and many more. Politicians generally wont even discuss these reforms, apparently considering them political suicide--which it probably is. Why do you think individuals my age (62) and older (and younger too) are unwilling to accept a little economic pain now in order to avoid a lot greater pain as we kick the can down the road? Not just our economic pain but for our children and grand children. Is it just plain ignorance? Selfishness? Or what? What are your thoughts? -- Your devoted disciple, Alan D
It's fear, Alan ... as you suggest.  I'd be for raising the age for SS ... but not for people your age or older.  Why can't Congress agree that workers now in their TWENTIES won't get benefits until they're ... pick an age that's older than what we have now.  I'm against raising taxes -- almost always.  On the issues you raise, you'll have a hard time finding profiles in courage.
Bernie: What do you think of the shenanigans of women's soccer star Megan Rapino? I tune into sports to watch sports and I could give a rip about the political views of the players. If I wanted to listen to dumb political statements and protests I'd watch the Democratic Presidential debates! I think she should be tossed from the team and banned from American soccer for life. -- William W.
I got a similar question last week and said that while athletes have the right to speak out on political and social matters, I wish they wouldn't do it on the playing field, in the arena or stadium.  Sports, I said, used to be the place we'd go to escape the daily barrage of politics.  But ... I don't think she should be tossed off the team or banned for life (or a day).  Banning speech is too dangerous for that.
There are over 20 Democratic presidential candidates this time around, and there were nearly that many Republican candidates last time. Do you get the impression that "Running for President" was just a bucket-list item for a lot of these individuals, as opposed to them sincerely believing they are uniquely qualified (or felt a genuine call) to lead the nation? -- John D.
Some of these people are delusional enough to really think they are uniquely qualified to lead the nation.  But I think they run mainly for ego reasons and career reasons.  Ego:  They can say "I ran for president."  Sounds stupid, right.  But I think that's one reason.  Career:  Maybe they'll get picked for VP; maybe they'll get speaking gigs; maybe they'll leave politics and with "I ran for president" on their otherwise lackluster resume, they'll get a job in the real world.
I find myself watching Shannon Bream on Fox. I think she's a rising star and I good interviewer. She actually lets her guests respond. Just wondering your thoughts on her. I have to admit that once your segments on HBO sports are over, I get a little bored. You've had the most dramatic episodes. You don't talk much on this site about it but since us members are paying the huge $4 bucks a month, any chance you can give us premium members a heads up on what's coming? I believe you said something about the fact you would never write a book again. But I think you should about the 70's. From music, war, civil rights, etc., the 70's had it all. You could end it with a line "The day the 70's ended". A great line that should not go unwanted. -- Tim H.
Shannon Bream is more fair than many others ... she talks way too fast for my taste.  After a while, I have to change the channel.  Thanks for the kind words re Real Sports on HBO.  I'll let you know when I've got a story coming up ... not sure right now how I do that.  As for books, no way Jose.  (Did I just appropriate someone else's culture with the Jose thing?) I agree what we should never let a great line go to waste.  So I'll end with, To be or not to be, that is the question.  I just made that up.
Bernie, I think I speak for many of us who are regular readers and contributors to your Q&A sessions that I look forward to every week to the opportunity to get your views on all sorts of issues and also to essentially be part of a discussion group with others around the country who care deeply about many of the same issues. I wish there were opportunities to actually meet face to face with others with whom I share viewpoints and have intelligent discussions but cannot figure out how to do so. Maybe some of your readers have ideas as to how to make that happen in particular locales. For now, I will throw out this idea for those of us who live in South Florida: how about a meet up with our friend Bernie over lunch, dinner or beers to meet one another ( and you of course). The expense could be shared and maybe even we Bernie fans contribute something extra to a charity or good cause of your choice. If this makes any sense (and if you get positive feedback on this thought), I would be happy to do some leg work into seeing if it is feasible. -- Michael F.
I'm flattered, Michael.  Just between us, I no longer live in Florida.  I've had it with hurricanes ... and the threat of hurricanes.  Last September we packed up and left Dodge.  But thanks for the thought.  I appreciate it.
Hi Bernie —as I recall years ago, the infamous October Surprise conspiracy that alleged Ronald Reagan somehow made a deal with the Iranians to hold the hostages until after he won the election in 1980 was debunked more than once. My questions are as follows: was there ever the slightest bit of evidence suggesting that the conspiracy was real? If not, then why do so many people on the left continue to believe it? -- The Emperor
I know of no evidence that Reagan made a deal with the Iranians to hold the hostages until after he won.  I think the Iranians wanted to humiliate Jimmy Carter so a) they held the hostages until he officially was out of office and b) they were more than a little concerned about what Reagan would do if they DiDN'T release the hostages.  As to why people on the left continue to believe it:  Because they're people on the left and because Ronald Reagan was a conservative.
Dear Mr. Goldberg, During the first 2020 Democrat presidential debate, candidates where asked to give their opinion as to the greatest threat to the US. The answers ranged from China, Russia, Donald Trump, Climate Change, money in politics and our political culture.
Many of our systemic problems were a consequence of government actions be they legislation (Congress), judicial decisions (Supreme Count e.g. Roe vs Wade) or executive orders (that are changed by successive presidents). I contend that the biggest threats to the US are the Democrat and Republican parties. Didn't our 2nd President John Adams warn us about political parties. It is my understanding that our representatives and senators spend as much time on the telephone to raise funds for political campaigns with the money going into the party pot as they do working for the people in their district or state. The funds from the party pot will be used to fund targeted campaigns to oust an incumbent and hopefully bring power to their political party. Thus, the allegiance of a representative or senator will be to the party instead of their district or state.
Any representative or senator who does not follow the party line when asked to do so will likely face strong opposition in the next primary with the funding for the opposing candidate coming from the party pot. In effect the Democrat and Republican parties are interfering with our representative form of government which is the essence of our democracy.
Maybe we need a special investigator to see how money through the political parties affect congressional decisions. (smile) Or am I completely off base in my assessment? In theory, the problem of campaign finance could be fixed by limiting campaign contributions to a representative's campaign to their district and to a senator's state while barring any funding from the political party. Not likely to happen, so the burden rests with the voters who appear to always support the incumbent because they really support an authoritarian form of government with their party in power. Thus, the reasoning behind the gerrymandering. Is their hope? Thanks -- Ival S.
Money is a form of speech.  Americans have the right to free speech.  So ... they have the right to give money (within certain limits) to candidates in or out of their district or state.   If you think this is a bad way to go, then, no there is no hope.  The burden is on the voters.  Given your passion in the subject, I suspect my answer won't please.  It's the best I've got.
Bernie, a reaction to your article on Moderation or lack thereof among Democrats:Perhaps some good can come from the absence of moderation. As the Democrats dig in and go left, the contentious issues garner greater attention. For example, if Trump can control himself ( no easy task), we may finally get a real debate or discussion on a national level regarding issues like abortion ( time limit for decision v partial birth, age limit for required parental notice and funding by government, all issues where there is a national consensus that is more middle of the road), immigration ( open borders or not and maybe even limits on benefits available to those here illegally), and race (exactly what makes someone a racist).
I would like to see a major network ( or a combination say Fox and CNN) sponsor a series of panels that are comprised of serious proponents to discuss these and other issues ( a modern day Firing Line of sorts). The panelists would be selected not by the networks but by acknowledged leaders of the concerned groups. For example, the abortion discussion would be among women from both sides, and the race panel who be consist solely of African Americans (think Cornell West and Ta Nahesi Coates from the left and Larry Elder and Candace Owens from the right) . The ratings would be astronomical. Maybe you could moderate these? -- Michael F.
Michael, I'm not blowing smoke:  America needs more people like you.  Great idea.  A modern day Firing Line is what we need -- and not the one currently on PBS.  I miss Bill Buckley.  Thanks for the analysis.
Greetings Sir Bernie—-do you know much about the Leonard Peltier case? If not, no big deal. I'm just curious because he is another one of those "underdogs" that leftists enjoy lionizing. Nonetheless I believe 60 Minutes interviewed him many years ago and confronted him about his escape attempt, asking why he ran if he is innocent. (His response came down to his notion that as a Native American Indian that he felt that he could not get a fair trial in racist white America). I realize that I am asking about a subject you may not have any opinion on, but I don't think it hurts to ask. Your thoughts, if any? -- The Emperor
You fascinate me, Emperor.  What's your next question going to be about? Napoleon? Marco Polo?  I'm begging you, please ask me about something that is tied in some way to the 21st century.  I'm having some fun ... no offense, please.  (I liked your other question about Iran and that was last century.) It's just that your interests and mine -- and your KNOWLEDGE and mine -- don't always intersect.  Don't know enough about Peltier to comment.  We're still friends, right?
Is having even the slightest expectation that AG Barr and the IOG findings will produce any true accountability from high level Dems a waste of energy? -- ScottyG
Depends on what you mean by accountability.  The findings MAY show wrongdoing.  That doesn't mean indictments will follow.  But the public will at least know more than it knows now.  Let's see what the AG and the IOG find out ... and if it's bad enough, things may get interesting.
---
Thanks, everyone! You can send me questions for next week using the form below! You can also read previous Q&A sessions by clicking here.