Discover more from Bernard Goldberg's Commentary
Media and political analysis
Over 8,000 subscribers
Bernie's Q&A: Obama, Blago, Cuomo, Dáte, and more! (8/21) — Premium Interactive ($4 members)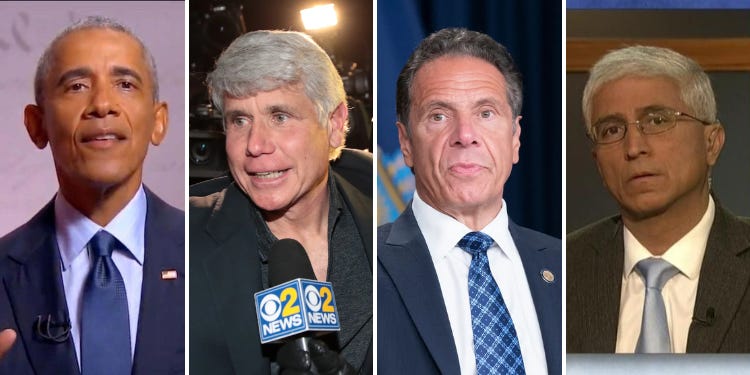 Welcome to this week's Premium Q&A session for Premium Interactive members. I appreciate you all signing up and joining me. Thank you.
Editor's note: If you enjoy these sessions (along with the weekly columns and audio commentaries), please use the Facebook and Twitter buttons to share this page with your friends and family. Thank you! 
Now, let's get to your questions (and my answers):
---
I'm of the opinion that there is nothing more stupid and ignorant than Polls. There is 153 million registered voters in this country and polls talk to 1,000 of those and it's supposed to reflect 150 million. I fail to understand the logic and justification for this yet the media and politicians rely on them so much. Please enlighten me on this. -- Jeff H.
There is solid science backing up the good polls. Repeat: the good polls. So it's possible to question only a thousand people and come to conclusions on what 150 million people might think. If, however, the polls are stacked with a disproportionate number of voters from one party or another, then the poll won't reflect the broader American view on whatever the subject might be. I have found that Trump supporters generally don't have faith in polls -- unless the poll shows Trump leading.
Bernie: I was pretty surprised by this remark [in last week's Q&A]: "...I'm not too happy with Bill these days, given that he's written about everything under the sun ... except the bad habits of his pal, Donald J. Trump." Well, the first thing I thought was that you certainly are not referring to his book, The United States of Trump in which he discusses all of Mr. Trump's bad habits, quite extensively, throughout the book. Secondly, you also cannot be talking about Bill's podcast, in which he regularly discusses Trump's flaws, including his ego, his hyper-sensitivity to criticism, and especially about Trump's unforced errors through his knee-jerk tweets. Finally, you cannot be talking about Bill's weekly lamentations about how things Mr. Trump does sometimes hurts, & not helps, the country. I was wondering if you were talking about the same Bill O'Reilly I watch every day. I am a big fan of yours but I think you may be off base here. -- Joseph R.
Editor's note: Peter E. and Jean B. asked similar questions.
You thought I was talking about THAT Bill O'Reilly? I was talking about Bill O'Reilly, the guy who lives down the road from me.  He LOVES Donald Trump.
Okay, Joseph, joke's over. You make fair points ... and thanks for making them. I was talking about Bill's weekly columns which cover the waterfront -- about all sorts of cultural, media and political issues ... but hardly ever an even mildly negative word about his friend the president. But again, you make a fair point. I should have been clearer.
It seems to me that Israel normalizing relations with the UAE (through the Trump administration) is a pretty big win for Trump. Yet two entities seem far more interested in peddling competing conspiracy theories about the U.S. Post office:
the mainstream media

President Trump
I understand why the media wouldn't want to spend much time on the Israel/UAE story (it makes Trump look good and Obama look bad), but what's the deal with Trump? Does he see more benefit, at this point, in presenting himself more as a victim of  "corrupt" forces, than as someone with a record to tout? -- Ben G.
You're right about the media, Ben ... and you may also be right about the president. He has a knack for stepping all over the good news he generates. Why? Because he can't help himself. He's obsessed with the election being rigged ... and he can't talk about anything else. Yes, he enjoys portraying himself as a victim of "corrupt" forces. He apparently believes -- or feels -- that he gets more out of whining about how they're out to get him than talking up his Middle East accomplishment. He's his own worst enemy.
I saw today that Rod Blagojevich is now being hired as a keynote speaker for GOP fundraisers. This guy was the poster child for epic Democratic party corruption, but because he and his wife kissed Trump's butt, he not only got a presidential pardon (from Mr. Law & Order), but is now getting paid to speak at GOP events. What planet am I living on? Does the Republican party hold anything more sacred than sucking up to Trump? I'm willing to bet Blago's more popular with Republicans than Mitt Romney at this point. -- Jen R.
First, you're living on Planet Bizarro, where nothing makes sense. Second, No, the Republican Party does not hold anything more sacred than sucking up to Trump. And you hit the trifecta Jen ... because Blago almost certainly is more popular with many Republicans that Mitt Romney.
FDR told us that the only thing we have to fear is fear itself. Imagine if FDR had made that statement from his basement. Would he still have been referred to as our fearless leader? Kamala Harris was essentially rejected by the Democrat Party during the primaries. If she becomes the de facto president, will the Washington Post modify its slogan to read: Democracy Dies in Conference Rooms? If enough New Yorkers leave Manhattan, will NY truly become The Naked City? -- Michael F.
See my answer to Jen, right above your question Michael. We're all inhabitants right now of Planet Bizarro. I did laugh, though, when I read your point about FDR, hiding in a basement, saying, "All we have to fear is fear itself."
The American Federation of Teachers just held a virtual convention where agenda items included advocacy of the Green New Deal, Black Lives Matter and LGBTQ issues, and single payer health care. I'm not sure what these specifically have to do with teachers and education. Black Lives Matter has as its stated goal to "dismantle cisgender privilege", "disrupt the Western-prescribed nuclear family structure", and "free ourselves from the tight grip of heteronormative thinking." I don't think this agenda directly addresses police brutality in black communities, but then again these folks are "trained Marxists". Even the ACLU, which once steadfastly stood for Constitutional rights and protections of all citizens, now freely embraces the language of "hate speech" and cancel culture. Now to my question for you: When did these organizations founded on specific action become just generic Leftist organizations? Why did they sell themselves out? -- Steve R.
Liberals are afraid to be liberal. They understand that they won't survive when the cancel culture comes after them. They're cowards. Unprincipled, frightened cowards. That's why they sold themselves out. As for the ACLU: They long ago became just one more left wing political organization.
Now these BLM folks are going into the white surburban neighborhoods [outside Minneapolis] and with loudspeaker in hand screaming at the owners that they will soon be taking their homes because, after all, they deserve them. NO POLICE in sight. How long before someone gets an itchy trigger, and then the war really will be on. Did you see the video of the guy and his GF/wife being pulled out of their vehicle in Portland last night? The man was beaten to within an inch of his life. Again NO POLICE in sight. I thought this was all going to stop after Trump removed the Feds from Portland, they left weeks ago. I'll just leave you with this; you can't reason with evil, it is cruel and uncaring. It wants what it wants and won't stop until it's won, or you kill it. -- John M.
I'm with you John -- 100 percent. And the well-off woke liberals who support the mob will be screaming for the cops when the mob comes after them -- as it already has, and will continue to -- because, as you say, no police are around to stop it.  If you missed it, listen to my Off the Cuff that went live two days ago.
Last week at a WH press conference, a WH correspondent (when called on by Trump) asked, "Do you regret at all all the lying you've done to the American people?" Trump blew him off and took someone else's question.
On the web, Democrats cheered the reporter (no surprise) and Republicans likened the question to "Have you stopped beating your wife?"
Seems to me that the question was probably inappropriate in that setting, but also that it wasn't a logical fallacy (Trump DOES lie a lot). Your thoughts? -- Timmy T.
I'm glad the president didn't answer the question and didn't tangle with the idiot who asked the question. This level of disrespect is something new. Even during the Nixon drama, reporters showed respect. Dan Rather's famous response to Nixon, who asked if he was running for something -- "No sir are you?" -- was nothing compared to the question Trump was asked. You're right, Timmy, Trump does lie a lot. Still the lack of respect too many reporters show this president is not a good thing -- not for any of us, including journalists.
So it appears that the horrible evil, racist, anti-Semitic, homophobic, Islamophobic Donald Trump somehow brokered a peace deal between Israel & The United Arab Emirates, thus having the enemies "normalize" relations with each other, because both parties see the problems with Iran causing trouble throughout the region. Well this appears to be "good news," but I must ask a few things: Why hasn't the mainstream media given more coverage to this historic peace deal? Any ideas? Also, should I be skeptical of this peace deal? I'm a bit of a cynic, but I truly DO want to be an optimist. What are your thoughts on all this? -- "(Maybe) The Enemy Of My Enemy Is My Friend" Regards, From The Emperor
Emperor, Your Royal Hiney ... I suspect you know the answer to your question about why the mainstream media hasn't given more coverage to this historic peace deal. Just between you and me and nobody else: BECAUSE THEY HATE DONALD TRUMP.
Be an optimistic. The UAE made a deal because it wants a deal. That's a pretty good indicator of how things will go.
After managing the worst coronavirus response of all 50 states (well documented in this piece by Noah Rothman), Governor Andrew Cuomo is now releasing a victory lap book on how awesome he's managed the crisis. The level of shamelessness and gaslighting in today's politics is off the charts. -- Justin
I couldn't have said it better!
Have you watched any of the Democratic Convention? I haven't but have read some excerpts, including from Barack Obama's speech [Wednesday night]. I think a number of his criticisms of Trump were valid, but when Obama spoke about Trump's failure to work with the other side of the aisle, and how Trump was abusing the constitution, it was more than I could take.
When did "I won" Obama EVER work with Republicans? He and Reid shot them down at every opportunity. Prior to Trump, Obama (as shown in the polls) was considered the most polarizing president since polling began.
And when did "I've got a pen and I've got a phone" Obama start caring about the sanctity of the constitution (Libya, DACA, etc.)? -- Alex D.
There are few things that annoy me more than sanctimonious politicians. Barack Obama fits the bill. Who knows if he really believes all that B.S. ... or if he's just saying what the base wants to hear. I don't care. Like you, Alex, it's more than I can take.
---
Thanks, everyone! You can send me questions for next week using the form below! You can also read previous Q&A sessions by clicking here.