Discover more from Bernard Goldberg's Commentary
Media and political analysis
Over 9,000 subscribers
Bernie's Q&A: Herman Cain, WH Press Secretary, Republicans on the Debt, and more! (8/7) — Premium Interactive ($4 members)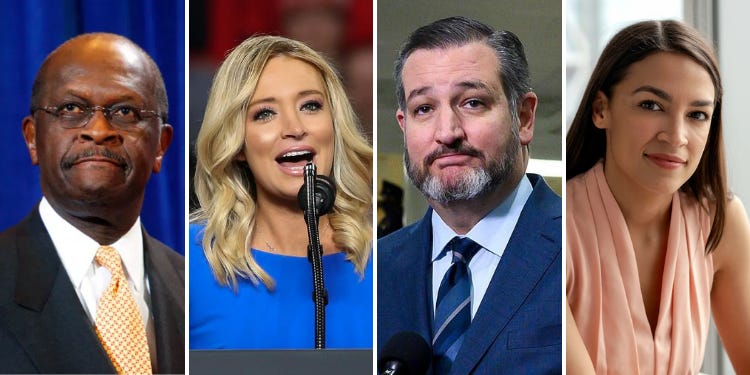 Welcome to this week's Premium Q&A session for Premium Interactive members. I appreciate you all signing up and joining me. Thank you.
Editor's note: If you enjoy these sessions (along with the weekly columns and audio commentaries), please use the Facebook and Twitter buttons to share this page with your friends and family. Thank you! 
Now, let's get to your questions (and my answers):
---
Kneeling [for the national anthem] sends all the wrong messages, not least because it is well on its way to replacing the only way probably 90% 0f Americans ever hear the National Anthem and sometimes ponder what it means. Spreading Kneeling is a masterful tactic that can be applied to many other cultural, government and business events. For decades it has been a tradition in this country to start all sports events with the National Anthem. With a few wobbles here and there, and some short term protests, the players stood at attention along with their loyal fans.
Standing for the National Anthem was a way to acknowledge all that this country of ours has made possible for players and fans alike. For a brief span of time ,it brought together people from many different backgrounds sitting in booths for the wealthy or connected to the grunts in the nose bleed tiers. NOW, entire teams are taking a knee and they have no clue about the ultimate aims of Black Lives Matter, despite the fact some of its founders proudly boast of being Neo-Marxists. So how long will the players (many with incomes in the millions of dollars) continue to flout and honor their ignorance? Except for the outrageous incomes, how long will many fans continue, in their own ignorance, kneeling or tolerating their teams kneeling? -- John D. P.
You make some good points, John. I'm not a fan of kneeling either but I'm not sure it's going to be a problem for most sports fans. Ratings have been good for live sports so far. But your question is a good one: How long with fans tolerate the kneeling of athletes? At this point, nobody knows.
Bernie, did you see this nonsense out of the PAC-12? What are the odds that this is also going on in the corporate and political fields as well? All you need to do is buy ads and the paper will give you great coverage. -- Joe M.
This is from the Oregonian: "According to emails and other documents, the conference struck a deal in 2018 with the Los Angeles Times that aimed to steer $100,000 in advertising to the newspaper in exchange for an expansion in conference coverage."
This is beyond pathetic. The PAC -12 might be excused ... but not the LA Times. Are they so desperate for cash that they'd sell their journalistic soul? I guess the answer is yes. And you're concern is justified. This could spread.
Bernie: I have loved your work over the years and read these Q & A's every Friday without fail. I also appreciate your voice as the sole conservative on Real Sports in addition to your thoughtful commentaries on media bias. I also think you're an imbecile who hates puppies and children and curses your wife. This "mostly peaceful" commentary was brought to you by the mainstream media, whose manipulation of modern language is chilling and Orwellian. Of course, that's just my "lived experience". -- Steve R.
How did you know I hate puppies and children (except my own)? Who told you? My wife? Curses!!! As for me being an imbecile ... Duh.
What is the role of our federal and state and local governments? Is there a better question to ask Americans to think about as they prepare to make momentous decisions in November? How would Trump, Biden, and for good measure Obama, answer this question? Are Americans even capable of understanding why this question is important? Now more than ever, questions related to the role of our government should be discussed in our schools. Alas, civics and citizenship are no longer among the values or priorities of our public schools or universities -- Michael F.
Nothing to add, Michael.
In your Monday column, you show a horrifying vision of what would happen if the leftist progs take over, and you give several examples of dunderhead liberal Democrat mayors ALLOWING these hooligans to continue with their violent nonsense while ordering law enforcement to allow it. This type of baloney is EXACTLY what conservatives have feared for decades. What I would like to know is—- are these elected DEMOCRAT officials just F—-ING stupid!? Or are they simply so damn spiteful in their hatred of Trump, that they think the destruction of their own cities is somehow worth it if Trump can be blamed with help from the lamestream media? And why don't the Democrat pols realize that the mob hates them as well, since they've made it pretty obvious ? Worse yet, in your opinion, are the liberals who continue to vote for these clownish dunderheads EQUALLY spiteful and/or stupid!? Or do ya think the liberals who keep voting for them are part of the infamous NIMBY crowd that are just fine with it as long as they are not directly affected? -- "Not In My Back Yard" Regards From The Emperor
Excellent points, Emperor. I think the progressives so hate Donald Trump that they'll put up with just about anything they believe will hurt his chances of being reelected. I also think Democrats don't quite understand that after the mob is finished with Trump, Republicans and conservatives in general, they'll go after liberal Dems next. They want to fundamentally change America, not tweak around the edges. As for liberals who vote for "these clown dunderheads" ... some are just like the people they're voting for -- far left progressives. Others would rather have any Democrat than a Republican. I keep wondering if a silent majority is out there just waiting... for November 3.
When did Democratic ideals become so unaccepting and unwilling to debate issues, to listen to others points of view, and most concerning to totally shut down or reject any beliefs or positions they don't accept and then berate you if you do not see things their way? Can't quite put my finger on when this really flipped, can you? -- ScottyG
These are liberals who forgot how to be liberal. They've become authoritarians. The change has been coming for a while now. And I think it's been accelerating since W was elected. Liberals really hated him -- maybe even more than they hated Reagan. They called Reagan a dunce but they called Bush a Nazi. And their ally, the mainstream media, also moved left and gave the authoritarians on the left cover. Here's the bad news, Scotty: It's not going to get better anytime soon.
I watched a bit of former AG Sally Yates being questioned by the Senate today wherein she admitted that if she knew then what she knows now, she would not have signed the Carter Page FISA application, and that in her opinion, Comey was a rogue FBI Director. My question: do you think Comey will ever be held accountable? Part II. Is WH Press Secty not one of the toughest jobs one could have? You have to be a master spin doctor, go out and sell what your boss is selling knowing it "may" not be totally truthful. I include all Press Secty's in this. If I were asked to take the job, I would run far away, fast. -- John M.
Let's take your second question first: I'm completely with you regarding the job of press secretary. It takes a special kind of person to want that job. And that's not a compliment. I wouldn't take that job for anything. Regarding Comey: Let's see what the Durham report finds. But he would have had to commit a very serious crime for the  Department of Justice to put him on trial. Even if he deserves it.
I'm really surprised that the unfortunate death of Herman Cain hasn't become a bigger political issue. Here you had a remarkable man with a remarkable life, who just about everyone liked, show up at his friend Donald Trump's totally reckless indoor arena event in Tulsa (seemingly healthy, smiling, and seated around a bunch of people also not wearing masks)... Then, ten days later, he's hospitalized for COVID-19, and later dies from it. We of course can't know with 100% certainty that the event is where he became infected, but it sure seems like a likely scenario (the same goes for Kimberly Guilfoyle). Also, Cain had been echoing Trump's skepticism of masks, prior to becoming infected. Do you think the Tulsa rally and the story of Cain will become a bigger political theme by the Democrats as we get closer to November? -- Ben G.
Everyone these days has a short attention span. The media made the point that you made Ben... about him going to Tulsa. Now it's in the rearview mirror. So, no I don't think it will become a bigger political theme as we approach November. But the president's handling of the virus will.
Within the past few weeks, prominent Republicans like Ted Cruz, Mark Meadows, and Nikki Haley have suddenly started talking about the dangers of the national debt again (after 4 years of silence on the issue, and about $7 trillion added since Trump took office). Are you laughing as hard as I am? -- Jen R.
Better late than never, Jen. You're not buying that are you?
Do you think AOC is over-hyped by both sides of the political aisle? She says lots of crazy stuff, but she's just one person in Congress after all. By how often her name comes up in the media, you'd think she's on the presidential ballot. -- Brian S.
I've heard this before, Brian... coincidentally from another guy named Brian. AOC is young, attractive and provocative. She's a shiny object for TV. And she does have influence. So for good or bad, I'm  not at all sure she's over-hyped.
---
Thanks, everyone! You can send me questions for next week using the form below! You can also read previous Q&A sessions by clicking here.