Discover more from Bernard Goldberg's Commentary
Media and political analysis
Over 8,000 subscribers
Bernie's Q&A: Kushner, Zucker, Woodward, Biden, and more! (9/18) — Premium Interactive ($4 members)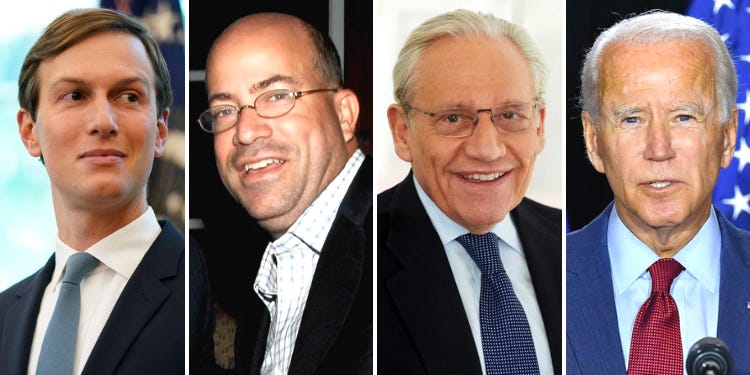 Welcome to this week's Premium Q&A session for Premium Interactive members. I appreciate you all signing up and joining me. Thank you.
Editor's note: If you enjoy these sessions (along with the weekly columns and audio commentaries), please use the Facebook and Twitter buttons to share this page with your friends and family. Thank you! 
Now, let's get to your questions (and my answers):
---
In his book and elsewhere, Michael Cohen has recently portrayed Trump as a master deceiver when it comes to Christianity — a man who has privately called Christianity and its practices "bullshit," and whose real religion is "unbridled lust for money and power at any cost to others."
Trump has never struck me as particularly religious, and being a dishonorable man, he may have actually said those disparaging remarks. But I find the "bombshell" revelations about him allegedly calling fallen U.S. soldiers "suckers and losers" and Christians "fools and schmucks" very CONVENIENT for the left (who is often equally dishonest in their allegations against Trump) to suddenly dredge up.
Do you think that the left is trying to make Trump's base abandon him by publishing these allegations? I believe that even if Trump made this repugnant remarks, actions speak louder than words. I've watched the left actively support the blatantly anti-Christian and anti-U.S. military/law enforcement groups like ANTIFA and BLM. SO... even if Trump actually made those remarks, his actions are still supportive of religious Christians as well as the military and law enforcement, so I could still support him, whereas I truly fear what the leftists would do to law enforcement, the military, and religious Christians if THEY got into power. What are your thoughts on this, Sir Bernie? --"Gossip and Hearsay" Regards, From The Emperor
Couple of thoughts, Emp: First, those quotes attributed to Mr. Trump sound like things he'd actually say. So while I have no idea if he actually said them or not, I wouldn't be surprised if he did. You ask if I think the left is trying to get Trump's base to abandon him. I think they're trying to hurt a guy they don't like. They know his base is solid. It's the undecideds that might be swayed by the revelations. Finally, I can understand why actions are more important to you than words. But words still matter. And if Donald Trump loses, the things he's said over the past 4 years and the way he's said them, will be a big reason.
I was very optimistic for Mid-East peace during the Clinton administration and I have high praise for Clinton's effort. But as Clinton stated which I paraphrase, in the end Arafat was a terrorist and not a diplomat. Any reasonable person should know that as long as Hamas is the ruling government in the Gaza Strip, peace cannot be achieved through direct negotiation. History has proven that. It appears to me that Trump (Jared Kushner) is using an initiative picking off Mid-East countries one at a time formulating a new foreign policy that future administrations can leverage and benefit from. Saudi Arabia and Kuwait may be ways off, but I like the approach. I'm surprised that I don't hear much about this in the MSM. Pelosi's statement on this policy was unbelievable. Foreign polices succeed and fail. And I could see this policy fail without a unified American message. Have our parties become so hatred that we can't come together as a nation? -- Tim H.
You ask if partisan politics is stopping us from coming together as a nation. Basically, yes. That's how polarized we've become. But let me turn your question over to another Goldberg ... Jonah ... whose recent podcast dealt with this very topic. He spoke to Kenneth Pollack of the American Enterprise Institute. The section relevant to the Trump administration's involvement starts around the 11:45 mark. But if you want some broader insight on the UAE deal, and Israel's evolving relationship with other Middle Eastern countries, just start the episode from the beginning. Click here.
What is going on with Joe Biden? Have I been seeing mean spirited video clips manipulated to make Biden look like he's senile or worse? I don't think so. SEE just two of the videos and not the worst:
Just two examples, I think it's in the second video he takes some flights of fancy reminiscent of his performances in 1987 and 1988 when the reporters and commentators with the major broadcast networks did their job and called him out on his self aggrandizing story telling and plagiarizing. How he managed to survive all that must be one of the greatest mysteries of the twentieth century. WHY is Biden the Dem's man for President? I'm not going to speculate because all possible answers are too reprehensible. -- John D. P.
Biden got the nomination because of who he was running against. Only Bernie had a real following. And I suspect some high profile Dems got the word out that if Bernie won the nomination, Trump would win reelection. So Joe got it by default. And those Dems figured if the guy is losing a few steps, they'll figure out a way to put everyone on the prompter -- including answers to questions -- and hope for the best. If the polls are right, the strategy is working.
Dear Bernie, Love reading your articles and watching you on HBO Sports. All we have heard since the 2016 is about the Russian interference with Presidential Election through social media. My question is where is the proof that this interference had any affect. I believe the Russians tried to interfere but where is the proof that they changed votes? Keep up the good work. -- Patrick N.
Thanks Patrick. There is no proof. If there was the NY Times would have found it by now. But if the Russians used social media to help elect Biden ... even if there wasn't proof that the effort swayed any votes ... Trump supporters would be howling. Right?
My mother never went to college but she taught me many wonderful lessons and values to live by. One was: remember that you are no better than anyone else and no one else is better than you. Pretty simple stuff. If you live in accordance with this value, you cannot be a racist for one simple reason: racism requires a view that one is superior to someone else due to skin color. My question Bernie is this: is it just my imagination or have large parts of our society (especially MSM, academia and even many political leaders) discarded my mother's wise words? Are white people and black people to be viewed by different standards? Can an act of violence by one person against a total stranger (we seem to see this daily) ever be deemed more understandable on the basis of the skin color of the individuals involved? Is this going to become part of another version of the " new normal?" -- Michael F.
In the liberal worldview, some violence is more acceptable based on whose committing the violence and why. So if a white thug beat up an innocent black man that's one thing ... but it's not the same thing as when a black thug beats up an innocent white man. I don't like it but that's the way it seems to be. I'll bet your mother never told you that white liberal guilt has no limits.
A number of people have been saying that, ethically and maybe morally, Bob Woodward should have come forward much sooner (like in February or March) with the audio proof that Trump was heavily downplaying the coronavirus to the public. Their argument is that it was in the interest of public safety. What are your thoughts from a journalist's point of view? -- Ben G.
Hey Ben. I think the reason Woodward held on to his information was simple: He could sell more book by dropping his bombshell in September, right before the election. If he waited until October everyone would know it was a calculated hit job. If he released in in February or March it wouldn't have had the impact. Someone once said that the answer to all questions is ... money.
Close enough!
Bernie, something reminded me the other day of how you used to make the point, on The O'Reilly Factor (and maybe in one of your books), that elites in this country "look down their snobby noses at ordinary Americans who eat at Red Lobster."
I always found that statement odd because Red Lobster is actually pretty expensive. The Lobster Lover's Dream meal alone will set you back $40! Some might even argue that Red Lobster IS elite dining.
With that in mind, can you confirm or deny that you were in the pocket of Big Lobster, and that the restaurant chain was paying you big bucks under the table for product placement on Fox News's marquee program? Or was this a simple case of white, seafood privilege? -- John D.
I also said that the elites look down their noses at folks who bowl. So let me now confess -- since it's been bothering me for years: I used to bowl then eat at Red Lobster BECAUSE I had an endorsement deal with both a local bowling alley and a local Red Lobster restaurant. The gig paid me handsomely -- $12 dollars a year for both. Once I made a boo boo and rolled a bowling ball down the aisle at Red Lobster. Hit a couple of senior citizens. Converted a 7-10 split. Boy, those were the days!
In multiple recorded conversations between President Trump and Bob Woodward, on the topic of COVID-19, the president emphasized just how very contagious and deadly the virus is. There's even one recording from April where Trump described having a meeting in the Oval Office, where someone sneezed, and "the entire room bailed out," including Trump. Yet, Trump has continued to hold packed rallies (including indoor ones) where neither social distancing nor mask-wearing is required, setting up potential super-spreading events. He has made the point that he himself isn't in much danger at these rallies because he's standing on a big, socially-distanced stage. But does he not care at all about the potentially deadly behavior he's encouraging from his loyal fans in attendance? Are their cheers more important than their health, and even their lives? And also the health and lives of those they later come in contact with?  I honestly can't figure out how any other conclusion can be drawn from this. Can you? -- Jen R.
We're talking about Donald Trump, right? The one who's president? THAT Donald Trump? And you're wondering if cheers are more important to him than the health of his loyal fans? What's your next question, Jen: Is Donald Trump a narcissist? You're having some fun with me, right?
Based on this week's Off The Cuff, I've just made plans to move to Killarney if they'll let me in. But if they don't is it still too late to have a peaceful November and beyond? Or have we already fallen off the cliff? What can be done in the next few weeks to calm the nerves? Let me know if you'd like me to look for a duplex... -- ScottyG
A landslide victory one way or the other might -- might! -- make the post-election less chaotic. But even that, I suspect, won't help much. So, let's just say, Killarney is looking good, Scotty. Check out real estate for me and let me know what you find out.
What do you think of the revelation that CNN president Jeff Zucker was secretly offering debate tips to Donald Trump in 2016? -- Thomas N.
Let me answer it this way:  Donald Trump called me in 2011 or 2012 and said he was thinking about running for president and wanted my advice.  I said I was a journalist and don't give advice to people who are thinking of running for president.  Zucker should have said the same thing ... except at heart, he's not a journalist ... he's a TV businessman.  Very different.
National sporting events are including "Lift Every Voice and Sing" as part of the pregame presentation since this song is now considered the "Black National Anthem". So now we have segregated national anthems, and this is how progressives define progress? -- Steve R.
Commissioners of pro sports leagues can't offend their employees for fear of a strike.  So they give them what they want.  It's not so much about progress, it's about keeping the peace.
In an interview with Mediaite last week, on the topic of the White House denouncing anonymous sources as "fake news," Jennifer Griffin from Fox News said, "It's my understanding ... that one of the biggest anonymous sources for the White House press corps is President Trump himself, and the people around him are often the anonymous sources that you hear them talk about at the White House. So it's completely hypocritical. People are picking and choosing when they want to hear from anonymous sources."
Wow! Beyond the hypocrisy, are we also to gather that a good bit of the "anonymous" White House leaks reported by the press (and then labeled "fake news" by Trump and his team) actually comes from Trump and his team? It sure sounds like it. -- Phil R.
Crazy right?  But absolutely believable!
---
Thanks, everyone! You can send me questions for next week using the form below! You can also read previous Q&A sessions by clicking here.