Discover more from Bernard Goldberg's Commentary
Media and political analysis
Over 9,000 subscribers
Bernie's Q&A: Trump, Ginsburg, Wallace, Ice Cube, and more! (9/25) — Premium Interactive ($4 members)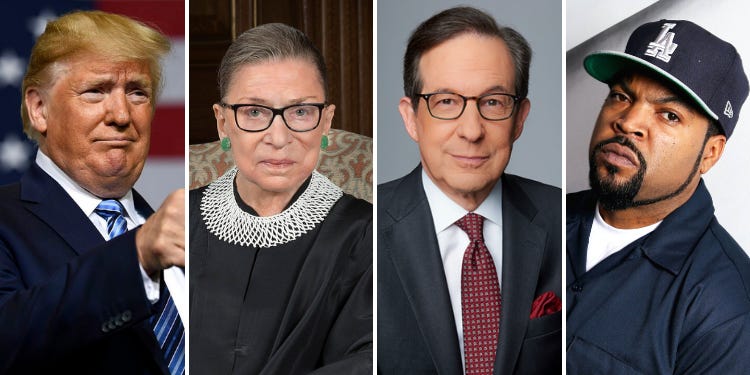 Welcome to this week's Premium Q&A session for Premium Interactive members. I appreciate you all signing up and joining me. Thank you.
Editor's note: If you enjoy these sessions (along with the weekly columns and audio commentaries), please use the Facebook and Twitter buttons to share this page with your friends and family. Thank you! 
One more note: A couple questions came in after this week's deadline (Wednesday night at midnight), so I will answer them at the top of next week's Q&A. Thank you.
Now, let's get to your questions (and my answers):
---
Please share your thoughts as to the newest PC dictate that the word "black" must be capitalized. I have noticed that this is the case even in the WSJ (at least non-Op-Eds). This seems like an Orwellian power move to control the narrative. It also is completely contrary to, and inconsistent with, the messages of unity and equality we are force fed pretty much every day. Maybe a great topic for an upcoming Off The Cuff.  -- Michael F.
Let's just say, Michael, that PC has run amok. But if we're going to capitalize Black why not the same with White? The PC police have an answer for that.  Here's an explanation (of sorts) from the Columbia Journalism Review:
"AT THE COLUMBIA JOURNALISM REVIEW, we capitalize Black, and not white, when referring to groups in racial, ethnic, or cultural terms. For many people, Black reflects a shared sense of identity and community. White carries a different set of meanings; capitalizing the word in this context risks following the lead of white supremacists."
This is beyond nonsense. As I say, the PC police have run amok and journalism has become another form of activism.
I think you give people like Stephanopoulos and Stelter too much credit for honest stupidity. They are in their positions because they have an ax to grind. There are few careers featuring such strong immunity to serious criticism. Seldom need they even bother to defend themselves from any criticism and never if it comes from a known conservative. Since the demise of objectivity in the 1960s New Left reporters feel entitled to let their personal beliefs and experiences add color and impact to their finished product. However they are careful to hide those beliefs from readers or viewers except as they might infer from the nature of specific reports or withering interviews. -- John D.P.
First, John, I agree with you analysis (though the last sentence confuses me; no big deal). I think there are 3 main reasons this ax-grinding occurs: Bias. Corruption. Stupidity. Bias because they take sides. Corruption because it's gone so far. Stupidity because in Stelter's case anyway, he's a dope.
Trump said this at a rally this week:
"Now we know [the coronavirus] affects elderly people. Elderly people with heart problems and other problems. If they have other problems, that's what it really affects. That's it. You know, in some states thousands of people— nobody young — below the age of 18, like nobody — they have a strong immune system — who knows? Take your hat off to the young, because they have a hell of an immune system. But it affects virtually nobody. It's an amazing thing."
Beyond the fact that the virus absolutely affects more than just old people with pre-existing conditions, I can't think of a better political ad for Biden than Trump saying "it affects virtually nobody" at a time when over 200,000 Americans have already died from it, and many others have suffered long term and even permanent health damage. And how can anyone in the "pro-life" party defend this crap (though they all seem to be doing just that)? -- Ben G.
For some, Donald J. Trump can do no wrong. He can say the stupidest thing and they'll respond with, Biden is worse. That may be a reason to vote for Trump, but it's not a reason to pretend he's honest or knows what it means to act like the President of the United States. I'm with you, Ben.
I'm going to get off the front-page news of today (Trump/Biden/SCOTUS) to address an issue that drives me nuts. I want to rid this country of tax-exempt corporations; namely nonprofits. For rich entertainers and athletes forming a charity is sound tax advice as a method to avoid tax along with writing off their Bentley. To me, this was not the intent of nonprofits. I would like to see a Bernie Goldberg on HBO go after these "fake" charities by these filthy rich gifted people like he did camel jockeys. Let's call the episode "Charity Jockeys". Yes, I'm serious. Let me qualify. I do donate to good causes and I don't because I can take the deduction. But I do take it. If the deduction was gone, I would still do it. -- Tim H.
You're right, Tim, there are some non profits that don't give a lot of the money they take in to charity. They spend it on all sorts of other things and when they're done, there's not much left. That said, some non profits, as you know, are run well. Real Sports actually looked in to doing a story about athletes who set up charities that are, let's say, questionable. For some reason we hit a snag. Maybe we'll revisit, Tim.
Regarding this week's Off The Cuff, about what the Dems are threatening to do if Trump and The Senate replace Ginsburg's seat so close to the election — Making D.C. & Puerto Rico states, ending the filibuster (except when it benefits THEM), packing the Supreme Court, etc...
Let's assume that Trump and McConnell honored the Dems' requests and refrain from appointing a replacement. What exactly would stop the Dems from following through on their threats anyway if they were to win the Senate and the presidency? Why should Trump and McConnell trust them to keep their word? Also are the Republicans any more hypocritical than the Democrats in this matter regarding the Republicans' behavior during the attempted appointment of Merrit Garland?
Funny how BOTH political parties have switched and changed their tune when the circumstances are not convenient for them. Finally, whether or not Ginsburg's dying wish was that a new president should appoint her successor: Sorry but why should THAT make a difference? I highly doubt that the Dems would have honored that same request for Scalia under a similar set of circumstances. Your thoughts? -- "Notorious RBG" Regards From The Emperor
You're right on all counts, Your Holiness. First, yes, the Dems could pack the court even if the president doesn't put through a nominee before the election. They could hold packing the court over the head of Republicans and kill the filibuster anytime a decision comes down that they don't agree with. Second, yes again, both parties are hypocritical as I point out in a recent column I wrote for the Hill.
Finally, whether Justice Ginsburg actually said what's attributed to her doesn't really matter. Dems accuse Mr. Trump of politics. Sounds like the Justice was doing a little politicking too by supposedly saying she wants a new president to name a possible replacement for her.
In the age of political hysteria I think we should all (if we were ever exposed to his writing) heed the writings of Thomas Paine who wrote in his pamphlet Common Sense the following: "Some writers have so confounded society with government, as to leave little or no distinction between them; whereas they are not only different, but have different origins. Society is produced by our wants, and government by our wickedness; Society in every state is a blessing, but government even in its best state is but a necessary evil; in its worst state an intolerable one; for when we suffer, or are exposed to the same miseries BY A GOVERNMENT, which we might expect in a country WITHOUT GOVERNMENT, our calamity is heightened by reflecting that we furnish the means by which we suffer. Government, like dress, is the badge of lost innocence; the palaces of kings are built on the ruins of the bowers of paradise."
Is there any more pertinent advice for the American voters than those reflected above? Thank you and keep up the good work. We need more sane voices, even those from the past. -- Douglas C.
That quote is why a lot of his critics say Tom was a Paine.
SORRY!!!
What do you think of the possibility of Trump "reaching across the aisle" and nominating Merrick Garland to replace Ginsburg? He wouldn't lose any ground as the court already leans conservative and Garland is arguably to the right of Ginsburg. It could also allow him inroads to winning the moderate vote in his re-election bid. -- Gus
I think the odds of President Trump nominating Garland are ... ZERO!!!!!!!!!!!!!!!!!!!!!!!!!!!!!!!!!!!!
Personal question since I remember you writing about George Carlin a while back. Who are your all-time favorite comedians (maybe your top 3)? Thanks. -- Floyd R.
Interesting question, Floyd.
Carlin ... Rodney Dangerfield ... and Nancy Pelosi.
One of my prized possessions is a book Carlin signed for me. It says, "To Bernie, Go F**K yourself."
True.
In apparent preparation for the first presidential debate, Trump just declared that moderator Chris Wallace is "controlled by the radical left." It's whiny nonsense, of course, but what always strikes me is how the shots Trump takes at the integrity of respected Fox News journalists almost never get mentioned and discussed on the Fox News commentary shows. Do you think the journalists ever get fed up with their Fox News colleagues on the commentary side almost never sticking up for them? -- Jen R.
I've had discussions with Fox journalists about Fox commentators. Journalists get hassled when they're covering stories because people hate Hannity and Ingraham. No one's forcing the reporters to stay. They've apparently come to accept the situation they're in. I'm not surprised, Jen, that generally speaking the commentators don't stick up for the journalists at FNC. The prime time crew are Trump cronies, toadies, bootlickers. They'll never criticize him. And as for Trump saying Chris Wallace is "controlled by the radical left" ... he's a fool ... and I'm not talking about Chris. Note:  When Trump told Fox's Brian Kilmeade that Wallace is "controlled by the radical left," Kilmeade responded: "I will tell you for sure, [Chris Wallace] is not controlled by anyone."
Bernie, years ago, when you confused rapper Ice Cube for rapper Ice-T on national television, did it do any permanent damage to your previously impeccable street cred? Also, did it cause any problems for your record label in 2012, as you were recording your own debut rap album entitled, "Straight Outta Rutgers"?  -- John  D.
No, JD my Homey, the Cube and the Bern Man are still tight. No harm to my street cred, sucker. As for that Straight Outta Rutgers BS... You think you be funny. You not. I'm actually on the album in a cut called Quiet on the Set. I come in at around 2 minutes and 55 seconds. Think I'm fooling'.  Check it out (below). They don't call me Notorious BRG for nothing.
---
Thanks, everyone! You can send me questions for next week using the form below! You can also read previous Q&A sessions by clicking here.