Discover more from Bernard Goldberg's Commentary
Media and political analysis
Over 8,000 subscribers
Boycotting Donald Trump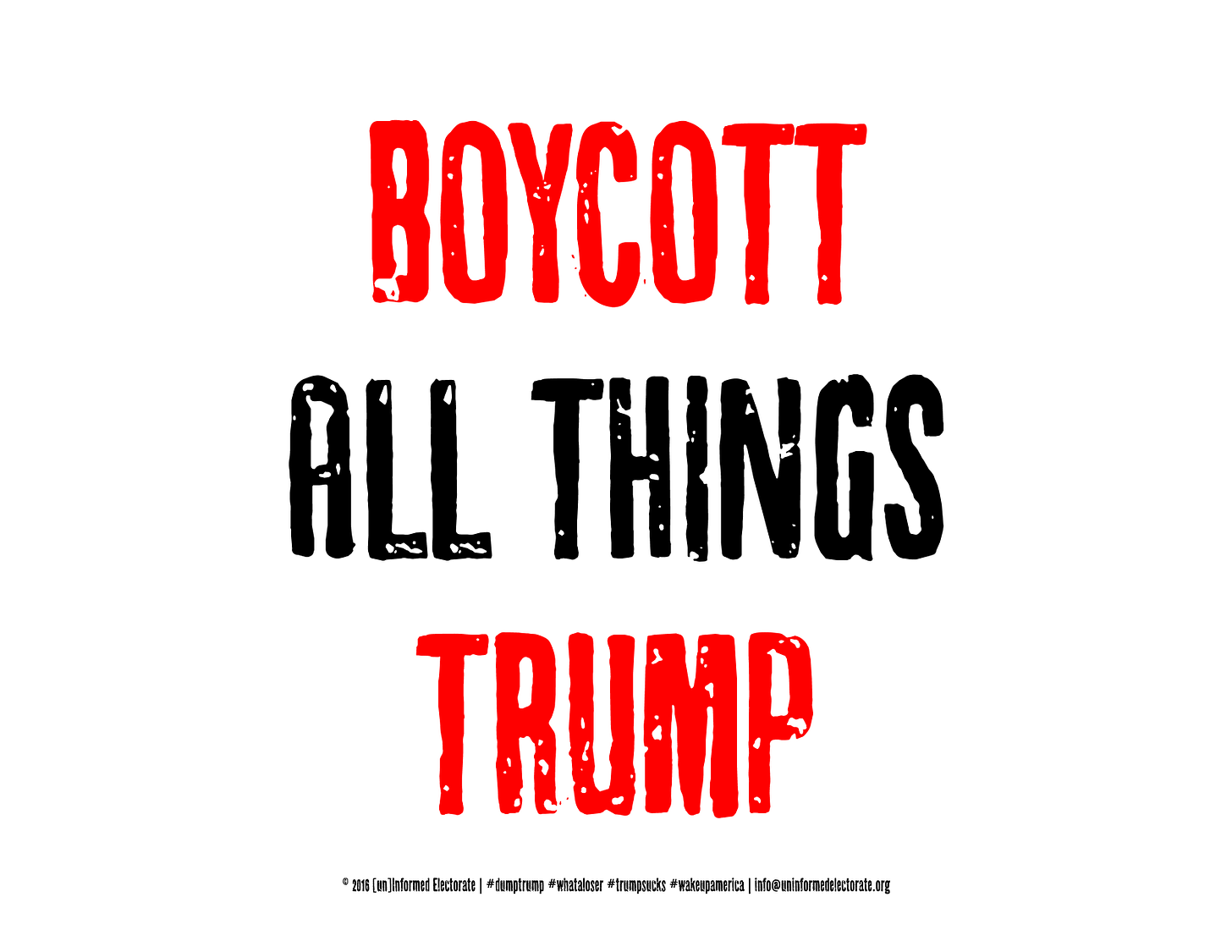 Moral thugs are the most annoying kind. Run-of-the-mill thugs, as despicable as they are, at least have the decency to not pretend they're any good. They're goons and they know it. They're out to hurt you and that pretty much is that. Moral thugs on the other hand try to convince the world that they're inflicting their damage for what we're supposed to believe is a noble cause.
And the supposedly noble cause we're witnessing today is a nationwide boycott launched by activists who so detest Donald Trump that they want to punish any American business that sells anything with his name on it – and shame businesses whose executives had the gall to actually support him.
Oh the humanity!
Anti-Trump activists haven't had much luck in the world of politics -- trying to block his cabinet appointments have gone nowhere. But they're doing better in another arena. They're having some success in the world of business.
Does the name Grab Your Wallet ring any bells?
Grab Your Wallet is a grassroots movement that started on social media and has come out with a long list of businesses that they've put in their crosshairs for peddling Trump merchandise. Macy's is on the list, along with Burlington Coat Factory, Bed Bath & Beyond, Amazon, Lord & Taylor, Dillard's, Hudson Bay, Bon-Ton, Belk, Bloomingdale's, and a lot more.
QVC, the L.A. Clippers basketball team and See's Candy also are on the hit list. Why? Because they advertise on Celebrity Apprentice.
Then there's LL Bean, Lending Tree, MillerCoors and New Balance. Grab Your Wallet is targeting them because the company's CEO or a board member had the audacity to raise money for the Trump campaign or a Super PAC that supported him.
And now there's Nordstrom, the upscale department store that has become the latest a high-value target of Grab Your Wallet. Nordstrom no longer sells clothing and shoes designed by Ivanka Trump because she has the audacity to be President Trump's daughter. In Grab Your Wallet circles such an offense will not be tolerated.
For the record, Nordstrom says the decision to dump Invanka was all about business, nothing more. In a tweet the company said, "It's not a political decision for us. We didn't buy the [Ivanka Trump] brand for this season based on its sales performance."
But even the Grab Your Wallet crowd didn't buy that explanation. As soon as Nordstrom caved the activists took to social media to gloat over their victory.
"It's working people!@nordstrom ‪is ending its relationship with Ivanka Trump products! Keep it up! ‪#GrabYourWallet ," was one tweet.
Another said, "Thanks to the #GrabYourWallet #boycott, @Nordstrom came to its senses and dumped @IvankaTrump. #LoveTrumpsHate."
Grab Your Wallet has claimed several other scalps – stores that have either removed Trump merchandise from its website or from its brick and mortar stores. Collaborators, after all, are not innocent bystanders in the eyes of the high-minded folks at Grab Your Wallet.
Boycotts, of course, are legal and sometimes really do serve a noble purpose. In 1955, Rosa Parks refused to go to the back of the bus and that led to the Montgomery [Alabama] Bus Boycott, which in turn led to a United States Supreme Court decision declaring that the city's law requiring segregated buses was unconstitutional.
The Montgomery boycott was about something truly important, civil rights. The Grab Your Wallet boycott is about shoes and earrings and handbags and ties.
Despite his faults – and he has plenty – Donald Trump won. Grab Your Wallet activists don't have to like it. A lot of Americans don't. But to try to shame people for supporting him, to try to hurt businesses for selling anything with his name on it, is a movement steeped in its own smallness. What they're doing is legal. But that's all it is. And it certainly isn't noble.