Discover more from Bernard Goldberg's Commentary
Media and political analysis
Over 8,000 subscribers
When Fox News' Most Loyal Fans Turn on Fox News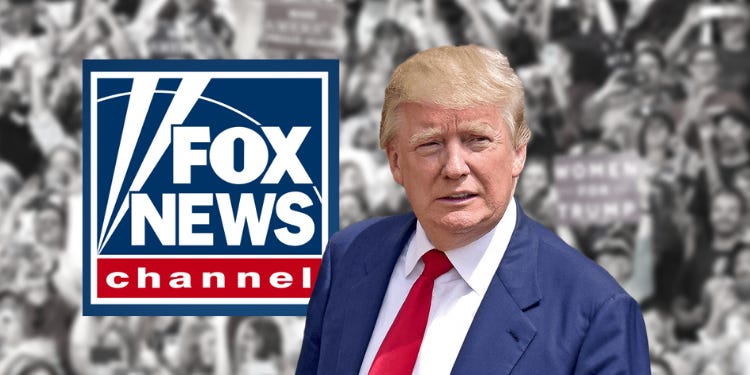 I recently received a question about Fox News viewers which was sent to my Friday Q&A sessions on this website.  It was from "Andy D." who wanted to know why so many of those viewers had turned on Chris Wallace. "Maybe I'm wrong about this, but I don't think I am," Andy wrote.  "Judging by online conversations and conservative blogs, it used to be that Fox News viewers respected and were generally proud to have Chris Wallace as part of the network. … But ever since Trump won, Wallace seems to be one of the more despised Fox News personalities (among the network's viewers) — often framed as a biased anti-Trump pro-Democrat hack who needs to be fired. … In reality, he hasn't changed at all. He's the same guy they used to admire — fair, blunt, and still holding both sides' feet to the fire." Then came the $64,000 question:  "Do these Fox News viewers no longer care about the network's credibility? Do they no longer care about having reputable, professional journalists that they can hold up as examples to the network's critics?" The answer I gave Andy is that the Fox News Channel's most passionate viewers never really cared about the network's credibility. They never really cared, either, about having professional journalists with reputations for fairness that they could hold up as examples of honest journalism to Fox's many liberal critics. All they cared about was Fox giving them the kinds of opinions they already agreed with. "The kind of Fox viewers you describe," I told Andy, "don't care one bit about anything but pumping up the president.  If he does something that puts him in a bad light, and Chris Wallace says so, they turn on Wallace." Or, you will recall, they turn on Megyn Kelly.  On August 6, 2015, at the first GOP presidential debate, she had this exchange with Donald Trump: "You've called women you don't like fat pigs, dogs, slobs and disgusting animals," Kelly began. "Only Rosie O'Donnell," Trump said to applause and cheering. "For the record, it was well beyond Rosie O'Donnell," Kelly said. "Your Twitter account has several disparaging comments about women's looks. You once told a contestant on 'Celebrity Apprentice' it would be a pretty picture to see her on her knees. Does that sound to you like the temperament of a man we should elect as president?" It was a perfectly reasonable, fair, question. Except those passionate Fox viewers didn't think so.  (For the record, I'm making a distinction between Fox viewers in general and MAGA hard-right Fox viewers.) Choosing to side with a Fox anchor or with Donald Trump was a no brainer: They chose Mr. Trump who went on a tweeting rampage, calling Kelly, among other things, a bimbo. For those who haven't figured it out yet, MAGA hard-right Fox viewers are loyal to Fox only when Megyn Kelly or  Chris Wallace or anyone else on FNC tells them what they want to hear. When they don't, they get hammered on social media and elsewhere.  Just ask Bret Baier. He recently pushed back on a point conservative panelist Mollie Hemingway, a reliable defender of President Trump, was making about an interview Jared Kushner gave to Politico.  Kushner was asked about the meeting he had at Trump Tower in June, 2016 with a Russian who claimed to have dirt on Hillary Clinton. At one point, the Politico reporter asked Kushner, if it happened again, would he this time call the FBI. Mollie Hemingway thought it was an old, tired question – and then blasted the media in general for not asking what, in her view, were more relevant questions about FBI misconduct and what she said was Democratic collusion with the Russians. Baier asked her, politely but directly, if she really thought it was irrelevant to ask if Kushner would call the FBI if the Russians tried to set up a similar meeting in the future. Hemingway gave her answer and they moved on.  But Fox's passionate viewers didn't. Here's just a small sample of reaction to Baier:
@BretBaier Liberal side is in full effect. He was totally disrespectful and rude to Molly Hemingway but kid gloves with that AWFUL NPR Lady! Way to Go Bret I thought you were better than that! So disappointed your turning out to be as fair and balanced as Nut Bag @ShepNewsTeam

— Rhonda Sexton (@RhondaSexton17) June 3, 2019
@MZHemingway @BretBaier was out of line.Its obvious he is a liberal.He wants to hold to his base & gain liberals.We resent his interruption & questioning of your observations. @realDonaldTrump @charliekirk11 @DFBHarvard @RyanAFournier

— Darrell Collins (@DarrellCollin19) June 4, 2019
I don't know how you can take @BretBaier any more. He ignores all the facts and facilitates the Trump collusion charade. I used to think he was a good news man, but he's shown himself to be just another swamp rat with TDS.

— Dave Baker (@FlyoverVet) June 4, 2019
For those of you who don't know, TDS stands for "Trump Derangement Syndrome."
Now, @BretBaier is becoming a #NeverTrump idiot. I only wish he would attack the other #NeverTrump idiots (@MaraLiasson) as much as he did @MZHemingway tonight. @foxnews is going left fast.

— Chris 🇺🇸 (@Chris_1791) June 3, 2019
Again, Baier was not "rude."  He did not "attack" Mollie Hemingway. He simply asked her a question.  So why so much anger? "Trumpism is a religion. And when someone like Baier challenges a member of the Trump faithful, it's considered blasphemy," my friend and fellow columnist John Daly told me after the flare up on social media. Ever since Fox went on the air in 1996, its commentators have played to the faithful in the congregation, giving them what they want to hear.  So when a real journalist asks a real question that doesn't conform to what they're used to, they're understandably shaken. Opinions they don't want to hear aren't what they signed up for. That's not how it's supposed to be, they must be thinking.  For many years, we got the kind of opinions we want, they figure.  So when Chris Wallace or Megyn Kelly or Bret Baier does what a journalist is supposed to do – ask tough questions without taking sides – the Fox viewers feel betrayed. You're supposed to be on our side, they say. MAGA hard-right Fox viewers have abandoned their principles, at least when it comes to defending Donald Trump. Here's a hypothetical:  Let's say it was President Obama who said he had fallen in love with North Korea's brutal dictator Kim Jung-un. And let's say Mr. Obama said it was because Kim had sent him "beautiful letters."  How do you think Hannity and Ingraham and Carlson would handle that piece of news? We know exactly how they'd handle it.  And we also know how Fox's most passionate viewers would handle it.  Yet when their messiah, Donald Trump, made that ridiculous observation about his affection for a dictator who kills or imprisons his enemies, real or imagined, Mr. Trump's loyal supporters who are glued to the Fox channel day and night, just yawned. For some time now, politics has been a form of warfare. Cable TV news has provided the ammunition to fight the war.  Cable news, I recently wrote, is a weapon -- one used to either support the president or to bring him down. Roger Ailes, the visionary who created Fox News, created something else:  a loyal audience that was tired of liberal bias just about everyplace else on the TV news dial and found a home at Fox. Ailes gave them a safe place where they could go to get their biases validated.  And these days, Fox is the place they can go to hear opinion talking heads tell them how wonderful the president is and how evil his enemies are. They don't go to Fox News to hear tough questions asked by real journalists about a controversial president.  That, they can get in a bunch of other places. At Fox, and at CNN and MSNBC, considering the other side's point of view is looked upon as a waste of time.  The idea that Fox viewers can learn something from Trump critics is heresy. And the same goes for CNN and MSNBC viewers learning something from supporters of the president. Andy, who sent in the question, wondered if Fox viewers no longer care about the network's credibility.  Andy, my friend:  They never did.  It's just much more obvious these days, in the Age of Trump.