He's Not Hitler Anymore ... Now He's a ...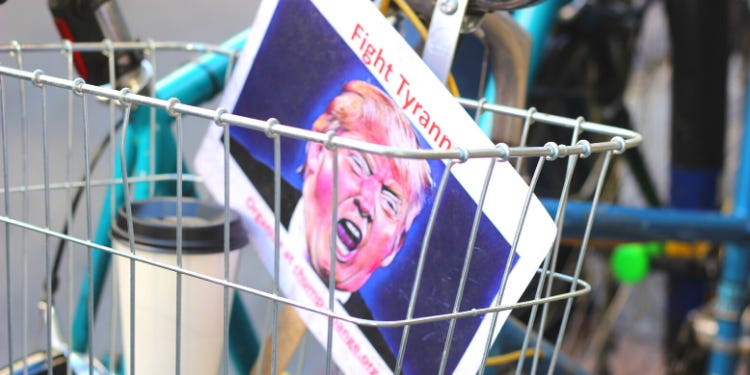 With impeachment fading fast in the rear view mirror, the question before us now is whether progressive Democrats (also known as the Resistance) will continue to smear the president with their new favorite dopey epithet … or whether they're ready to grow up and play nice.  (Nancy Pelosi's dramatic destruction of the president's State of the Union speech gives us a hint regarding whether they're ready to grow up and play nice.)
When he took office they compared him to Hitler. Now they've settled simply on … dictator.
And you don't have to be a fringe player screaming in the streets to call him that. On the floor of the U.S. Senate, making the Democrat case that Donald Trump should be convicted and removed from office, Jerrold Nadler didn't mince words:  "This is a determination by President Trump that he wants to be all powerful. He does not have to respect the Congress; he does not have to respect the representatives of the people. Only his will goes. He is a dictator."
Nadler is hardly alone in that assessment.  Rolling Stone magazine ran a piece saying, "the impeachment process is being perverted into a process to make Trump into a dictator."
And then there's Bill Maher, the comedian you can always count on to say something nasty about the president.  "So it's a done deal. This is going to happen. Trump will be acquitted on Wednesday," he said on his HBO show. "We are officially living in a dictatorship."
There's more, but you get the idea.
So, can you say Trump Derangement Syndrome?
Let's start with the obvious:  If Donald Trump really were a dictator Jerry Nadler wouldn't be sitting in the House of Representatives. He'd be sitting in a prison cell – if he were that lucky.
Rolling Stone would be shut down and Bill Maher wouldn't have a TV show.
How about the news media in general?  Journalists spent more than two years pushing a phony story that Donald Trump colluded with the Russians. You think a dictator would let that happen?
The same anti-Trump press has been pushing for his impeachment for as long as the Democrats have.  CNN, MSNBC, the New York Times, the Washington Post and a lot of other news sources oppose just about everything he supports.  A dictator would have sent his troops in to smash the presses and the cameras a long time ago.
Maybe I was snoozing in junior high the day they taught the class that dictators don't allow free elections. If Donald Trump were a dictator there would have been no 2018 midterm elections which turned the House over to Democrats – the same Democrats who just a year later impeached the supposed dictator-in-chief.
(In fairness to the hard-left, back in 2018 Donald Trump was still only Hitler; he hadn't become a dictator yet.)
In a dictatorship the judicial system is rigged.  Judges do whatever the dictator wants. If Donald Trump is a dictator someone forgot to tell that to all those judges who blocked so many of his policies. And our supposed dictator never defied even one judicial ruling.
If Donald Trump were a dictator there would have been no special counsel investigation into whether he was working with Vladimir Putin to throw the 2016 president election; an investigation that lasted two years and cost somewhere around $40 million.
As for the anonymous source who blew the whistle on that phone call with the President of Ukraine: We'd all know his name because it would be plastered all over official government television announcing that he's been sentenced to 100 years at hard labor.
There are many things to dislike about this president. But if Donald Trump is a dictator, he's a pretty crummy one.