Discover more from Bernard Goldberg's Commentary
Media and political analysis
Over 9,000 subscribers
Is Donald Trump a Racist?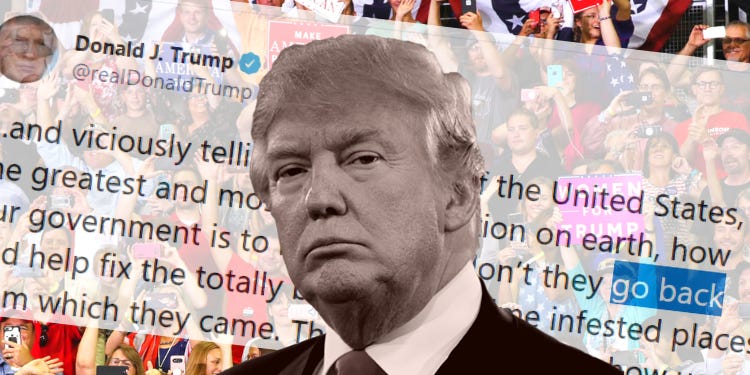 Americans are pretty much split on whether President Trump is a racist.  A new poll by Quinnipiac University found that 51 percent of American voters say he is; 45 percent say he isn't.
I'm not weighing in on whether he is or isn't a racist.  I don't know. His many critics may be right when they say he is.  But let me offer another possibility.
Donald Trump is thin-skinned.  He can't take a shot without hitting back.  And because he's impulsive, he doesn't know when to stop. As often as not, he crosses a bright line.
For example, when the four congressional "women of color" – Alexandria Ocasio-Cortez and her squad -- attacked him, he crossed a bright line by telling them to "go back" from whence they came.  That was dumb.  Three of them were born in the United States and the other was a naturalized U.S. citizen.
It sounded racist.
But isn't it likely, given his need to always fight back, that he would have gone after them even if they weren't minority women? Isn't it likely that he went after them not because they were "women of color" but simply because they went after him?
The same holds for his battle with Congressman Elijah Cummings.  As Chairman of the House Oversight Committee, Cummings has been a thorn in Donald Trump's side.  And when he went after the president's Acting Homeland Security chief – belittling him on national television over sanitary conditions for Latino immigrants on the southern border – that was all Mr. Trump was going to take.
So he lashed out at Cummings, and as is his wont, again he crossed a bright line.  Instead of simply saying, "I'm glad you're concerned about conditions on the border.  You might first want to do something about the deplorable conditions in your own congressional district" -- he called Baltimore "a disgusting rodent and rat-infested" place where "no human being would want to live."
It was needlessly incendiary. And the inevitable charge of racism followed since Elijah Cummings is black, and so is a lot of Baltimore, the big city in the district he represents.
My guess is Mr. Trump would have said the same thing if Congressman Cummings were a white Anglo Saxon Protestant and his district was made up of people who look just like Elizabeth Warren.
Donald Trump lashes out at anyone who lashes out at him. Maybe he's just an equal opportunity offender.
In a column on this website, Dennis Prager asked an interesting question, one that is designed to shed light on whether someone is a racist.
"Do you have more in common with, and are you personally more comfortable in the company of, a white leftist or a black conservative?"
I'm betting that Donald Trump has more in common with, and would be a lot more comfortable in the company of a black conservative like Thomas Sowell than a white progressive like Rosie O'Donnell.
Donald Trump, the best I can figure, has no problem with anybody who says nice things about him – or at least stays on the sidelines. It's when they hammer him that he fights back.  And if it's people of color hammering him he won't back off just because that's what they are.
His base admires that about him.  And here's something we're not supposed to say out loud: so do a lot of other Americans who look both ways before acknowledging as much.
Whether he's actually a racist or not, if enough white moderate suburban swing voters think he is, his rants may cost him the election next year.
But my guess is Donald Trump won't stop.  He won't back down from pounding people who pound him. He says race isn't a factor when he punches back.  And this may be one of those occasional times he's actually telling the truth.