Discover more from Bernard Goldberg's Commentary
Media and political analysis
Over 8,000 subscribers
Mayor Pete Heads Home to Indiana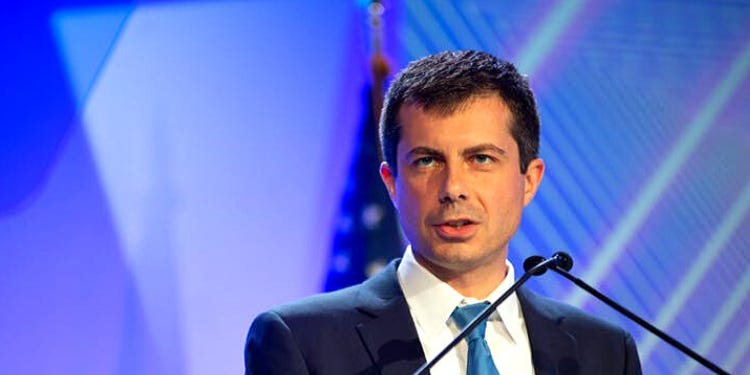 A few takeaways from Saturday's South Carolina primary:
Turns out reports of Joe Biden's political demise were premature.  He needed to win in the South's first primary or his third try for the White House would have gone down the drain.  He did win, overwhelmingly, with nearly 50 percent of the vote.
Bernie Sanders finished way behind in second place. Tom Steyer came in third and dropped out of the race.
And then there's the new kid on the block, Pete Buttigieg, who after coming in fourth in South Carolina, also called it quits.
For a millennial mayor of a small city in Indiana, Mayor Pete came out of nowhere and for a while chalked up some impressive primary finishes.
Until he hit a snag in Nevada he had more delegates than any of the other candidates … and that includes Bernie Sanders and Joe Biden, two old pros who were building their careers before Mayor Pete was even born.
For a young man just about nobody outside South Bend ever heard of, he had done quite well -- at least with white voters.
Black voters?  That's something else.  A recent Fox News poll had him at just 2 percent support among African Americans Democrats nationwide.
And in South Carolina, where according to exit polls African Americans made up 56 percent of the Democratic vote, Buttigieg was able to garner only 3 percent of the black vote.  (Joe Biden got 61 percent.)
Buttigieg was popular with many Democrats, but he wasn't progressive enough for a party that has moved far to the left.  And because he is openly gay, he was at a disadvantage with black voters, who make up a sizable chunk of the Democrat voter base -- a disadvantage he could not overcome.
"[T]he evidence is fairly clear that black Democrats as a group are not as supportive of gay relationships or gay marriage as white Democrats," says a piece in FiveThirtyEight. "So, it is plausible that Buttigieg, as an openly gay candidate, starts at a disadvantage among black voters."
Especially older black voters.
In an interview on CNN, South Carolina's most influential Democrat, Congressman Clyburn said Buttigieg might find it tough to win support from older African American voters – precisely because of his sexuality.
Dana Bash asked Clyburn if he thought Buttigieg being gay is why he's been polling so low among blacks in South Carolina ahead of its "First in the South" 2020 Democratic primary.
Clyburn said he couldn't shy away from Buttigieg's sexuality being a "generational" issue, adding there's "no question" it could hurt his popularity among older blacks in the Palmetto State.
"I know of a lot of people my age that feel that way," Clyburn, who is 79, said. "I'm not going to sit here and tell you otherwise. I think everybody knows that's an issue."
When asked if Buttigieg's sexuality would influence his vote, a 54-year congregant at a black church in Conway, South Carolina told the Associated Press that, "I don't support that lifestyle, to be honest.  A lot of church people don't support that lifestyle. I'm supporting my beliefs."
And a female 69-year old retired South Carolina teacher told the AP, "I just can't see him being a representative for the United States of America. When you think about all of the state things that he has to attend to, being in the public eye in a foreign stage and having to have the company of his partner with him. I guess, coming from my era, my age, it just bothers me. I don't think I will vote for him."
You might think that since so many older black Americans have been victims of bigotry, they'd be sympathetic to another minority group that also has been targeted over the years. But for whatever reason, that clearly was not the case – or it least it wasn't in South Carolina on Saturday.
Pete Buttigieg is only 38, he's likeable, articulate, and very smart. He may figure out a way to overcome his "black problem."  If he does, I suspect we'll see him again in 2o24 -- especially if Donald Trump wins re-election.