Discover more from Bernard Goldberg's Commentary
Media and political analysis
Over 8,000 subscribers
Obama: The World Is About to End ... (Or Not)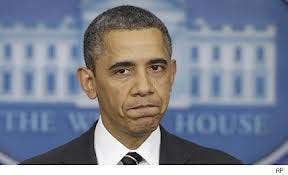 I'm listening to the news on television and I hear President Obama tell us that if sequestration goes through the world as we know it will cease to exist, hard times will come down on us like the proverbial ton of bricks.
No, he didn't use those exact words but that was the message.  Here's what he said:
"Emergency responders, like the ones who are here today, their ability to help communities respond to and recover from disasters will be degraded.  Border Patrol agents will see their hours reduced.  FBI agents will be furloughed.  Federal prosecutors will have to close cases and let criminals go.  Air traffic controllers and airport security will see cutbacks, which means more delays in airports across the country.  Thousands of teachers and educators will be laid off.  Tens of thousands of parents will have to scramble to find childcare for their kids.  Hundreds of thousands of Americans will lose access to primary care and preventive care like flu vaccinations and cancer screenings. This is not an abstraction.  People will lose their jobs.  The unemployment rate might tick up again."
All of this can be avoided, of course, if only those plutocrat Republicans would raise more taxes on their rich friends – and spare the sainted middle class the horrors of spending cuts, which aren't really cuts when you get down to it, but decreases in the rise of spending.
Of course, Republicans are willing to eliminate the loopholes Mr. Obama is constantly telling us favor only those who fly around in private jets when they're not loafing around in their humongous mansions.  But the it's always been done is we lower tax rates and close the loopholes.  Mr. Obama, being the transformational figure that he is, wants to raise taxes and close the loopholes. Why?  So he can get more money to spend on more government programs, which Democrats will use as a kind of legal bribe to get more votes for … take a guess … Democrats.
We have in office a deeply cynical man who can get away with this nonsense for just one reason:  He knows he can count on the shallowness of all those Americans who adore him.  Or to put it another way, President Obama succeeds because a lot of Americans are really, really dumb.
I'm pretty sure he has little respect for conservatives.  But I'm absolutely sure he has no respect for the chuckleheads who think he walks on water and fall for everything he tells them.  Yes, he needs their support.  But no, he doesn't have an ounce of regard for them.  He knows what you know:  that they're clueless.
An editorial in the Wall Street Journal under the headline "President Armageddon" puts it this way:
"Americans need to understand that Mr. Obama is threatening that if he doesn't get what he wants, he's ready to inflict maximum pain on everybody else. He won't force government agencies to shave spending on travel and conferences and excessive pay and staffing.  He won't demand that agencies cut the lowest priority spending as any half-competent middle manager would.
"It's the old play to stir public support for all government spending by shutting down vital services first."
Why else would the president tell us that, "Federal prosecutors will have to close cases and let criminals go"?
No one with half a brain could possibly believe this.  How would it come about?  A trial ends because the judge got laid off?  The prosecutor lost his job?  There wasn't enough money to pay the jurors for lunch?  The clerk ran out of money to keep the lights on in the courtroom?
Question: Why not just cancel a judicial conference to some swank resort and save the money that way?  Answer:  Because that would make sense and would deprive the president the ability to scare not-too-smart voters.
If sequester goes through, the president tells us, we may face another recession.  But as the Wall Street Journal points out:  "Mr. Obama just whacked the economy with a roughly $160 billion tax increase in 2013 that he says will do no harm, but he wants us to believe that $85 billion in spending cuts will trigger a recession."
He not only wants us to believe it, he knows millions of us will believe it.  For more than four years now I have tried, with little success, to tell my conservative friends not to underestimate Barack Obama.  He posses the kind of magic that few politicians possess.  And it enables him to pull all sorts of rabbits out of his hat.
If sequester goes through, expect lots of made-for-television moments. Museums in Washington will close and tourists will be interviewed on TV.  "We came here with our four kids all the way from Des Moines," one dejected Mom or Dad will almost certainly say.  "And the Smithsonian is closed down.  Little Maggie was looking forward to seeing all the neat stuff in there. Now she's so sad."
If you think Barack Obama will be blamed, go back to sleep.  He won't.  Republicans will.  In fact, here's a good rule of thumb that will come in handy many times between now and the end of Mr. Obama's presidency:
Republicans will be blamed for everything.  Period.
As for sequestration, I'm rooting for it to happen.  We spend too much and President Obama and his Democratic pals in Congress don't think we have a spending problem.  In fact, they want to spend more.  They can tax the rich all they want and it won't be nearly enough to foot the bill for every thing they want government to do.
As far as I'm concerned – and I'm guessing I'm not alone – sequester away.  Cut everything with the proverbial meat cleaver.  And when we get done cutting, cut some more.  This government is out of control.  But in a free country the people get the government they deserve. And boy, did we get it.