Discover more from Bernard Goldberg's Commentary
Media and political analysis
Over 9,000 subscribers
TIME Magazine's Sinister Jeff Sessions Cover
Way back in 2011, I wrote a piece for this website entitled A Picture's Worth of Bias, in which I looked at a pretty common practice by the mainstream media: publishing stories on Republican politicians that feature highly unfavorable photos of them.
The latest example, back then, had come from a CNN online article on Bob Turner's congressional win in New York, in which someone at the network seemed to have made a conscious decision to portray Turner as a maniacally laughing James Bond villain.
Other, more notable examples included Newsweek's crazy-eyed cover photo of Michele Bachmann (which even Jon Stewart took the magazine to task for), and the graphic ABC News chose to use for a 2008 story on presidential candidates Barack Obama and John McCain campaigning in Ohio. The faces of both men were superimposed over an outline of the state, with Obama smiling optimistically, and McCain scowling and shadowed from under a lifted black collar. The Arizona senator was indistinguishable from a former KGB agent who hadn't accepted the end of the Cold War.
This practice, of course, comes from a liberal inclination to portray Republicans and conservatives as either unhinged or evil... which is what many who work in the media tend to believe.
As I wrote at the time, this is a relatively mild form of media bias. The press routinely commits far worse offenses. Still, it's hard not to be taken back by the adolescence that fuels this kind of thing. It's not all that different than when I, as a child, would crayon-draw unflattering pictures of my older brother (occasionally with devil horns) when I was mad at him.
I can only imagine how much more creative I could have gotten with those images, had I had access to today's photo-editing digital technology. Actually, I don't have to imagine, because I'm pretty sure they would have looked a heck of a lot like Time Magazine's new cover photo of U.S. Attorney General Jeff Sessions:
I mean, just look at that thing! The sinister shadowing. The dead eyes. I've seen more flattering pictures of Freddy Krueger.
And if you don't think it takes a ton of work to make Sessions look like the Devil's Advocate, take a look at the AG in his natural state: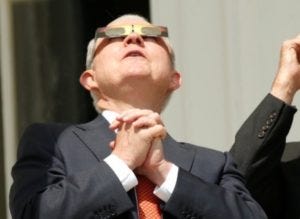 Adorable!
Seriously, though. This is pretty ridiculous, even for Time. They would never portray a Democratic politician this way, unless maybe that politician had just been convicted of mass-murder.
As Jay Caruso pointed out this morning, this is the image Time used for former Attorney General Eric Holder back in 2014, in the magazine's 100 Most Influential People issue: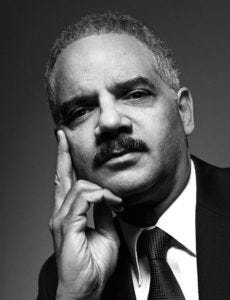 Just a little bit different, I'd say. Biography-cover worthy, really.
Defenders of the Sessions photo (though I haven't actually seen any yet) might argue that what Time did is perfectly appropriate, being that the accompanying story — in part — describes a bleak situation for the AG (in that he has an increasingly tense relationship with President Trump), or something along those lines. But that would be a pretty silly argument. Dealing with a president's rhetorical frustration doesn't turn one into the creepy old guy from Phantasm: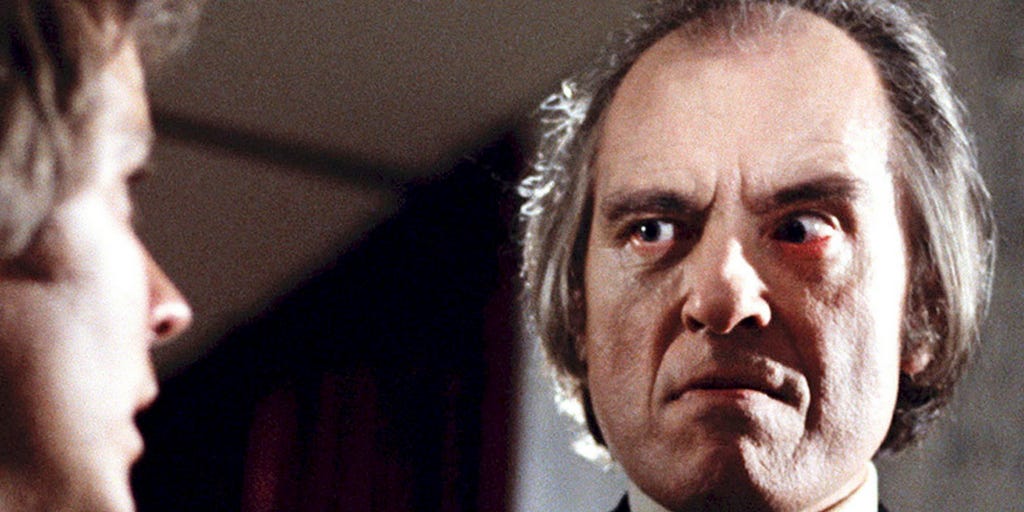 No, this is political bias, plain and simple. If Time were upfront about that bias, and presented itself as an ideological publication that courts liberal readers, there wouldn't be a whole lot to discuss here. Openly conservative publications like National Review and Weekly Standard publish unflattering cover imagery of political opponents all the time.
But Time still markets itself as a news source that doesn't have any political skin in the game. Thus, stunts like this only serve to further damage the magazine's credibility.
You'd think they'd be concerned about this, but like many in the news industry (unfortunately), they don't seem to be.