Discover more from Bernard Goldberg's Commentary
Media and political analysis
Over 8,000 subscribers
Why the Big Rush to Impeach -- With the Election Just a Year Off?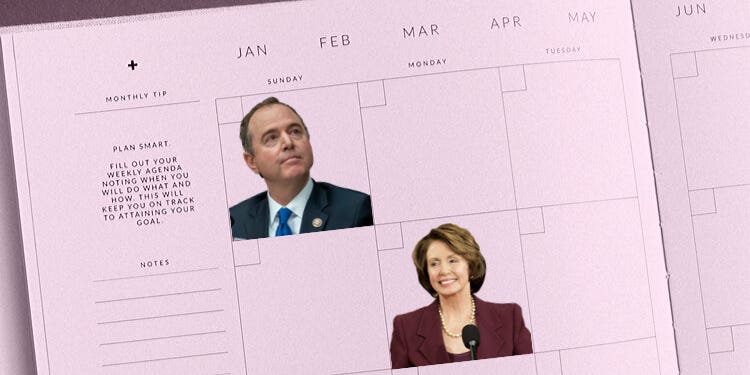 Years ago, when Saturday Night Live was funny, the great Gilda Radner played a character named Roseanne Roseannadanna, who, let's just say, had a tough time focusing.  So when Weekend Update co-host Jane Curtin would interrupt Roseanne and demand to know what her rambling comments had to do with the question she had been asked, Roseanne Roseannadanna would say, "Well, Jane, it just goes to show you, it's always something. If it ain't one thing, it's another."
Same with the Democrats and impeachment.
If it isn't Russian collusion, then it's obstruction of justice.  If it isn't the emolument clause, then it's the president's taxes or his cover up of the fling with Stormy Daniels.  If it isn't any of that, it's Ukraine.  "It just goes to show you, it's always something.  If it ain't one thing, it's another."
But why impeach the president with just a year to go before the election? Why put the nation through something that traumatic when there's no chance the Senate will vote to remove him from office? What's the rush when the American people can decide next November if they want him to stay on the job or if they've had enough of him?
Even a kid enrolled in a poly-sci class at a community college can figure that one out.  Democrats just want to rough him up.  They want him to run reeking with the stench of corruption. They want to make it more difficult for him to beat whoever they put up to run against him. They can feign moral outrage all they want over what he did or didn't do, but at its core, this is about politics – the unnecessary kind, the kind that will just divide us more.
This is not to say, of course, that it was a good idea for President Trump to ask the President of Ukraine to investigate Joe Biden, who just might be Mr. Trump's toughest opponent in 2020.  That was a dumb move, something this president does with some frequency. And even Judge Anthony Napolitano of Trump-friendly Fox News has written that the president's actions on that phone call "manifested both criminal and impeachable behavior."
Still, "Rushing to remove this president may be cathartic" for Democrats, as Karl Rove writes in the Wall Street Journal, "but their transparent partisanship and unfairness will ensure that they fail – leaving the country even more divided than before."
That may be wishful thinking on Mr. Rove's part. It's way too early to know if impeachment will hurt the Democrats next November.  It might. Or it might not.  But whatever the political outcome, is that what we need right now: one more thing that tears this country apart, that turns us against each other?
If they initiate a process that could (but won't) remove the president from office, a process that would (but won't) nullify the 2016 election, Democrats will find out what the American people think about impeachment – even those Americans who don't especially like the way the president conducts himself.
What plays in Democratic circles in Washington and on the blue coasts, may not sit well in less partisan places, with moderate swing voters – the ones who decide tight elections.
Stick around.  It ain't over 'til it's over.